Almost entire NFL team 'takes a knee' in protest at owner's 'inmates' remark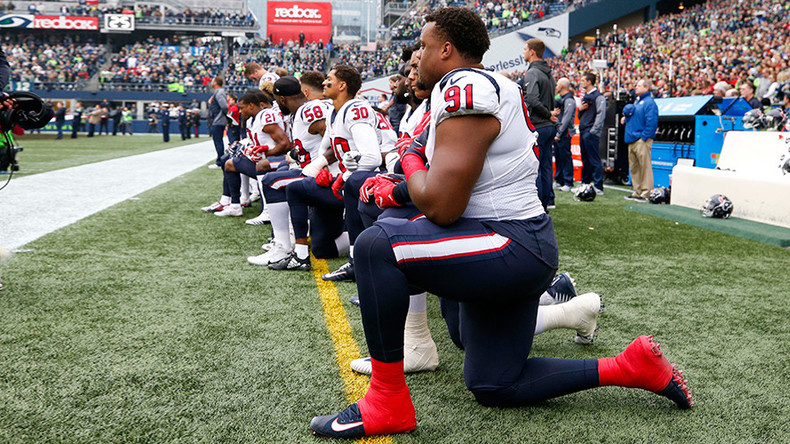 A majority of Houston Texans players took a knee and linked arms during the national anthem before their game against the Seattle Seahawks on Sunday, in response to recent comments by their team owner on the ongoing wave of protests in the NFL.
Over 40 Texans team members protested in defiance of team owner Bob McNair, who reportedly said"we can't have the inmates running the prison" when addressing the anthem issue during the National Football League (NFL) owners meeting on October 18.
McNair's remarks were deemed inappropriate by numerous players and sparked angry reactions in the league.
"I'm never going to force anybody to do anything that they don't feel comfortable with. I think we all felt the same way on Friday [after McNair's comments]," Texans left tackle Duane Brown said after the game.
"And as far as the demonstration went, some people didn't feel quite comfortable doing it, some people did. But we all supported each other, and that was what was important. I don't think anyone looks at anyone differently for what they stood for or didn't stand for."
Former NFL player Troy Vincent, who is also a current executive vice president of football operations for the league, said he "had been called every name in the book" during his professional career but never felt like an "inmate."
McNair, an energy and real estate magnate, apologized for his words on Friday in a statement released on his Twitter account.
"I regret that I used that expression. I never meant to offend anyone and I was not referring to our players. I used a figure of speech that was never intended to be taken literally. I would never characterize our players or our league that way and I apologize to anyone who was offended by it," the statement said.
He also met with players on Saturday and apologized for his remarks, however, the majority of the Texans team members still expressed their attitude towards the "inmates" comparison during Sunday's pre-match ceremony.
The anthem protests wave, which was triggered by former San Francisco 49ers quarterback Colin Kaepernick last season, remains one of the most problematic issues in the league, with more players taking part in demonstrations every week.
READ MORE: Colin Kaepernick 'signs $1mn book deal'
The players' unwillingness to stand for the national anthem has also been highly criticized by US President Donald Trump, who called on the NFL to take action against protesting players on numerous occasions.
You can share this story on social media: