Poll shows more than half of Americans against making players stand for anthem
Published time: 26 Oct, 2017 22:02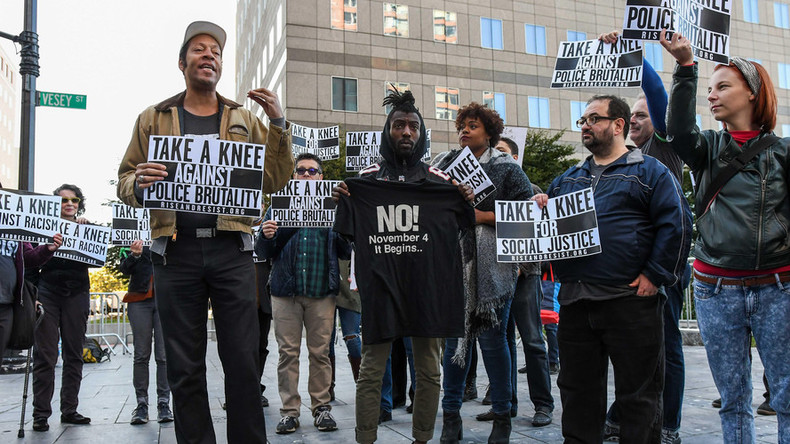 More than half of Americans (51 percent) think professional athletes should not be forced to stand when the national anthem is played, while 47 percent believe they should, according to a poll.
The poll, conducted by Marist Poll, suggested public opinion has shifted slightly since September 2016 when a similar poll indicated 52 percent said players should stand against 47 percent who believed they shouldn't.
Protests such as the 'take a knee' movement have swept US sports leagues, beginning last season in the NFL when then San Francisco 49ers quarterback, Colin Kaepernick, kneeled during the national anthem in protest at what he perceived as racial injustice in the US.
The movement, which has gained considerable momentum since then, has continued in Kaepernick's absence from the NFL, as the player still remains unemployed after opting out of his contract with the 49ers in March.
The poll indicated 76 percent of African Americans believed sports leagues, including the NFL, should not oblige their players to stand for the Star-Spangled Banner, compared with 48 percent last year, while 54 percent of white respondents believe athletes should rise when the anthem is played.
US President Donald Trump called on the NFL to fire players who "disrespect the flag" by taking part in kneeling protests.
If NFL fans refuse to go to games until players stop disrespecting our Flag & Country, you will see change take place fast. Fire or suspend!

— Donald J. Trump (@realDonaldTrump) September 24, 2017
Then in October, Trump condemned NFL bosses following the league's decision not to force its players to stand for the national anthem.
But the poll indicates Trump's words haven't garnered widespread support as 68 percent of Americans deemed the president's criticism of the NFL as wrong, and only 28 percent supported his calls to take action against protesting players.