Colin Kaepernick 'signs $1mn book deal'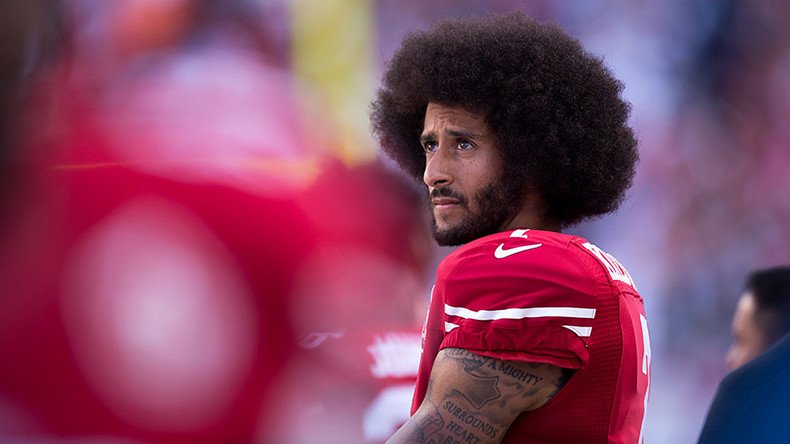 Former San Francisco 49ers quarterback Colin Kaepernick, who hasn't been signed by an NFL team this season, has reportedly signed a million-dollar book deal.
Kaepernick might be looking to get into the book-writing industry, Page Six reported on Tuesday, saying that the controversial football player had signed with Random House's One World imprint. Random House is headed by Chris Jackson, one of the few black editors in the publishing community, who previously worked with Ta-Nehisi Coates on 'Between the World and Me' and published 'Decoded' by Beyonce and Jay-Z.
READ MORE: Colin Kaepernick not invited to NFL meeting on anthem protests
Earlier this week, it was reported that Kaepernick had met with publishers in the New York offices of WME, however neither Kaepernick nor his agent have confirmed the potential book deal.
Free agent Kaepernick, who has remained unemployed since opting out of his contract with the 49ers in March, filed a grievance against the NFL two weeks ago over alleged collusion to keep him unsigned. The player has linked his inability to find a new club with the protests he displayed last year after refusing to stand for the national anthem.
In order to win the case, Kaepernick and his lawyer, Mark Geragos, would have to provide clear evidence that two or more NFL teams conspired to prevent him from being hired. Kaepernick, who led the 49ers to the Super Bowl in the 2012 season, was never punished by his team or the NFL for kneeling for the anthem. The protest movement he sparked has turned into a major trend that has affected practically all of the NFL's 32 teams, and has led to outspoken criticism from US President Donald Trump, who condemned the players on numerous occasions for "disrespecting the national flag."
Controversial social issues were also discussed at last week's NFL owners' meeting which aimed to find a compromise over the kneeling protests. NFL Commissioner Roger Goodell said the league believes players should stand for the anthem, although no disciplining measures were announced towards athletes who continue to protest.
You can share this story on social media: