Former player Kaepernick not invited to NFL meeting on anthem protests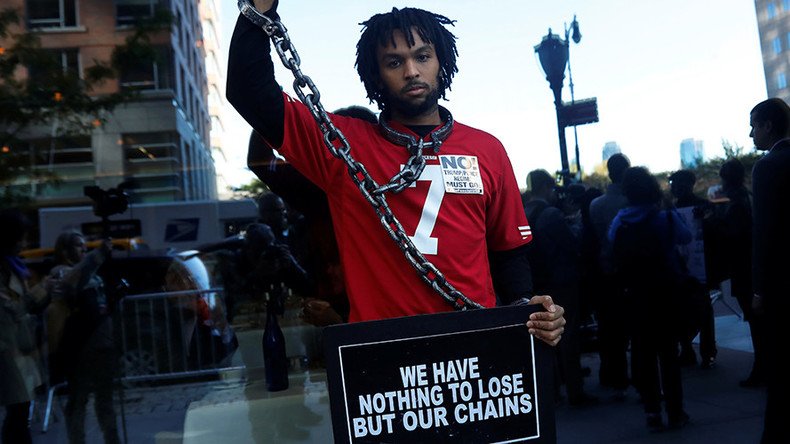 Former San Francisco 49ers quarterback Colin Kaepernick was not invited to an NFL meeting to address the controversy surrounding national anthem protests that have swept the league.
"The player was not invited to attend today's meeting," Kaepernick's lawyer Mark Geragos said, adding that the 29-year-old "is open to future participation on these important discussions."
Kaepernick, who last year triggered the wave of 'take a knee' actions during the playing of the national anthem before NFL games, has remained unsigned since he opted out of his contract with the San Francisco 49ers in March. Last Sunday the player filed a lawsuit against the NFL over alleged collusion to keep him out of the league.
NFL commissioner Roger Goodell hailed Tuesday's meeting in New York City between club owners, union leaders and players as "very productive and important", but emphasized the league did not ask for any policy change regarding the national anthem.
"We did not ask for it," Goodell said. "We spent today talking about the issues players are trying to bring attention to: Issues in our communities, to make our communities better."
The National Football League Players Association (NFLPA) and the NFL released a joint statement on Tuesday stressing that the "NFL community has a tremendous respect for our country, our flag, our anthem and our military" and stated they would work together on social issues.
READ MORE: 'Worse week than Weinstein': Veteran NFL broadcaster sorry for New York Giants' form comment
The players and owners will meet again within the next two weeks to continue their discussion over the ongoing anthem protests in the NFL. Dallas Cowboys owner Jerry Jones, who had threatened to bench protesting players, was not among the 11 club owners who attended Tuesday's meeting.
You can share this story on social media: