Pizza companies reject Papa John's criticism of NFL over sales downturn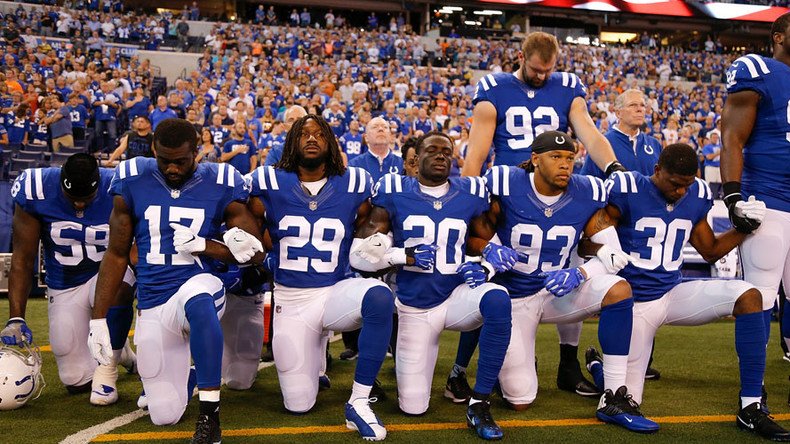 After Papa John's CEO John Schnatter blamed the National Football League's (NFL) anthem protests for falling sales, other pizza companies have rejected any idea of a negative effect on their businesses.
Pizza Hut, an official sponsor of the National Collegiate Athletic Association (NCAA), said it had seen no impact from the 'take a knee' protests, and that the company's sales had actually grown during the last quarter, beating Wall Street expectations.
Greg Creed, the CEO of Pizza Hut's parent company, Yum Brands, said during an earnings conference call with investors on Thursday that the chain "wasn't seeing any impact from the controversy on its business" and that the company turned a profit from live broadcast events including baseball, college football, and professional football, Business Insider reported.
"So I just feel good about the performance we are making, the steady progress we are making. We are making the brands more distinctive, more relevant and easier," Creed said.
"And I think all of that is going to help us get to the long-term goal."
A financial report released by Yum Brands demonstrated growth for the fifth straight sales quarter, exceeding expectations. The company's global same-store sales increased by 3 percent and its share revenue reached $1.44 billion against $1.39 billion expected.
On Wednesday, Papa John's boss Schnatter, who has been cooperating with the NFL for seven years, criticized the league for its inability to tackle the anthem protests issue, which he said had led to the company's sales slump.
"The NFL has hurt us by not resolving the current debacle. We are disappointed the NFL and its leadership did not resolve this," Schnatter said on a conference call on Wednesday.
"Leadership starts at the top, and this is an example of poor leadership," Schnatter added.
DiGiorno Pizza, a frozen pizza brand, also responded to Schnatter's criticism by posting a tweet depicting two slices of pizza, where the first one labeled "us" indicated growth, while the second one, labeled "them," showed a decline in sales.
DiGiorno Pizza also changed the company's Twitter bio by adding the slogan "Better Pizza. Better Sales. It's DiGiorno," hinting that pizza sales are much more dependent on the product's quality rather than on external factors.
You can share this story on social media: