Papa John's apologizes for blaming declining sales on NFL protests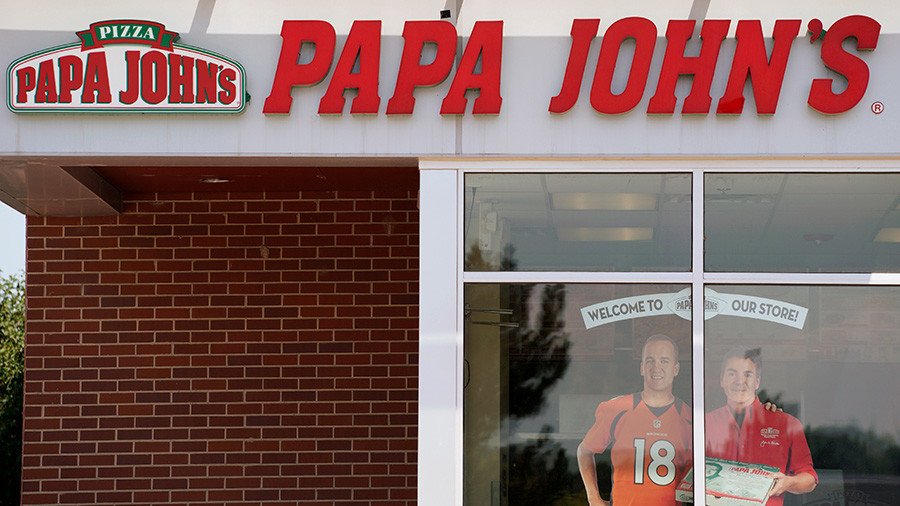 Official National Football League (NFL) sponsor Papa John's has apologized for comments made by its CEO, John Schnatter, who blamed NFL anthem protests for the pizza-maker's sales downturn.
On Tuesday, the company published a series of posts on Twitter containing an apology to anyone who considered Schnatter's comments over the NFL protests to be "divisive."
The pizza-making company also said it respects the right of individual players to "protest inequality" and "create a platform for change," but added that social issues can be addressed with due respect for the national flag.
Earlier this month, the Papa John's owner criticized the league, saying that he was disappointed by the league's inability to tackle the anthem controversy.
"The NFL has hurt us," Schnatter said in the beginning of November.
"We are disappointed the NFL and its leadership did not resolve this.
"Leadership starts at the top, and this is an example of poor leadership," he added.
Following his claims that the NFL national protest movement had affected corporate earnings, Schnatter was publicly criticized by other pizza-making companies which advised the Papa John's head to concentrate more on his company's product quality than on external factors.
READ MORE: Pizza companies reject Papa John's criticism of NFL over sales downturn
Schnatter's words also reportedly inspired American neo-Nazi website the Daily Stormer to proclaim Papa John's the official pizza of the so-called 'alt-right'- a political movement which has been accused of racism and anti-Semitism.
The publication by the Daily Stormer from November 2 contained a photo of a pizza with pepperonis shaped as a swastika, which was captioned "Papa John: Official pizza of the alt-right?" and "Sieg Heil Pizza."
Senior director of public relations at Papa John's, Peter Collins, distanced the company from any neo-Nazi comparison, telling racist groups not to buy their pizzas. "We condemn racism in all forms and any and all hate groups that support it. We do not want these individuals or groups to buy our pizza," Collins said in a statement.
The company also addressed its position on being assigned the "official pizza of the alt-right," saying that it is "open to ideas from all. Except neo-nazis," It then added a middle finger emoji before the words "those guys."
We will work with the players and league to find a positive way forward. Open to ideas from all. Except neo-nazis — 🖕those guys. (3/3)

— Papa John's Pizza (@PapaJohns) November 15, 2017
You can share this story on social media: