Victims' father who tried to attack Nassar in court to send donated money to charity groups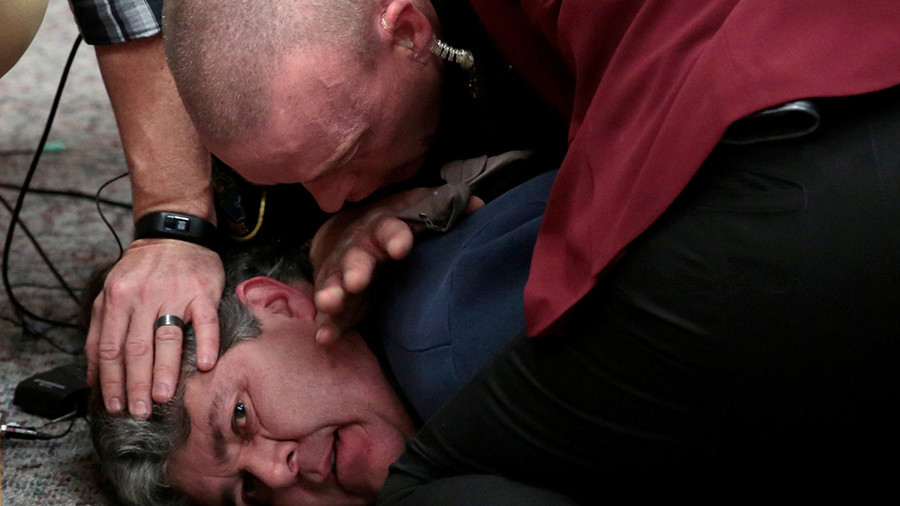 Randall Margraves, the man who attempted to attack disgraced former US gymnastics team doctor Larry Nassar in a courtroom last month, has sent the money donated to him following the incident to local charity groups.
Margraves, the father of three gymnasts who were sexually assaulted by Nassar, tried to attack the disgraced doctor after his daughters gave victim impact statements in court detailing the abuse they suffered at the hands of the former physician.
Screaming "give me five minutes in a locked room with this demon," Margraves charged at Nassar before being restrained by police officers who immediately escorted him out of the room.
Margraves later apologized to the court for his outburst, saying he was devastated at hearing his daughters' statements and he lost control. "I'm not here to upstage my daughters," he said. "I'm here to help them heal."
In the aftermath of the emotional scene, a GoFundMe campaign was launched to cover any legal costs that Margraves could have potentially faced for his actions in court.The fund-raising initiative had an initial goal of $1,000, but public donations exceeded all expectations and surpassed the $30,000 barrier.
READ MORE: 'Give me 5 mins with that demon': Nassar victim father lunges at pedophile doctor
Margraves, who was not charged for the incident, said he will transfer all the money raised to four charity organizations that help survivors of sexual assault: Small Talk, End Violent Encounters, the Firecracker Foundation and Relief After Violent Encounter.
A total of $31,441 was raised through the online campaign before it was suspended. A GoFundMe spokesperson said that $1,706 from the overall sum was refunded to 44 donors, while the remaining $29,735 will be equally distributed between the four charity groups.
READ MORE: 1st male victim of pedophile doctor Nassar files lawsuit
Nassar, who had worked for more than 20 years as the US team physician, was sentenced to up to 175 years in prison after pleading guilty to molesting young gymnasts seeking medical treatment from him.
More than 260 women and girls filed lawsuits against the pedophile doctor, claiming to have been sexually abused.
High-profile American gymnasts, including Olympic champions Aly Raisman, Simone Biles, Mckayla Maroney, Gabby Douglas and Jordyn Wieber, were among those to reveal they were abused by Nassar during their time on the US national team.