1st male victim of pedophile doctor Nassar files lawsuit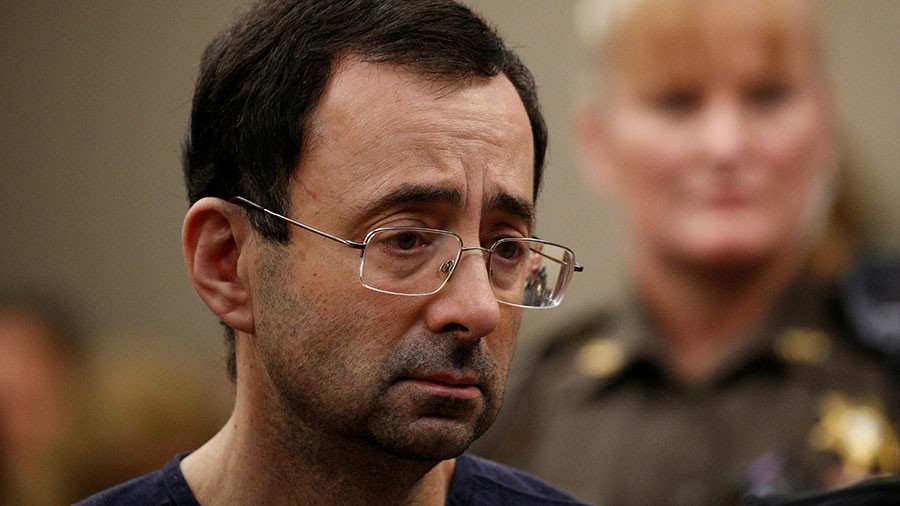 Former US men's junior team member Jacob Moore has become the first male gymnast to file a lawsuit against Larry Nassar, alleging he was sexually abused by the pedophile doctor Nassar at age 16.
University of Michigan student Moore's lawsuit was filed in a federal court Wednesday, claiming Nassar sexually assaulted the minor under the guise of treating a shoulder injury in the basement of Nassar's home in April 2016.
The complaint outlines that disgraced Nassar performed acupuncture on Moore's genitalia to treat shoulder pain, for which he had arrived at Nassar's house to receive treatment, though there was no medical reason for the therapy.
"There is no known medical connection between shoulder pain which can be treated through acupuncture in the area of a male's genitalia," the complaint states.
The suit also claims that while treating Moore, Nassar also exposed the boy's genitalia to a female gymnast present in the room, who was also a minor at that time.
"Plaintiff Jacob Moore believes the conduct of Dr. Nassar was sexual assault, battery, abuse, molestation and harassment performed by Defendant Nassar for Defendant Nassar's sexual pleasure and gratification," the complaint continues.
Moore, now 18, has joined more than 260 women claiming to have been sexually abused by Nassar. He is the first alleged male victim of Nassar to come forward. Moore's sister, Kamerin, who also accused Nassar of sexual assault, delivered a victim-impact statement in court while testifying against the former physician.
Earlier this month Nassar, who had worked for more than 20 years as the US team physician, was sentenced to up to 175 years in prison after pleading guilty to molesting young gymnasts seeking medical treatment from him.
READ MORE: Former USA Gymnastics doctor Nassar receives additional 125yr prison sentence
High-profile American gymnasts, including Olympic champions Aly Raisman, Simone Biles, Mckayla Maroney, Gabby Douglas and Jordyn Wieber, were among those to reveal they were abused by Nassar during their time on the US national team.