USA Gymnastics doctor Nassar receives additional 125yr prison sentence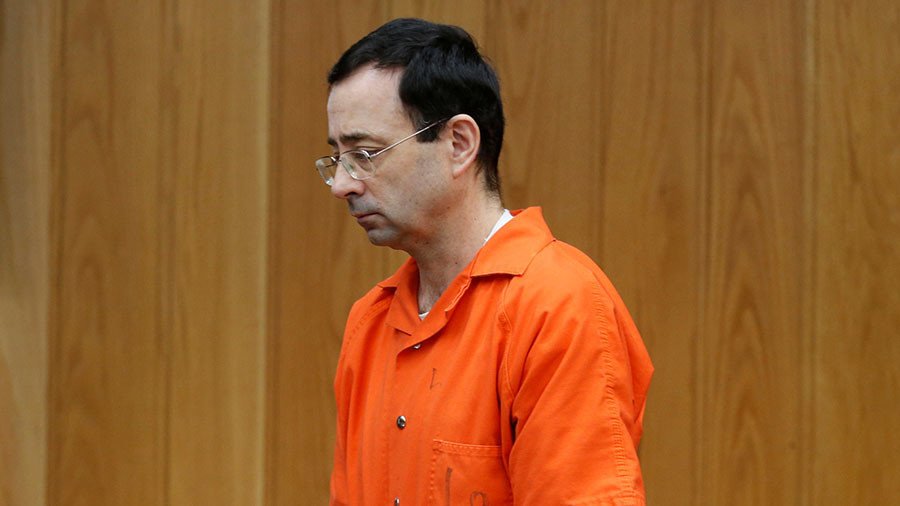 Former USA Gymnastics doctor and convicted sex offender Larry Nassar has been sentenced to an additional 40 to 125 years in prison, following on from his earlier sentence of up to 175 years.
Nassar appeared in a Michigan courtroom on Monday, his third and final sentencing, for sexually abusing young female gymnasts. He is also serving a 60-year federal sentence for child pornography convictions.
Nassar has been accused of sexually abusing 265 women throughout his career. Some 140 of the accusations stem from his 20-year career as the doctor for the US gymnastics team.
In addition to working for the national gymnastics team, Nassar was employed by Michigan State University – which has launched its own investigation after dozens of women filed lawsuits against campus officials who allegedly ignored complaints of abuse.
The US Olympic Committee and USA Gymnastics have launched several probes into claims they failed to investigate complaints of misconduct over the course of several years. Various high-ranking officials at USA Gymnastics and Michigan State have resigned in recent weeks as a result of the scandal.
READ MORE: $24,000 crowdfunded for father who attacked pedophile doctor Larry Nassar
Over the two sentencing hearings, more than 200 victims gave harrowing impact statements. Nassar offered a brief apology in court on Monday to say: "The visions of your testimonies will forever be present in my thoughts."
Judge Janice Cunningham said she did not believe Nassar understood the severity of his crimes after he suggested in a pre-sentencing interview that he had done nothing wrong.
"I am not convinced that you truly understand that what you did was wrong, and the devastating impact that you have had on the victims, their families and friends," said Cunningham to Nassar in court.
"Clearly you are in denial. You don't get it," she added.
Think your friends would be interested? Share this story!
You can share this story on social media: