Farewell to a legend: Bolt set for London swansong
Published time: 4 Aug, 2017 12:33
Edited time: 4 Aug, 2017 16:54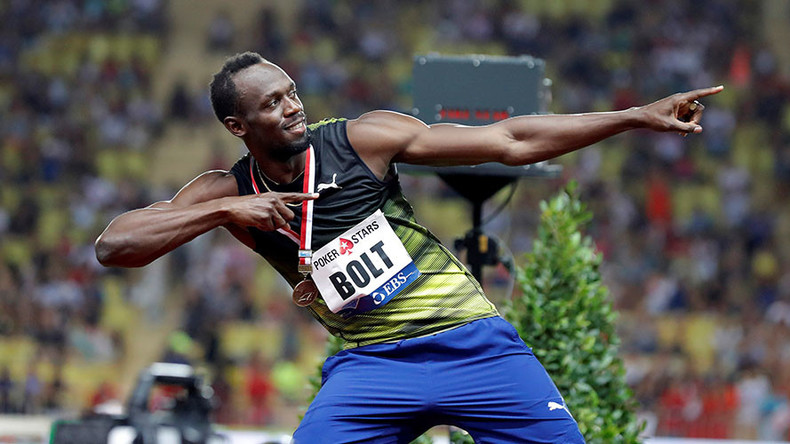 Jamaican sprint legend Usain Bolt is preparing to make his final bow at the World Athletics Championships, which start in London on Friday.
Bolt will race in the 100m and 4x100m relay events in the British capital, after which he says he will retire from the sport he has ruled for a decade.
"Unbeatable and unstoppable" was what Bolt replied at a press conference earlier this week, when asked how he would be remembered. It's hard to argue with that.
The 30-year-old has won eight Olympic gold medals – three in the 100m, three in the 200m, and two in the 4x100m relay – and was only denied the heralded triple-triple when Jamaican relay teammate Nestor Carter failed a retrospective drug test for the Beijing 2008 Games.
Bolt holds the 100m world record – 9.58 seconds – and the 200m world record – 19.19 seconds. No one else in history has even come close to those times.
He also has 11 World Championship golds to his name, and it's at the Worlds in London that Bolt will write the final chapter in a glittering career.
His legacy as the greatest sprinter of all time is secure, but Bolt – ever the showman – would dearly love to finish in style in London as he goes for the individual 100m title in the final on Saturday (assuming he negotiates the preliminary rounds) and the 4x100m relay gold with the Jamaican team a week later.
However, he knows that these Championships will be among his toughest challenges, as he battles both his rivals and aging body.
The Jamaican has clocked a best of 9.95 seconds this year – joint seventh on the list of the fastest times in the world this season, and some way behind the 9.82 of 21-year-old American Christian Coleman.
He also faces familiar threats in the form of compatriot Yohan Blake and American Justin Gatlin, both of whom have gone faster than Bolt this year.
Bolt has been in this situation before though, going into a major tournament when much of the talk was about his waning powers and the danger from his rivals.
READ MORE: Usain Bolt makes Olympic history with legendary 'triple-triple' gold
It was the case with Gatlin at the Olympics in Rio last year. In the end, Bolt found a way to win that race, powering home in the final 30 meters after a sluggish start – a common mode of victory for the Jamaican.
The prospect of going out in defeat in London is not one that has crossed Bolt's mind.
"We won't have that problem, don't worry about it," he said earlier this week at a press conference in London for sponsors Puma.
"If I show up at a championship, you know I'm fully confident and ready to go.
"For some reason I am the underdog again. That's what I keep reading and that's what my team keeps telling me. I'm going to have to prove myself once more.
"It's a championship. It's a final, so it's about who can keep their nerve. I've been here many times before, so I know I'm ready."
During that event Bolt also reflected on the tragic death of his friend Germaine Mason, a former Olympic silver medalist high-jumper, in a motorbike crash in Jamaica earlier this year. Bolt was near the scene of the accident, and afterwards did not train fully for three weeks.
"My coach gave me time to get over it. But at some point just the close net of people I was with said, Listen to us Usain, I know it's hard but you need to get back training because Germain would have wanted it. He was looking forward to seeing you finish off your legacy.'"
That legacy has seen Bolt give athletics so much over the past decade, not least by carrying the burden of being the sport's talisman amid doping scandal after doping scandal.
He has stayed clean in an age when many fellow sprinters – including prominent Americans Gatlin and Tyson Gay – have succumbed to the temptation to dope.
There's also the showmanship that the Jamaican brings to the track. For all his rivals' bluster, none can match Bolt's nonchalant style and crowd-pleasing antics – and of course the famous 'To Di World' pose, aka the 'Lightning Bolt'.
That, and so much more about Usain Bolt, will be missed once he's hung up his spikes.
Whatever happens in London, he will go down as a legend. But he'll be desperate to win on Saturday to provide the fitting finale that his stellar career deserves.