'I'm the greatest': Usain Bolt makes Olympic history with legendary 'triple-triple' gold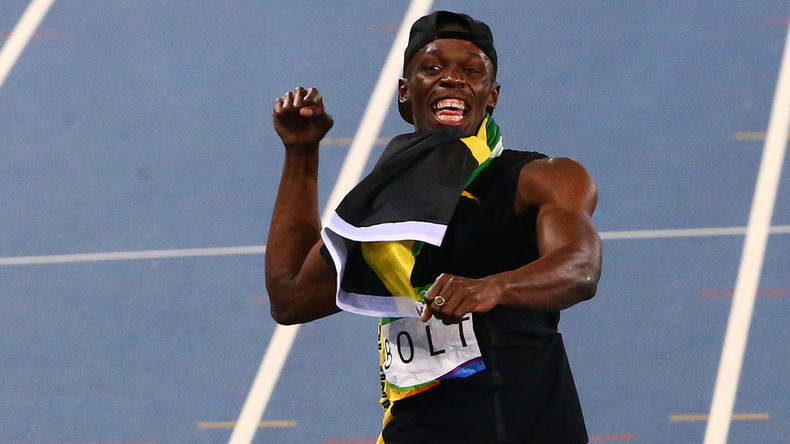 Usain Bolt, the 29-year-old Jamaican sprinter, has reached the zenith of Olympic fame by achieving an unprecedented "triple-triple" after winning the 100m, 200m and 4x100m relay gold medals at three consecutive Olympic Games.
"There you go, I'm the greatest," Bolt told reporters after his third win in Rio, which earned him the ninth gold medal in his career. "I'm going to stay up late and have fun. I never knew this would happen when I started out."
On Friday, Usain Bolt secured his place in Olympic history by winning the 4x100m relay and his third gold medal of the Rio 2016 Games.
READ MORE: Russia's synchronized swimming team wins country's 13th gold in Rio
Bolt, who will turn 30 on Sunday, ran the final leg of the relay at the Olympic Stadium, clocking in the Jamaicans sprinters at 37.27 seconds for the gold. Japan who set the Asian record won silver with 37.60s. Canadian runners secured the bronze with 37.64s. Bolt is now a perfect nine-for-nine in Olympic finals.
The Jamaican who is set to retire next year joins the second place as the second most decorated gold Olympian of all time. American swimmer Michael Phelps, who has 23 gold medals, is a clear winner. But Bolt with nine gold medals is tied for the second place with Soviet gymnast Larisa Latynina, Finish long-distance runner Paavo Nurmi, a fellow US sprinter Michael Lewis and American swimmer Mark Spitz.
Regarded as the fastest human being ever timed, Bolt is the first sprinter to hold both the 100 meters and 200 meters world records, while also holding a world record in the 4x100 meters relay.
At the end of his Olympic career, Bolt told Brazilian television that he thanked his supporters for believing in him as he shared his mixed emotions.
"I'm sad but I'm happy too," he said. "It's been wonderful and I really appreciate you guys, it's been nothing but love, it gives me goosebumps. Thanks for all your support."
You can share this story on social media: