Olympic swimming under scrutiny over 'falsified entry times'
Olympic swimming has faced criticism after the qualifying times for 17 swimmers competing in the Rio Games were called into question.
According to a report from the Guardian, nine competitors had entry times that did not match those listed at the World Aquatics Championships held in Kazan last year, and the other eight had times from events they didn't compete in or were disqualified from.
The 17 athletes include 11 men and six women from 16 different countries.
The International Swimming Federation (FINA) said the timing mistakes were made by the Rio Organizing Committee, but the ROC says the final responsibility for making sure the times are correct lies with FINA.
All the swimmers involved were selected for the Games under FINA's "universality rule."
This allows countries where no swimmer has achieved the qualifying time to pick one male and one female athlete to compete in the Games. Two hundred and twenty swimmers have been selected under this ruling.
Kenyan swimmer Hamdan Bayusuf is one of the 17 swimmers whose entry time for Rio Olympics has changed.
Read more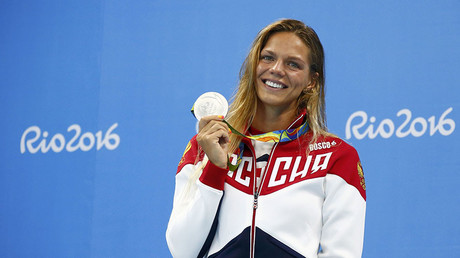 Bayusuf's time for the 100m backstroke was listed as 59.99 seconds, which was achieved in the opening heat of the event in Kazan.
The actual results sheet from the race shows Bayusuf finished the race in 1:07.
There is no suggestion the Kenyan or any of the other swimmers in Rio knew about the changed times.
Timings from the Kazan championships were previously questioned last August after the Mexican swimming federation admitted it falsified many of its swimmers' entry times at the event.
FINA's executive director, Cornel Marculescu, refused to punish Mexico at the time as none of its swimmers advanced to the semi-finals or finals.
John Leonard, the executive director of the World Swimming Coaches Association, criticized FINA's actions, saying it "clearly does not care about veracity in entry times to its events," the Guardian reports.
The governing body did eventually suspend and fine Mexico after it pulled out of hosting the 2017 world championships.
WSCA president George Block said he was worried by the discrepancies and insisted the universality rule was "something coaches have been concerned about for quite a few years."
READ MORE: The Olympic Shames: Blanket bans, international spats & Rio robberies
The US has pushed hard for FINA to fully switch to an electronic system for entries and seedings, but applications are still largely processed by hand.
FINA refused to comment on the latest scandal to hit swimming, but it has recently asked for an independent report which it says will ensure "that good governance principles are properly implemented by FINA in an ever-changing modern sport environment."