FIFA: Russia ahead of schedule in 2018 World Cup preparations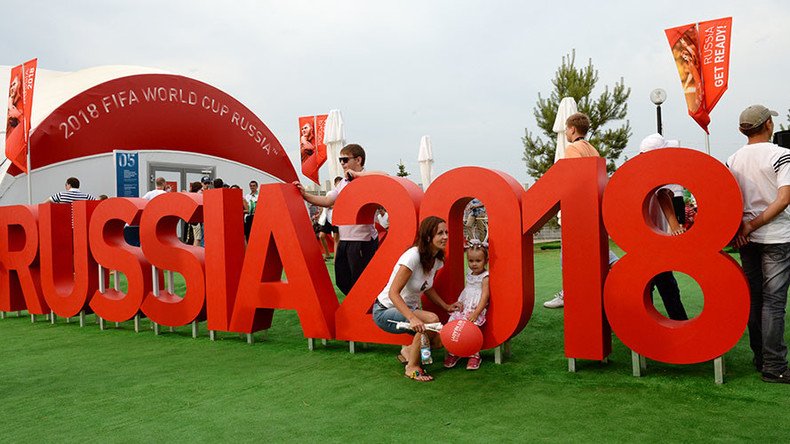 Russian Sports Minister Vitaly Mutko said on Friday that FIFA had awarded Russia top marks for its work in 2015 on World Cup preparations. The advanced grade results from Russia's preparations being ahead of schedule for the 2018 World Cup.
Mutko, who is also the president of the Russian Football Union (RFU) and a member of the FIFA Executive Committee, said:
"FIFA is annually evaluating the work of the organizing committees on its 10-point system."
"We were graded 12 for our work in 2015. The advanced grade was awarded for our ahead-of-schedule work."
Mutko, who is also the head of the 2018 Local Organizing Committee (LOC), spoke in detail about Russia's World Cup preparations, pointing out that construction on planned facilities was underway alongside infrastructure upgrades.
"We have completed the projects concepts concerning security, communications and transportation," the minister said. "Back in 2013 the Russian government adopted a special program, which included about 300 facilities," he said.
"They are all currently under construction paid for by the federal budget. In addition we have added up approximately the same amount of regional infrastructure facilities.
"In general - the work is currently underway in all possible directions, everything goes in line with the announced schedule and everything is under our control," Mutko said.
Last week, the Russian sports minister said the 2016 budget for the LOC would be 4 billion rubles ($57 million):
"Two billion, or maybe less, were allocated by FIFA. The rest of the money comes from the state budget and donations of our business partners."
READ MORE: Russia on course to host 2018 World Cup despite construction delays
Earlier this month, Mutko dismissed the impact strained Russia-Turkey relations would have on World Cup preparations. Despite several Turkish construction companies engaged on World Cup related projects in Russia, the only delays reported were in tourism-related infrastructure projects such as hotels and transportation upgrades, with stadium construction still on schedule.
Speaking to R-Sport, Mutko said:
"Overall work done in the framework of the federal programme for infrastructure preparation is on schedule. There are problems with delays in the construction of hotels in a number of regions because most of them are investment projects.
"I do not see significant difficulties. There are problems on several facilities, but a project of such scale cannot do without them at all. These problems are not critical, they are solvable."
Russia won the bid to host the 2018 World Cup at the FIFA Congress on December 4, 2010. The Russian bid beat out rivals England, a joint bid from Portugal and Spain and a joint bid from Belgium and the Netherlands.
Eleven Russian cities will host games across 12 venues, with fixtures scheduled to take place in Moscow, St. Petersburg, Kazan, Sochi, Samara, Nizhny Novgorod, Kaliningrad, Rostov-on-Don, Yekaterinburg, Volgograd and Saransk. The matches will be held between June 14 and July 15.
You can share this story on social media: