Russia on course to host 2018 World Cup despite construction delays
Published time: 4 Dec, 2015 10:46
Edited time: 4 Dec, 2015 13:13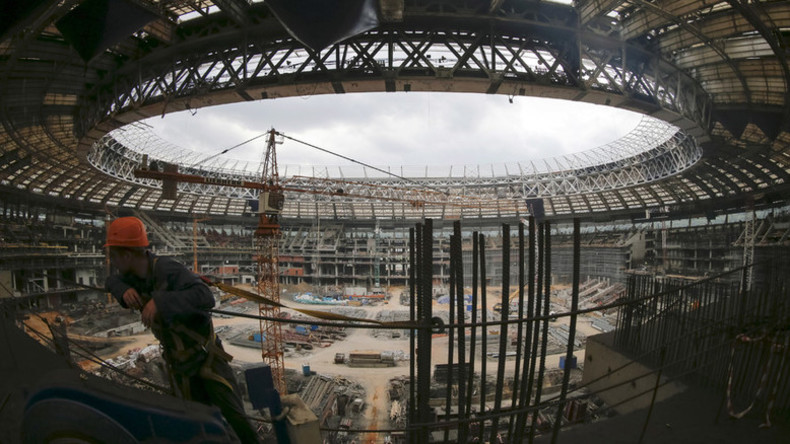 Russian Sports Minister Vitaly Mutko has given assurances the country will be ready to host the 2018 World Cup, despite construction delays and strained Russia-Turkey relations.
The minister cited the "complicated economic situation" created by low oil prices and financial sanctions as the reason for minor setbacks.
The reported delays are in the construction of infrastructure in the host cities, but Mutko insisted that any hiccups would be resolved in the near future.
"Overall, the work done in the framework of the federal program for infrastructure preparation is on schedule," Mutko told R-Sport.
"There are problems with delays in the construction of hotels in a number of regions because most of them are investment projects.
"I do not see significant difficulties. There are problems on several facilities but a project of such scale cannot be completely without problems.
"These problems are not critical, they are solvable."
The fact the delays are in hotels or investment projects rather than the actual stadiums suggests that Russia will be more than prepared to host the competition in 2018.
Compared to the significant delays before the 2014 Brazil World Cup last year, where stadiums were still being constructed in 2014 in the months leading up to the tournament, Russia looks well prepared to welcome fans from across the globe.
Despite international relations between Moscow and Ankara being strained after the downing of a Russian fighter jet recently, it has been confirmed that the use of Turkish construction companies in tournament-related projects will not cause any disruption to the hosts' plans.
Mutko remained upbeat and stated that the month-long tournament had the potential to display Russia in a positive light - even claiming that the World Cup could have a peacemaking function.
"It happens more and more often that politics interferes in sports," he said.
"It is now hard for me to say what the political situation will be like in 2018. However, I would undoubtedly want the World Cup to become some kind of a conciliatory factor - that's what sports should be.
"I want the World Cup to present Russia as an open and democratic country that has all possibilities for holding such large-scale tournaments."
Eleven Russian cities will host games across 12 venues, with fixtures scheduled to take place in Moscow, St. Petersburg, Kazan, Sochi, Samara, Nizhny Novgorod, Kaliningrad, Rostov-on-Don, Yekaterinburg, Volgograd and Saransk.