Like cigarettes: Russian MP proposes health warning labels for burgers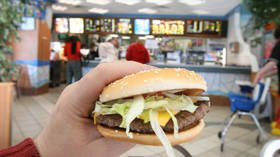 A Russian MP known for his staunch pro-Christian views and controversial legislative initiatives has proposed to put warning labels on burger boxes and to ban fast food chains from doing promotions with free food.
"If one wants to snack on the go, it's better to get a shawarma or a falafel. While burgers should get health warning labels, like cigarettes," Vitaly Milonov told journalists.
The politician warned that the primary products used for fast food are a "far cry from nutrition standards," stressing that consuming fast food with soda "brings more damage than alcohol and tobacco together."
Also on rt.com
Taking candy from a baby: Russian lawmaker wants to ban children from buying sweets
Milonov also suggested banning fast food chains from giving away free burgers as a special offer after a promotion by a Moscow KFC resulted in a mass brawl. "We have already banned giving away free alcohol and cigarettes. Burgers are basically the same, it's dangerous food," he said.
The number of overweight people in Russia has doubled since 2011, according to Russia's consumer watchdog Rospotrbenadzor. Around 20 percent of teenagers in Russia are overweight, official data says.
The World Health Organization (WHO) has linked obesity to numerous health risks such as cardiovascular diseases (which is the leading cause of death in Russia, accounting for 55 percent), type 2 diabetes, musculoskeletal disorders like osteoarthritis, and some cancers.
Also on rt.com
'Product of chemical synthesis': Russian lawmaker targets artificial food additives in new bill
Milonov has been campaigning for healthy nutrition for years – he has advocated banning the sale of candy to children, as well as prohibiting the use of transfats in Russia. However, he is most famous for his anti-LGBT stance and for a number of controversial initiatives that have made headlines. Among them were: A ban of Halloween celebrations at schools, a ban of sex shops, and launching 'vice squads' to target prostitution during the 2018 World Cup.
Like this story? Share it with a friend!
You can share this story on social media: