Facebook hires 'co-writer' of the pro-surveillance Patriot Act amid growing concerns over privacy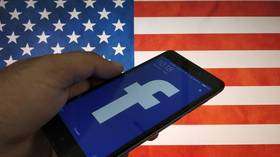 As Facebook is facing more pressure over its handling of user data, the embattled social media giant has hired Jennifer Newstead, widely regarded as a co-author of the Patriot Act, to deal with its legal woes.
Facebook announced on Monday that Newstead would be replacing Colin Stretch as the company's general counsel. COO Sheryl Sandberg touted Newstead as a "seasoned leader whose global perspective and experience" would help the company "fulfill its mission." While Newstead might boast vast experience in the legal field, having worked in both private and public sectors, her government record is not without controversy.
Also on rt.com
Want a new Facebook account? Just hand over your private email password
Before taking the job with Facebook, Newstead served as a legal adviser to the State Department for two years. If tapping a Trump official for the job is a move not striking enough, Newstead's reputation as the co-author and passionate advocate of the 2001 Patriot Act that has widened the government's surveillance and detention powers is bound to raise a few eyebrows about Facebook's choice of its new top lawyer.
While there is little official information about Newstead's role in drafting the legislation, she is reported to be the driving force behind its adoption by the Congress and is said to have penned portions of the Act. In a 2002 press release issued by then head of the Department of Justice Office of Legal Policy, Newstead was hailed for "her excellent service on a range of issues – including helping craft the new U.S.A. Patriot Act to protect the United States against terror."
The Act was ostensibly aimed at protecting American citizens from terrorism and was passed on the back of the 9/11 attacks with hardly any debate. In the years that followed, it has drawn widespread criticism for granting the government broad powers to spy on its own citizens which many believe to be incompatible with protection of privacy.
The Act allowed law enforcement to collect and store the phone and Internet records of millions of Americans on a daily basis. The practice was confirmed by Edward Snowden's revelations in 2013, which have reignited the debate about sweeping surveillance powers exercised by the state. The resulting outrage eventually led to the portion of the Act that allowed the National Security Agency (NSA) to conduct its mass phone data collection to be amended in 2015.
In a statement on Monday, Newstead said that she was "excited to be joining Facebook at an important time and working with such a fantastic team."
"I am looking forward to working with the team and outside experts and regulators on a range of legal issues as we seek to uphold our responsibilities and shared values," she stated.
Facebook has been under fire for its hands-off approach to handling the sensitive personal data its millions of users share with the platform. The tech giant has recently been caught asking new users to give their private email passwords, an immediate red flag for every privacy-concerned individual.
Last month it was revealed that Facebook stored over half a billion users' passwords on its servers for years, that could be accessed by the company's employees.
Think your friends would be interested? Share this story!
You can share this story on social media: