Taking candy from a baby: Russian lawmaker wants to ban children from buying sweets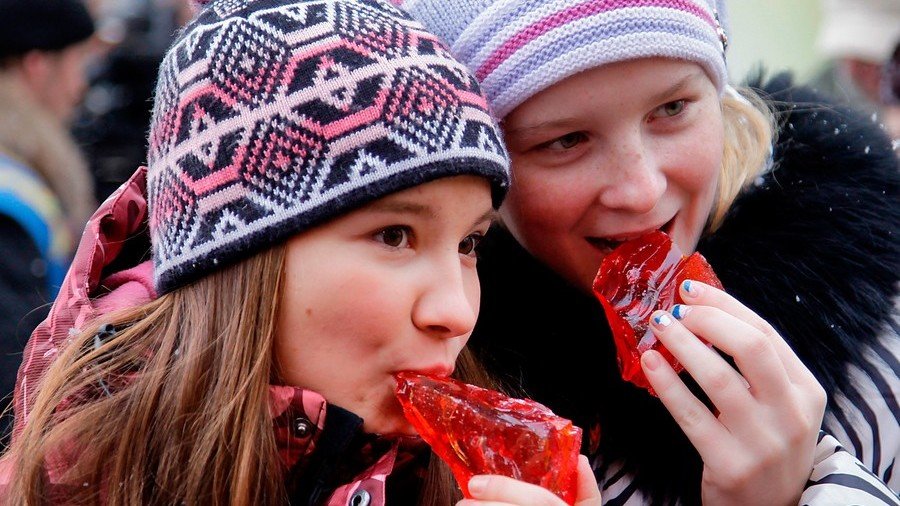 A Russian lawmaker has proposed fighting child obesity with radical measures – banning the sale of candy to children under 14 and marking foods which have a high sugar content with graphic warnings, similar to cigarettes.
"Children know no measure in their love of sweet foods: when they have pocket money they often spend all of it at once, and not on oats and milk, but real poison in an attractive and beautiful packaging," MP Vitaly Milonov (United Russia) wrote in his letter to Health Minister Veronika Skvortsova, as quoted by RIA Novosti.
"When a child finishes the third chocolate bar in the street, there is no strict teacher or caring parent around to explain that such diet is extremely harmful for the growing body," the lawmaker added.
Milonov also quoted the latest statistical research which shows that over the past years obesity has become one of the most widespread causes of health problems among children and teenagers.
To address the situation the lawmaker proposes amending the law in such a way that producers of candy, soda drinks and any food with a high content of sugar, mark their products with warnings about the consequences of following unhealthy diets, similar to the warnings on tobacco and alcohol. He also proposed a complete ban on the sales of foods and drinks with high sugar content to children under 14.
Milonov made his suggestions soon after the head of the consumer rights watchdog Rospotrebnadzor, Anna Popova, told reporters that the average consumption of sugar per capita has increased six times over the past 100 years.
While being rather radical, Milonov's proposal is far from being unique. Similar ideas have been voiced several times by lawmakers on various sides of the political spectrum. In 2016, an MP representing center-left party Fair Russia asked the government to oblige producers to put graphic warning labels on fast food packaging.
In 2015, the United Russia party proposed that ads for foods with a high content of sugar, salt, and saturated fat, follow similar rules for alcohol and tobacco advertising. In 2014, the Russian Temperance Society said that the government should launch a campaign against fast food and sugary soft drinks.
Like this story? Share it with a friend!
You can share this story on social media: