Unique surgery: Russian hospital performs first successful lungs and liver transplant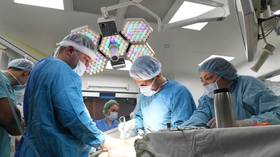 It took several teams of doctors, three organs, and a 16-hour surgery at a Moscow hospital to give a second chance at life to a nine-year-old boy who suffers from a genetic disease.
"This was a unique surgery, nothing like this was ever performed on children," Russian Health Minister Veronika Skvortsova told journalists. She added that at least three attempts had previously been made to perform the surgery without success, according to scientific literature.
"Thus, it was the first ever successful transplantation of three organs at the same time," Skvortsova said.
The little patient, who suffered cystic fibrosis – a genetic disorder that mostly affects the lungs, but also the pancreas, liver, kidneys, and intestine – could hardly walk and weighed just 30kg before the surgery. He had developed cirrhosis and needed a constant oxygen supply as a result of the disease.
Also on rt.com
Organs grown in space: Russian scientists 3D-print mouse's thyroid on ISS in world first
Since undergoing the life-changing surgery in February, he has almost completely recovered. He was discharged from hospital and is now able to walk by himself, according to the surgeons.
Cystic fibrosis is most common among people of Northern European ancestry and affects around one in every 3,000 newborns. It was first recognized as a disease in 1938, becoming one of the first genetic illnesses to be discovered and treated.
Like this story? Share it with a friend!
You can share this story on social media: