Trump spins cover-up for Saudi killing, signaling no 'turning-point' in US relations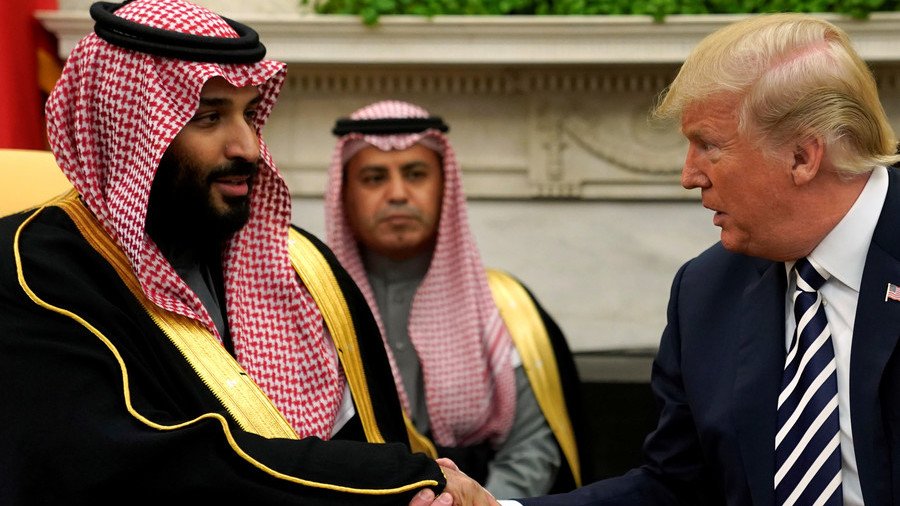 Senior congressional lawmakers are calling for a radical overhaul in US relations with Saudi Arabia. But Trump's indulgence to let Saudi rulers off the hook shows the strategic alliance is too important for US' power interests.
Some 22 US senators have invoked the Global Magnitsky Act which could trigger economic sanctions against Saudi Arabia over the killing of journalist Jamal Khashoggi. Current and former senators are saying the alleged murder in a Saudi consulate in Turkey on October 2 is a "turning point" for Washington's decades-old alliance with Riyadh.
Former Republican Senator Bob Graham told CNN's Christiane Amanpour the Saudi relationship is "perfidious" and harmful to America. He referred in particular to what he called was Saudi state complicity in the 9/11 terror incidents in 2001, when nearly 3,000 US citizens were killed.
Graham said the US must use Magnitsky laws to punish Saudi Arabia over the disappearance and murder of Jamal Khashoggi, and to not "capitulate to economic blackmail." The latter point was an implicit reference to President Trump saying earlier he was reluctant to cancel weapons sales to Saudi Arabia worth $110 billion.
The original Magnitsky Act, signed into law in 2012, was designed to punish Russia with sanctions over alleged human rights abuses. In 2016, it was expanded to place the rest of the world under US authority as well. Its targeting of Russia has been disputed as a controversial political weapon, not reflecting actual human rights abuses. Nevertheless, the law has international application against any foreign government or individual deemed by the US congress as a violator of human rights.
In the case of Saudi Arabia and the missing journalist Jamal Khashoggi that would seem to be a clear incident meriting Magnitsky-type sanctions.
But whether US legislators actually follow through with threats to punish Saudi Arabia and its rulers is a moot question. The pressure is certainly on Washington to do so. If Russia has been targeted with several rounds of sanctions under the Magnitsky Act, over questionable allegations of corruption, then surely the Saudis should be in the firing line for official US censure.
The apparent murder of 59-year-old Khashoggi at a Saudi consulate is such a shocking crime. All the more pressing is that he was a legal resident of the United States – having gone into self-imposed exile from his native Saudi Arabia last year – and he was a prominent columnist for the Washington Post.
READ MORE: US won't impose economic sanctions against Saudis to protect its arms sales to kingdom – analysts
Khashoggi was well-connected in Washington with various establishment think-tanks and other media circles. His critical writing on the Saudi rulers and in particular dubious reforms being carried out by heir to the throne Crown Prince Mohammed bin Salman had a receptive audience among lawmakers and policy makers who have been growing skeptical of Riyadh's value to the US.
Turkish criminal investigators gained access to the Saudi consulate this week – 13 days after Khashoggi went missing. Media reports say the Turks have found forensic evidence to prove the journalist was killed in the building, consistent with what Turkish government sources had been leaking over the past two weeks.
The dramatic capitulation by the Saudi rulers is a sign that the game is up for their stonewalling tactics. Against all the evidence, the Saudis had been maintaining that Khashoggi left the consulate building unharmed the same day that he arrived on October 2. Crown Prince Mohammed bin Salman even stated this version in a high-profile interview with Bloomberg on October 5.
This week it was reported that the Saudis were preparing to admit that Khashoggi was murdered by an unauthorized team of Saudi interrogators who flew to Istanbul to intercept him. It is claimed that the interrogation "went wrong" and resulted in his death.
It's such a preposterous switch in the official narrative. After all the dissembling and lies up to now, Riyadh has no credibility. Also, why did the 15-man Saudi team reportedly arrive in Istanbul on two private jets connected to the Saudi monarchy, reportedly equipped with bone saws and forensic expertise, evidently for the purpose of disposing of Khashoggi's body?
Turkish investigators say they will release a full report at the end of this week. Already they are disclosing that evidence they gathered this week confirms audio and videotapes that Khashoggi was murdered.
The Washington Post has reported US intelligence intercepts which show the Saudi leadership were involved in a plot to apprehend Khashoggi. In other words, the whole barbaric affair goes right to the top of the House of Saud.
Shamefully, however, what is emerging is a cover-up in spite of the graphic evidence. That cover-up began hours before the Turkish investigators arrived at the consulate on Monday evening, when Trump told US media he had spoken with Saudi King Salman. Trump said he believed the king's denials of knowing anything about a premeditated crime. He also gave credence to the idea it could have been "rogue killers" who were responsible.
READ MORE: Police found evidence in Saudi consulate that Khashoggi was killed there - Turkish official to AP
Saudi media are now reporting that the 15-man team that flew from Riyadh to Istanbul will be questioned over the death. What this means is the hit squad are being made scapegoats and the Saudi rulers will be whitewashed of culpability.
The cover-up may not be easy, however. There is a lot more evidence to come out from Turkish and American intelligence on communications leading up to the abduction and murder of Jamal Khashoggi. Because of his media and policy establishment connections in the US, it can be expected that the whole affair will not be easily brushed aside. Also, US political and media opponents of Trump will use the matter as another means of attacking his presidency – albeit in this case, arguably, rightly so.
Still, it is doubtful this is a "turning point" in the US-Saudi alliance. Khashoggi has indeed strong advocates in Washington, and there is a growing movement among lawmakers disdainful of Saudi conduct with regard to the horrific war in Yemen.
But as the cover-up attempt by Trump shows there is a deep and inviolable strategic bond between the US and the oil-rich kingdom, going all the way back to when former president Franklin D Roosevelt formed his historic pact with the Saudi state founder King Abdul Aziz Al Saud in 1945.
The alliance goes way beyond merely supplying oil to the US, which has in fact declined in importance. It involves vital interests of maintaining the dollar as the global exchange currency for oil trade, massive annual purchases of American weapons, the Saudis funding CIA clandestine operations around the world, and the projection of US imperialist power across the geo-strategically critical Middle East.
Of course, the US should move to sanction Saudi Arabia over the Khashoggi killing – and much else besides – if its rhetoric about human rights had any substance. But as Trump's unseemly spinning of Saudi cover-up indicates, the US-Saudi relationship is unlikely to change. It is inviolable for American power interests, and Saudi despotism is too important to fail, no matter what crimes are committed.
Think your friends would be interested? Share this story!
The statements, views and opinions expressed in this column are solely those of the author and do not necessarily represent those of RT.
You can share this story on social media: