US won't impose economic sanctions against Saudis to protect its arms sales to kingdom – analysts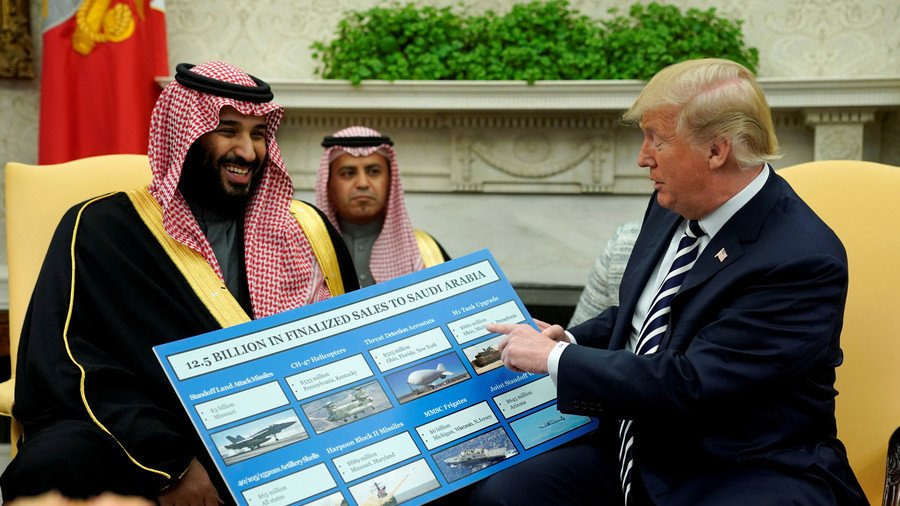 The US sanctions threat against Saudi Arabia will likely remain only a threat, analysts have told RT. The kingdom is a major buyer of American arms and is also a huge holder of US Treasury bonds which makes sanctions improbable.
US President Donald Trump has vowed 'severe punishment' if the Saudis ordered the killing of Washington Post journalist Jamal Khashoggi. Turkish authorities have claimed they have proof the journalist was tortured, killed and dismembered at the Saudi consulate in Istanbul.
"Saudi Arabia is not just an oil giant, but also - a) one of the largest buyers of American weapons i.e. the employer for the US military; b) one of the largest holders of US debt (official investments in the amount of $166.8 billion dollars plus an estimated $500 billion in tax haven, and, finally, c) a strategic partner in the Middle East that could contain Iran," a financial consultant at Teletrade Mikhail Grachev told RT.
Another analyst contacted by RT, agrees. "Riyadh is the largest buyer in American arms. Besides, Saudi Arabia has been an active investor in US Treasury bonds since 2004 and, unlike other large holders like Russia, China and Japan, who have sold bonds for the last two years, continued to buy American debt," said Mikhail Mashchenko, an analyst at the social network for investors eToro in Russia and CIS.
US sanctions against Saudi Arabia could lead to a huge spike in oil prices to $300 per barrel, something that Trump would not like, the analyst notes. Saudis could also sell off US debt and join the group of countries that actively get rids of dollar dependence, Mashchenko added.
Both analysts agree that the most likely scenario is that Washington would impose minor penalties against Riyadh that wouldn't hurt relations between the two countries.
In a "fantastic" scenario where US sanctions the Saudis, oil would skyrocket, hitting the global economy, including the US, said Ivan Kapustiansky, Leading Analyst at Forex Optimum.
"It could trigger a crisis unravelling like the oil crisis in 1973. For the global economy, the shock increase in oil prices will certainly lead to disastrous consequences, especially in net importers, where gasoline prices in the domestic market are not regulated," he said.
For more stories on economy & finance visit RT's business section
You can share this story on social media: