Revealed: How Twitter pushed RT to spend big on 2016 US election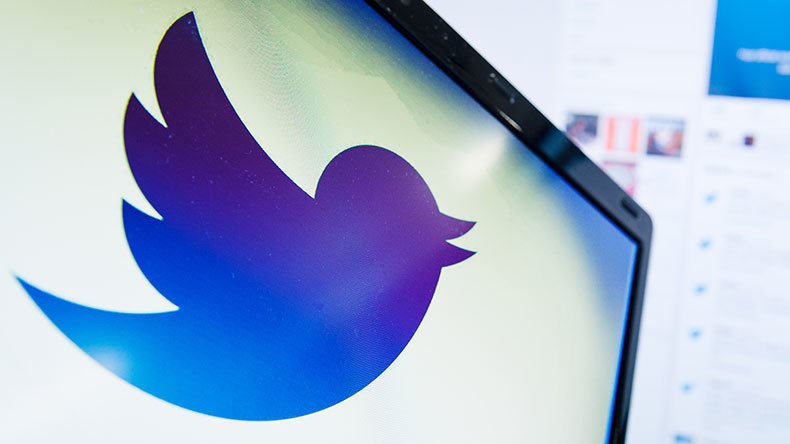 Twitter pushed RT for a large ad buy for the 2016 US election, but the channel declined the offer.
UPDATE: Twitter announces policy decision to off-board advertising from all accounts owned by RT
At the end of September, Twitter published a report titled 'Russian interference in 2016 US elections, bots, & misinformation' which included confidential data on RT ad campaigns and implied that the channel was trying to influence Twitter users via advertising on the platform.
This absolutely groundless and greatly-misleading association compels us to reveal the details of the 2016 negotiations during which Twitter representatives pitched to RT a large-sum advertising proposal. It was developed around promoting RT's US election coverage on the micro-blogging platform. This proposal was eventually declined by RT.
We want to emphasize that, unlike our partners at Twitter, at this time we are not releasing any financial details from that proposal, nor the names of people involved in these negotiations, as we value and respect our partnerships and the confidentiality of contracts.
The goal of this disclosure is to provide the facts: that RT has never been involved in any illegal activity online, and that it never pursued an agenda of influencing the US election through any platforms, including Twitter.
Here are the facts:
RT never violated any rules while advertising on Twitter.
RT has never dealt with, and will never deal with, bots or any other compromised tools on any social media platform.
RT has never spread any sort of deliberate misinformation. If we had, RT would have been banned by any social media platform in question, as all of them have strict rules regarding policy violations.
RT always has been, is, and will be a reliable partner and publisher on global social media networks which provide opportunities for all media to reach new and diverse audiences.
Twitter to RT: 'Spend big to take a stand'
The RT and Twitter teams held a number of direct negotiations, during which we brainstormed potential media strategy ahead of American elections in 2016. The first meeting dates back to as early as April 2016, and involved senior marketing and news partnerships managers from Twitter.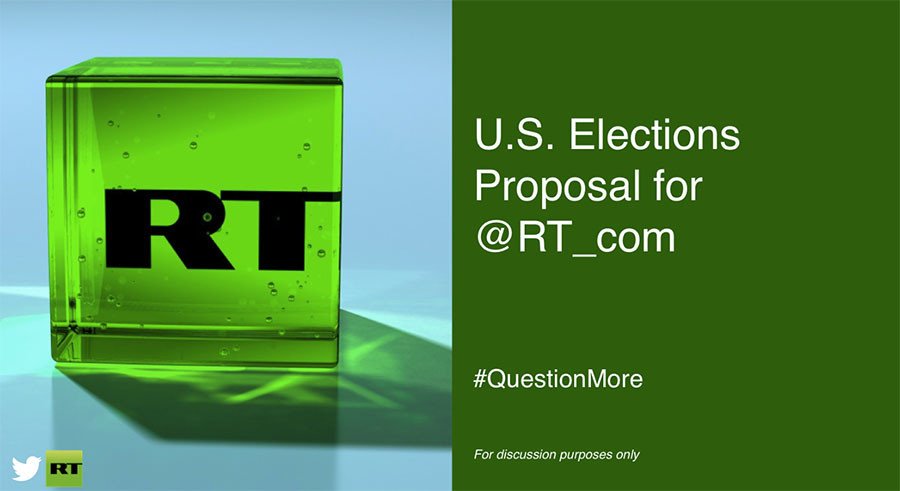 The main idea pitched by Twitter to RT was "to take a stand." The more money RT spent, the bigger the reach to American voters that Twitter would provide. At the meeting, the RT team was shown an in-depth presentation giving background into Twitter's advantages as a platform of choice for the election.
The custom presentation provided an insight into just how big a conversation Twitter was expecting on its platform around the much-anticipated US vote. Among the shared data, the RT team was presented statistics on how Twitter users were reacting to each of three main contenders at the time – Donald Trump, Hillary Clinton and Bernie Sanders.
The presentation included a "Mission Statement" as envisaged by Twitter which proclaimed: "Deliver an unbiased point of view of the US elections with an edge utilizing the powerful technology of Twitter to distribute the message in real time."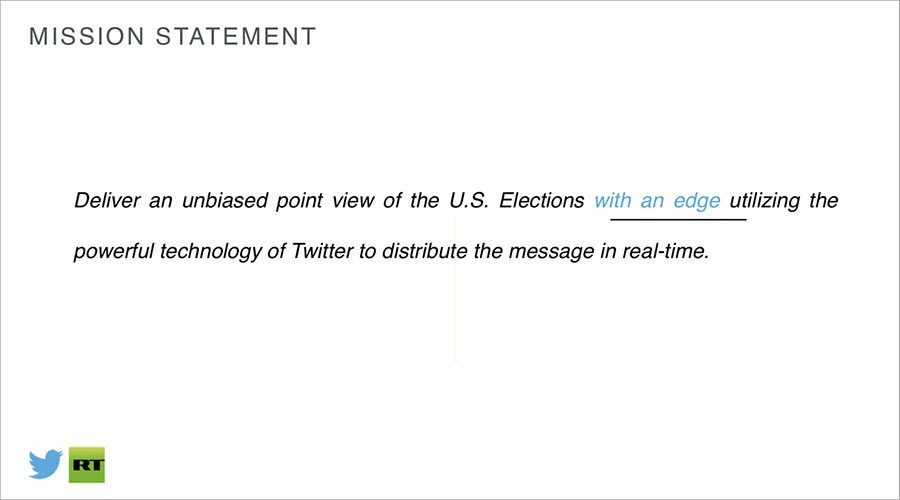 In order to entice RT to agree to the exclusive elections offer, Twitter promised a package of perks and bonuses.
The offer included such things as closed beta testing of new tools and products; a customized emoji-hashtag that would help RT stand out with special election coverage; customized analytics and research solutions; and a dedicated team of Twitter experts to help with content curation and media strategy.
The exclusive Twitter offer was eventually declined by RT due to the excessive price tag – much higher than the usual RT budgets for social media promotion – and due to a lack of confidence on behalf of RT that this campaign would benefit the network.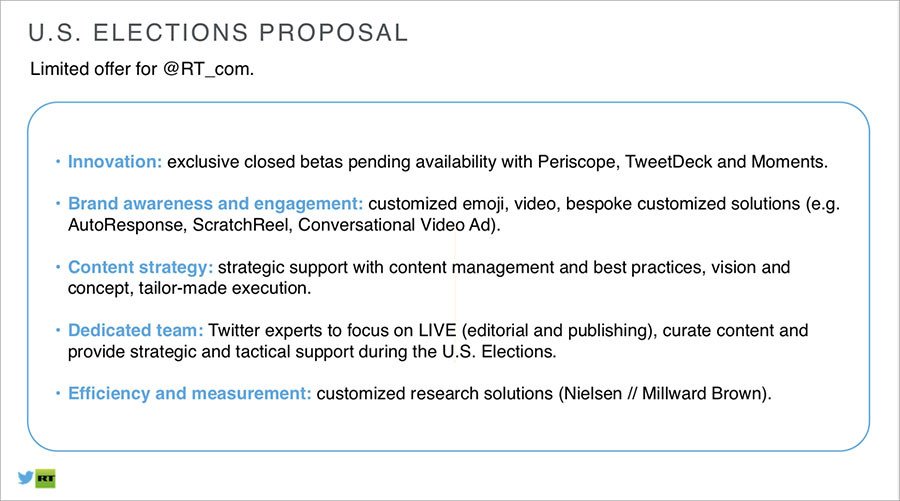 Partnership deal with Twitter
RT de facto became partners with Twitter after signing a deal with platform's official representative company in Russia in 2015.
The September 28, 2017, Twitter report states: "Based on our findings thus far, RT spent $274,100 in U.S. ads in 2016. In that year, the @RT_com, @RT_America, and @ActualidadRT accounts promoted 1,823 Tweets that definitely or potentially targeted the U.S. market".
First of all, in the aforementioned publication Twitter revealed a partner's confidential financial information without warning. Secondly, the post fails to provide crucial context: that virtually all news media organizations spend money to advertise their news coverage on social media platforms around the world (RT is not even remotely a unique case by any measure), and that it is an entirely legal and lawful means of content promotion.
Most importantly, however, the report fails to specify that the $274,100 was not the amount spent on promoting election-related tweets to the US audience. The great majority of that sum was spent on general promotion of the RT accounts as a way of reaching new audiences – the most popular form of advertising on Twitter. Only a fraction of the promoted content was related to US election coverage.
The above was also part of a general 2016 spend through which RT would receive bonuses and confirm its status as a premium partner, which ensured direct support from Twitter's managers.
It is also worth noting that due to unsatisfying results in 2016, RT has substantially cut budgets for advertising on Twitter in 2017.
RT coverage of 2016 US presidential campaign
Just like other news outlets, RT gave a lot of coverage to the US election, which was a major event for the network. RT covered Hillary Clinton's track record, including its less-than-flattering aspects – as did other outlets. This consisted of both serious allegations such as the Clinton Foundation's ties to foreign governments, and less scandalous stories like the use of a private server for State Department emails.
Clinton's main competitor in the primaries, Bernie Sanders, didn't escape our attention.
Donald Trump, of course, received his fair share of scrutiny from RT, ranging from the sex assault scandal, to racially-tinged rally rants, and violence surrounding his campaign events.
RT reported on Trump the "Siberian candidate," and on Trump's apparent inability to make up his mind whether or not he knew Vladimir Putin personally. And importantly, RT provided a platform for outside voices, including candidates from third parties, in order to more completely reflect the full range of American political views – the good and the bad.
And all that coverage found its way to RT's Twitter accounts.
Next Wednesday, November 1, Twitter executives will testify before the US House panel investigating alleged election meddling by Russia, as will representatives from Google and Facebook. We, of course, will be watching to see just how complete and accurate that testimony is in relation to RT.
Kirill Karnovich-Valua
RT's Deputy Editor-in-Chief
The statements, views and opinions expressed in this column are solely those of the author and do not necessarily represent those of RT.
You can share this story on social media: