Trump protester dragged from Connecticut rally in chokehold by cop (PHOTO)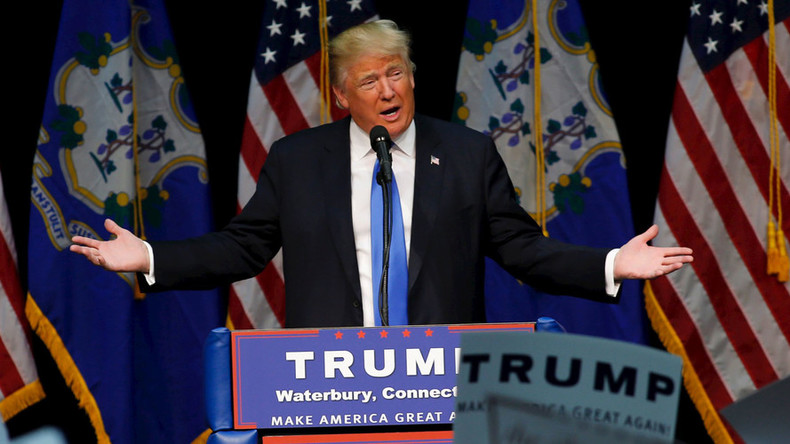 Multiple protesters were ejected from a Trump rally in Bridgeport, Connecticut, with a police officer dragging one heckler from the building in a chokehold.
The chaos erupted during one of two Trump rallies held in Connecticut on Saturday.
The first rally in Waterbury seemed to wrap up without incident, with a crowd of Trump supporters chanting "build that wall," referring to the barrier the candidate has promised to build between Mexico and the United states if elected – while making the people of Mexico pay for it to boot.
READ MORE: NYPD arrests anti-Trump protesters amid Republican gala (PHOTO, VIDEOS)
At the Bridgeport event, protesters were escorted from the building before the rally even began, but the situation nonetheless escalated once Trump finally took to the stage.
An eyewitness said a police officer was escorting a protester from the rally when the persistent heckler attempted to break free and run back into the crowd. The cop then put the man in a chokehold and proceeded to drag him out of the building.
A Bridgeport police spokesman said that he was unaware of any arrests taking place following the incident, reports NYDailyNews.
READ MORE: Inciting violence? Trump sued in Kentucky over violent rally
Saturday's protest was just the latest of many disruptions to plague Trump campaign events. Over 50 officers were called in to form a human barrier between Black Lives Matter demonstrators and Trump supporters on Wednesday.
The two groups clashed outside a Trump rally in Harrisburg, Pennsylvania, with backers of the Republican front-runner responding to Black Lives Matter activists with chants of "Blue Lives Matter," according to PennLive.
The "near riot" had reportedly calmed down by 9:30 pm, however, and no arrests were made.
You can share this story on social media: