Red baiting Bernie: Clinton backers hint at... communist links to Sanders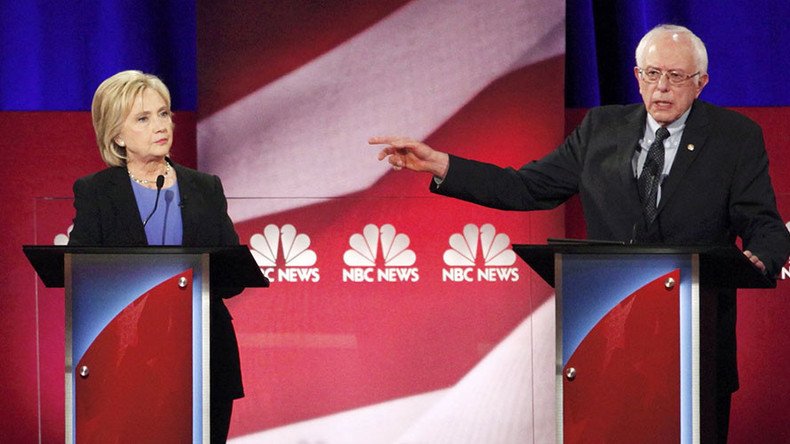 The Hillary Clinton campaign has returned to the Democratic presidential candidate's Goldwater roots by using 'Red scare' tactics against her main rival, Vermont Senator Bernie Sanders.
As polls show Sanders closing the gap with Clinton in Iowa and pulling way ahead of her in New Hampshire, her campaign has been hinting that Republicans will use the C-word (communism) against Sanders if he wins the Democratic nomination.
A secret dossier prepared by Sanders opponents and given to the Guardian this week by a "Democrat" alleges that "Sanders 'sympathized with the USSR during the Cold War' because he went on a trip there to visit a twinned city while he was mayor of Burlington."
The dossier makes other "associations with communism", linking Sanders to countries like Cuba, China, and Nicaragua, according to the Guardian.
A New York Times article this week said some Democrats are "highlighting his socialist beliefs to warn that he would be an electoral disaster who would frighten swing voters and send Democrats in tight congressional and governor's races to defeat".
Longtime Clinton ally James Carville warned: "Once you get the nomination, they are not going to play nice."

The NY Times article also quotes Democrats like Missouri Governor Jay Nixon, who said about Sanders: "Here in the heartland, we like our politicians in the mainstream, and he is not — he's a socialist."
Speaking in Iowa earlier this month, Clinton said: "Think hard about the people representing themselves to you. Their experience, their qualifications, their positions, and particularly for those of us who are Democrats, their electability and how we make sure we have a Democrat going back into that White House on January 20, 2017."
While the tactic has been about questioning the electability of Sanders, Clinton's ability to win in the general election is also in doubt with high negative ratings and polls showing her struggling against theoretical GOP opponents including frontrunner Donald Trump.
The same polls show Sanders would beat the billionaire Republican in November with a double-digit lead.
Sanders addressed electability concerns on ABC's program "This Week" hosted by former Clinton press secretary George Stephanopoulos: "If people are concerned about electability — and Democrats should be very concerned because we certainly don't want to see some right-wing extremist in the White House — Bernie Sanders is the candidate."
Clinton even implied Sanders is more establishment than she is on CNN on Thursday, when asked by Wolf Blitzer.
"I just don't understand what that means. He's been in Congress. He's been elected to office a lot longer than I have. I was in the Senate for eight wonderful years representing New York. He's been in Congress for 25. And so I'll let your viewers make their own judgment," said Clinton.
Clinton adopted similar efforts during her 2008 presidential run, framing Barack Obama as unelectable, and calling him "irresponsible and frankly naive" on foreign policy, particularly his comments on meeting with Iran.
During last Sunday's Democratic debate, Sanders said: "I think what we've got to do is move as aggressively as we can to normalize relations with Iran. Can I tell that we should open an embassy in Tehran tomorrow? No, I don't think we should. But I think the goal has got to be as we've done with Cuba, to move in warm relations with a very powerful and important country in this world."
The Sanders campaign takes issue with Clinton strategist David Brock, who they say launched a dirty attack using the #BlackLivesMatter movement.
"Twenty-five years ago it was Brock, a mud-slinging, right-wing extremist, who tried to destroy Anita Hill, a distinguished African American law professor. He later was forced to apologize for his lies about her. Today, he is lying about Sen. Sanders. It's bad enough that Hillary Clinton is raising millions in special-interest money in her Super Pacs. It is worse that she would hire a mudslinger like David Brock. She should be ashamed of her association with Brock," wrote Sanders communications director Michael Briggs.
Brock this week admitted he was planning to raise the issue of Sanders' health, but when news of this strategy got out, the Clinton campaign quickly distanced itself, including chairman John Podesta.
Some on social media believe this was just a stunt coordinated by Brock and Podesta.
Before she was a Democrat, Hillary Clinton worked for Republican nominee Barry Goldwater during the 1964 election, one of the dirtiest campaigns in US history that many believe set the tone for the modern era.
"Fifty years later, it is apparent that Goldwater's nomination was far from a 'defeat'. It signaled the arrival of conservatism as a serious political force, moving it from the realm of scholarly books and the pages of Buckley's small magazine to the corridors of power in both politics and the media," wrote Jeffrey Lord in the American Spectator in his article "The Vindication of Barry Goldwater: The man who made Reagan possible".
You can share this story on social media: