Turkish police clamp down on anti-government protests: LIVE UPDATES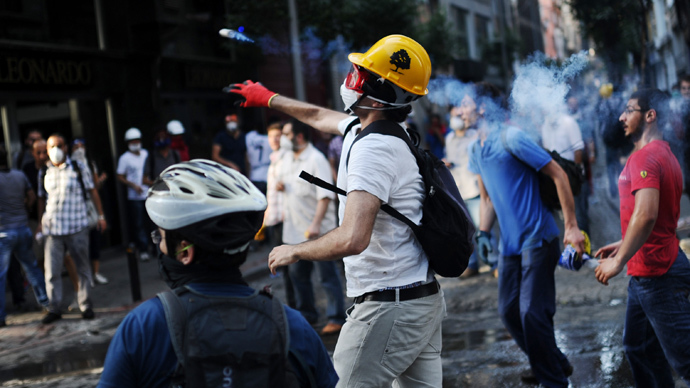 Turkey is gripped by some of the country's worst political uprising in years with protests continue since the end of May.
Five people have been killed, thousands injured and scores arrested while Ankara is criticized for its crackdown on the protests.
17:29 GMT: Turkish police have cleared Istiklal Avenue, firing water cannon and tear gas at hundreds of protesters as they gathered to march to Gezi Park. The park has been a cradle of anti-government unrest for weeks.
Demonstrators have been protesting against a recently imposed law which blocked the authority of the Union of Chambers of Turkish Engineers and Architects (TMMOB) from approving urban planning projects. They gathered at Istiklal Avenue to march to Gezi Park, which is located a short walking distance away.
BREAKING: Protesters manage to regroup | Chant 'WE WILL SUCCEED TRU RESISTANCE, WE WILL NOT BACK DOWN #occupygezipic.twitter.com/2jzSd36WiY

— Taksim Gazette (@TaksimGazete) July 13, 2013
Saturday, July 13
18:51 GMT: Around 50 people who were detained because of the Gezi park protests in Istanbul began a hunger strike on Wednesday, as prosecutors extended their detention period and the death toll from the Gezi Park incidents rose to five, Turkish media reported.
The move by prosecutors was met with strong public reaction, with the Taksim Solidarity Platform and other human rights organizations and unions calling for the detainees' immediate release, Radikal, a Turkish daily, reported.
Wednesday, July 10
16:41 GMT: Turkish police used water cannon and tear gas to disperse protesters who tried to defy a closure order and enter Istanbul's Gezi Park.
Monday, July 8
15:21 GMT: A Turkish Court has cancelled plans to redevelop Taksim Square, according to court ruling from early June obtained by Reuters. The authorities planned to turn the park into a monument to the Ottoman Empire, which sparked mass protests last month.
The court ruled in early June during the height of the unrest that the government's plan to rebuild the square broke preservation rules, that it spoiled the square's identity and broke other regulations, according to a lawyer for the plaintiffs.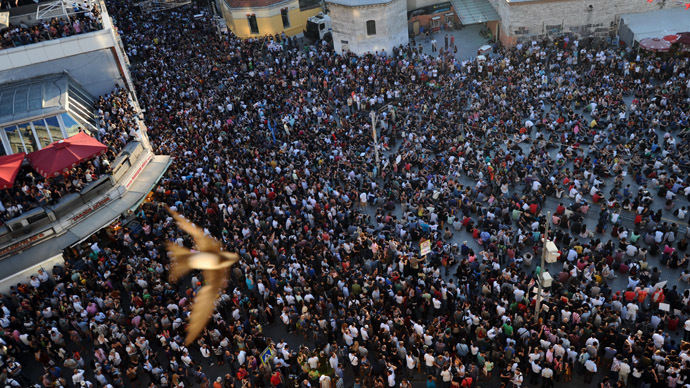 Wednesday, July 3
15:05 GMT: Kurdish protesters entered violent clashes with security forces in the southeastern province of Sirnak, burning tires and closing off a main road in the Cizre district. Some lobbed firebombs at police forces who tried to suppress the gathering by deploying water cannons and tear gas against the protesters. The demonstrators had been rallying against the killing of an 18 year old by police on Friday.
Sunday, June 30
22:30 GMT: Anti-government protesters rallied in Istanbul's Taksim Square on Saturday night, incorporating solidarity with Friday's Kurdish protester casualties into their agenda. The demonstration was dispersed after a couple of hours following a police warning, as law enforcement used shields to push the crowd away from the square. Water cannon trucks were also present but no water was fired.
Saturday, June 29
11:00 GMT: Police killed an 18 year old Kurdish protester in in southeastern Turkey and wounded at least 10 others as they fired on a group of around 250 people that was protesting the construction of a gendarmerie outpost in the Lice district of Diyarbakir province.
Friday, June 28
11:00 GMT: Turkish police have detained 20 people in a series of raids throughout the capital Ankara for their alleged involvement in weeks of anti-government protests. Some 30 addresses in total were targeted, with those detained allegedly being members of an unspecified "terrorist" organization, CNNTurk reports. Prime Minister Tayyip Erdogan had previously charged that protesters in the nationwide demonstration were being manipulated by "terrorists." The operations were reportedly conducted against individuals who had attacked police officers, business and public property. A police spokesperson in the capital was unable to provide any further information on the raids.
Tuesday, June 25
2:06 GMT: Turkish Prime Minister Tayyip Erdogan has decried the protester movement during a pro-government rally on Sunday night. He defended the actions of riot police who dispersed protesters on Saturday with water cannons and applauded his supporters for opposing a so-called "plot" against Turkey.
"The people saw this game from the start and frustrated it. They (the protesters) thought the people would say nothing. They said we will burn and destroy and do what we want but the people will do nothing," he said.
Monday, June 24
15:20 GMT: Approximately 2.5 million people have taken to the streets across Turkey since May 31, when a harsh police crackdown against activist's in Istanbul's Gezi Park prompted mass nationwide anti-government protests, Hurriyet cites a report by the country's Interior Ministry as saying.
Major protests were seen in 79 cities, with a majority of the demonstrations taking place in Ankara and Istanbul. Five people have reportedly been killed and around 4,000 injured – including 600 police officers – since the unrest began. Around 4,900 protesters have been detained. The report further says that some 58 public buildings and 337 private businesses were damaged, while 240 police vehicles, 214 private cars, 90 municipal buses and 45 ambulances were left unusable. The total damages are estimated in excess of $72 million.


12:10 GMT:
In memory for those who died during Gezi Park protests.. 4 people, 4 lives. #occupygezi#occupyturkeypic.twitter.com/ARuha54Mll

— Stun (@57UN) June 21, 2013
11:44 GMT: Fifteen protesters were detained after attempting to break through a police cordon to enter Taksim Square on Saturday. The detainees were taken to taken to a police station in Istanbul's Fatih district for questioning, Sunday's Zaman reports.
Sunday, June 23
19:30 GMT: Reports of rubber bullets being fired to disperse protesters have emerged. Local channel Artibir tv has shown a live broadcast of police wielding guns.

Police have been shooting people with paint-balls to mark their potential detainees.


Turkish +1 channel shows police load rubber bullets getting ready to fire #taksim#occupygezi

— Irem Koker (@ikoker) June 22, 2013
Police using paintball guns in #Taksim intervention to mark people to detain: pic.twitter.com/QTaqLNiOQB #direntaksim #çapulcularaksime

— Ozzie (@ozziewashere) June 22, 2013

19:15 GMT: The usage of teargas on protesters has been confirmed in Istiklal Street, a road just off Taksim Square. Media crews are beginning to make their way through the streets wearing gas masks.


Gazı göstermiyormuş TV'ler. Bu fotoğraf iyi değil ama 21.52 pic.twitter.com/pB2gDl1fA2

— Sinan Cakmak - ATLAS (@sinanchakmak) June 22, 2013
Polisin İstiklal'in ara sokaklarına attığı gazdan çocuklar da etkileniyor. Hava karardı, gaz geldi. 21.54 pic.twitter.com/iGlsEHj9Ow

— Sinan Cakmak - ATLAS (@sinanchakmak) June 22, 2013
"The police has taken the side street, Istiklal. Children have been affected by the gas. It's dark, the gas came."

18:55 GMT: A handful of reports on Twitter suggest the police have been unleashing clouds of teargas.


İşte şerefsizliğin fotoğrafı. Sokaktaki masalarda yemek yiyen insanlar vardı 30 saniye önce! pic.twitter.com/LZCyI9vBia

— Engin Süzen (@castrobey) June 22, 2013
"There were people on the street for 30 seconds before eating at the tables!"

It is claimed that the photograph was taken on Istiklal Street, just off Taksim Square.

18:45 GMT: No political messages or banners have been wielded during the protest - only Taksim Platform banners and the national flag. The crowd had also been condemning the park's closure, chanting "open park, belonging to the public," according to Hurriyet.

18:30 GMT:
Now back to Taksim Sq. TOMA again attacking w/pressured water. A cop hit this guy, fell and waiting for ambulance pic.twitter.com/QsCOUdqhqn

— ilhan tanir (@WashingtonPoint) June 22, 2013

18:20 GMT: The water cannon fired a few short bursts at a cluster of remaining protesters.The surrounding crowd started booing them. Some shouting and minor scuffles between individual police and protesters shortly followed.

Some groups of people have been shouting "where is the shampoo?" in response to the water cannon attacks.

18:00 GMT: Remaining people in the area are continuing to chant, undeterred by the unleashing of water cannons less than half an hour ago.


Well, looks like the police attacked what had been a completely peaceful, unremarkable protest.

— Claire Berlinski (@ClaireBerlinski) June 22, 2013

17:45 GMT: Police deployed the water cannon down a narrow side street into a dense crowd.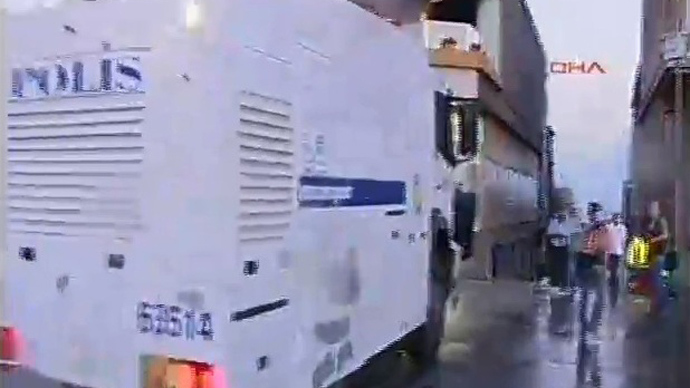 17:39 GMT: The square is drenched and almost empty but crowds linger in the surrounding streets.
Protesters had been throwing red carnations to police officers in an attempt to signify that they would like to keep the demonstration peaceful.
Protesters had been laying the flowers down in memory of those killed across the three weeks of anti-government action.

Only nine members of the Taksim Platform were allowed by Istanbul's Governor Office to lay their flowers down in Gezi Park itself, in memory of the three demonstrators and one policeman who have died over the course of the protests.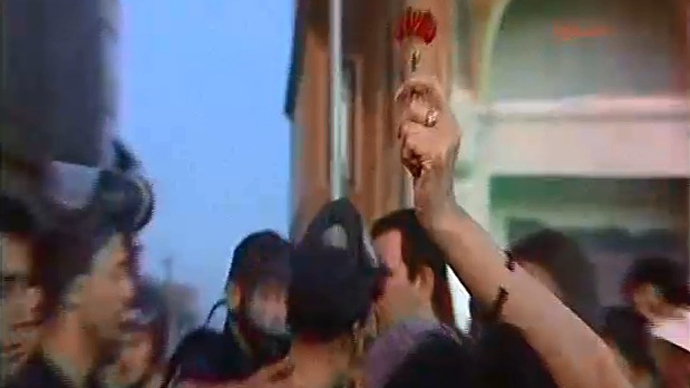 17:35 GMT: Police have turned the water cannon on protesters in Taksim square after attempting to disperse crowds by pushing them away.


Taksim de polis kalabaligi dağıtmak üzere üzerine pic.twitter.com/hRPEE0CfII

— ilhan tanir (@WashingtonPoint) June 22, 2013
"On Taksim the police disperse crowds"


More water canons pulling into square now! #taksim

— Ceylan Yeginsu (@CeylanWrites) June 22, 2013

17:30 GMT: The police and a water cannon vehicle are both closing in on protesters, with some struggles between individual protesters and the wall of police shields.

17:25 GMT:
Breaking: I see people putting on gas masks. This must mean something! pic.twitter.com/WpdFhGh54e

— ilhan tanir (@WashingtonPoint) June 22, 2013

16:55 GMT: Riot police are moving in on the demonstrators, greeted by a wave of loud boos from the crowd, who still vastly outnumber them.

"Pepper gas ole," the crowd chant.

16:45 GMT: Eyewitnesses report that people are chanting "this is only the beginning of our struggle," as they gather in the square. Water cannons and armored vehicles are on standby, with a heavy police presence also identifiable.

16:18 GMT: Hundreds of people have gathered in Istanbul's Taksim Square. Riot police are on standby.

15:25 GMT:
GeziPark is closed to people, cordoned with police. Taksim #geziparkpic.twitter.com/ynXOJm2dwd

— ilhan tanir (@WashingtonPoint) June 22, 2013
14:50 GMT: Erdogan is giving a speech on the Gezi Park protests, commenting that "the recent protests have from the beginning been carried out with malicious intentions," and accusing protesters of publishing fabricated news, "trampling on justice," and being "pawns" in a dirty game, Anadolu Agency reports.

"It is a betrayal to show Turkish police as pro-violence in the international media," he said. Erdogan identified both winners and losers emerging from the protests, conceding that "Turkey's economy, tourism, as well as its international image and influence" had suffered as a result. He added that "Turkey's enemies" were the winners.
"Nobody but God will have the power to overthrow our government," Erdogan claimed.

He went on to declare that the protests in Turkey and Brazil were essentially the same thing.

"It was the same game being played on Brazil, and same symbols, same banners, and the same international media. They are doing their best to achieve in Brazil what they could not achieve in Turkey," he said.

12:00 GMT: A demonstration has been scheduled for 7 p.m. Saturday (local time) in Taksim Square, with other discussion forums being held across Istanbul's parks. Plans are also in place to lay carnations down.
Some non-confrontational methods of objection to the government have been attempted over the past few days, such as standing completely still.
11:15 GMT: 31 people were arrested across Ankara and Istanbul over the protests in the early hours of Saturday, bringing the total number to 55. The demonstrators stood accused of organizing demostrations and provoking violence during clashes with police. A small group assembled outside court to protest against the prosecution of people who had participated in the protests.

Clashes broke out again late on Friday night close to the US embassy in Ankara. Police deployed tear gas and watter cannons against protesters who had been making a blockade on the road. One protester reportedly passed out as a result of the gassing, according to Hürriyet.

11:00 GMT: PM Erdogan's chief adviser has accused the Peace and Democracy Party (BDP) and the Kurdistan Workers' Party (PKK) of being opportunistic and taking advantage of the Gezi Park protests to further their own political agenda. "They intend to put the government under pressure in order to obtain benefits," Yalçın Akdoğan wrote in his Daily Star column, going on to comment that the BPD is ignoring the fact that the Gezi Park protesters are supposedly "staunchly against the process." The beginning of the second round of talks was announced on Friday. The PKK withdrew militants from Turkish soil on May 8. However, suspicions rose on Friday when a Turkish helicopter was shot at by terrorists in the south east of the country.


Saturday June 22

14:00 GMT: Erdogan said at the AKP rally that "Taksim Square is not a place for demonstrations. Gezi Park is not the property of occupying groups." He went on to accuse protesters of using Gezi Park as a pretext to destroy Turkey's economy and democracy, according to Turkey's Anadolu Agency.

12:30 GMT: Turkish PM Erdogan has addressed AKP supporters, saying that he knew the people were against protesters using violence. "Today, Anatolia and Thrace are joining together. [They] are rebelling against vandalism and barbarism," he said, according to Hürriyet. "Your riot is against rebels who use violence."

12:00 GMT: Two Turkish channels have been fined for airing bad language while live-streaming protests in Istanbul, according to Hürriyet daily news. Ulusal TV and Beyaz TV were fined over 11,000 Lira each for live interviews where the speaker used offensive words, with one telling Erdogan to "**** off."

11:30 GMT: Germany has summoned the Turkish ambassador to complain about a government minister who criticized Chancellor Angela Merkel after she said she was appalled at the Turkish police's overly harsh treatment of protesters.

"If Mrs. Merkel looks into it, she will see that those who mess around with Turkey do not have an auspicious end," Turkey's minister for relations with the European Union, Egemen Bağış said Thursday. The response was described as "unacceptable" by a German Foreign Ministry spokesperson, according to Reuters.

Turkey is in talks over European Union membership, and Germany has blocked the next step in light of the country's approach to dealing with the unrest.

11:00 GMT The 'Occupy Gezi' protests have cost Istanbul a reported €54.7 million in tourism, with over 215,000 reservations canceled between May 31 and June across 298 hotels in the city. Requests for future bookings have also fallen by an average of 55 percent.

02:55 GMT: In the third week of protests, the Turkish government is applying preventative measures to quell public discontent. Heavy law enforcement presence is seen in Turkey as police trucks use water cannons and tear gas before clusters of protests gain the momentum.

"The police are trying to screw down the pressure on these protesters," RT's Tom Barton reported from the scene in Ankara, adding that the police have stopped crowds from forming as "trucks with water cannons charged up the street" spraying protesters. "A real liberal use of water canon there, stripping the bark of trees, leaving debris scattered in the roads," Barton noted.

As patches of protesters fled to side streets, "a lot of gas use" was applied to disperse the activists. Barton explained that water canon vehicles "can also squirt tear gas from the sides of the truck."

"Any protester approaching it gets a blast of this stuff in his face," Barton reported explaining that "all of this is forcing the protestors onto the side streets" as police also "fired gas canisters."

Barton says this has further enraged the protesters as "evidence of heavy tactics by the police force that they criticize for protecting Prime Minister's Erdogan authoritarian government."
Friday, June 21
15:30 GMT: Police raided tents set up in Izmir's Gündoğdu Square in support of the Gezi Park protests. Around 30 of the demonstrators who had been camping were detained by police after they began to fight back against the forced removal of their tents. The confrontation followed a previous attempt to converse with the police.

A further 13 protesters have been detained in Turkey for alleged vandalism, use of firebombs and inciting riots, according to the Andalous News Agency.

09:10 GMT: Turkish police arrested more than 100 protesters in the western city of Izmir during a demonstration and carried out 15 house raids, local media reported on Thursday.
09:05 GMT: Police dispersed 5,000 demonstrators during overnight protests in the northern Turkish city of Eskisehir, Dogan news agency reported.
01:50 GMT: Turkish law enforcement has fired water cannon to stop hundreds of protesters marching on Ankara's streets against Prime Minister Recep Tayyip Erdogan and his ruling Justice and Development Party (AK).
"The police charged in here with two vehicles firing tear gas – everyone in this square chocking on that having to dive for cover" RT's Tom Barton reported from the scene.
"The water canon blasting everything around left branches hanging off the trees, and debris, and water all over the streets," Barton added.
RT's correspondent said that the police launched a surprise assault on the protesters making them flee, "very shocked from the sudden onrush of these police vehicles."
Earlier on Wednesday, thousands of activists flocked into Taksim Square in Istanbul as protesters held a candlelit vigil in Abbasaga Park for those killed during last week's clashes.
Thursday, June 20
12:45 GMT: Turkish police are running out of pepper spray canisters, TV channel CNN Turk reported. Turkey's security department is drawing up a contract to refill its stocks of non-lethal weapons. So far, 130,000 pepper spray canisters have been used against the demonstrators, as protests rocking the country enter their third week.
12:30 GMT: Hundreds of protesters stood still on the squares and main streets of several cities across Turkey on Wednesday, imitating the lone protester who started the trend on Istanbul's Taksim Square on Monday, dubbed the 'Standing Man.' Deputy Prime Minister Bulent Arinc told reporters that this new type of protest is peaceful and "pleasing to the eye."
12:25 GMT: Around 5,000 demonstrators joined an all-night protest on Tuesday that stretched into early morning Wednesday. Police then intervened with gas bombs and water cannons. Three protesters, a journalist and a police officer were injured, Hurriyet Daily News reported.
Wednesday, June 19
23:00 GMT: The Turkish government is mulling a draft law that aims to crack down on those who post "provocative material" on social media. The law will grant the government powers to investigate and prosecute individuals who publish offending material.
22:15 GMT: Police in Ankara made 25 arrests on Tuesday in multiple raids at addresses across the Turkish capital, local media reported. In a similar crackdown in Istanbul officers took 66 activists into custody, as well as 13 in the western city of Eskisehir.
22:13 GMT:
RT No army, no police, no oppression could stand against that man. #duranadamhttp://t.co/YTpWHBVODa#OccupyGezi

— Helikopter Tamircisi (@UcakTamircisi) June 18, 2013
17:15 GMT: UN Secretary-General Ban Ki-moon expressed dismay at the violent confrontations in Turkey between Turkish security forces and protesters demonstrating against Prime Minister Tayyip Erdogan and called for restraint.
"(Ban) remains concerned about ongoing clashes between protesters and security personnel," Reuters cites Eduardo del Buey as saying.
"The secretary-general urges maximum restraint and the pursuit of constructive dialogue in order to resolve differences and avoid further violent confrontation."
7:36 GMT: Turkish police reportedly arrested a group of activists holding a silent protest in Istanbul's Taksim Square on Monday night.
Tuesday, June 18
Ankara threatened on Monday to deploy armed forces if the police fail to quell anti-government protests in the country. On Monday the security apparatus used force to disperse trade union strikers with tear gas and water cannon. The government also called the general strike announced by unions "illegal." Despite this, Turkish trade unionists are calling for more strikes and marches in cities across the nation. Meanwhile bulldozers cleared the barricades at Taksim Square which has been closed to the public for two days.
16:14 GMT: The police tear gassed and dispersed the trade unionists' sit-in in Istanbul's Sisli district, Ruptly's Lizzie Phelan reports. Meanwhile, the unions seem to have withdrawn their members from protests in nearby Istiklal Avenue, which runs into Taksim, RT's Irina Galushko tweets.

KESK members sit-in protest against police barricade. pic.twitter.com/GxeRrR8C3a #generalstriketurkey

— RedHack_EN (@RedHack_EN) June 17, 2013
15:54 GMT:

Istiklal -- cops, water cannons turning away from demonstration of labor unions #turkey#protests#taksimpic.twitter.com/MgBSdrrnHO

— Irina Galushko (@IrinaGalushkoRT) June 17, 2013
13:00 GMT: Taksim Square has been opened to public following two days of being completely cordoned off by the police. Traffic hasn't yet been allowed to circulate in the square, but the Metro trains already stop next to the site, torn by the protests over the last few days.

12:21 GMT: A group of protesters wearing white masks have occupied the area in front of the Turkish consulate in Venice. The demonstrators say it is an act of solidarity for the anti-government protesters in Turkey.
#OccupyGezi is everywhere. TurkishConsulate occupied in #Venice. #taksim#occupygezi#direngezi, #direngeziparkıpic.twitter.com/Oj9mikEpS3

— globalproject.info (@global_project) June 17, 2013
10:27 GMT: Riot police in the Turkish capital of Ankara have issued a warning to around 1,000 trade union workers who are blocking a main avenue in the city center. Police threatened that force will be used to break up the protesters if they do not disperse of their own volition.

"Those of you on the streets must stop blocking the streets. Do not be provoked. The police will use force," police officers shouted through megaphones as several water cannon were positioned a few hundred meters away.

10:11 GMT: The Turkish police arrested 441 people following the violent clashes that broke out between officers and anti-government protesters in Istanbul on Sunday night, the city's bar association said on Monday. Riot police backed by helicopters broke up crowds of protesters on Sunday and then pursued them into side streets to prevent them from regrouping.
Monday, June 17

20:05 GMT: Turkish Prime Minister Erdogan has addressed a 200,000-strong crowd of the international religious Gulen Movement supporters at the closing ceremony of the Turkish language Olympiads.
Erdogan again slammed the protesters, saying that there have been "two Turkeys," and that he is against the violent one.
Erdogan did a fait accompli by addressing this distinct group as if they are against the GeziPark protests, in fact, they are not at all.

— ilhan tanir (@WashingtonPoint) June 16, 2013
19:16 GMT: While Taksim is apparently empty, large groups of protesters have headed to the nearby Besiktas Square, RT's source in Istanbul says.
Photo: #occupygezi#İstanbul#Taksim Besiktas neighborhood on the move pic.twitter.com/5z3FoHH2hyhttp://t.co/p37pxJgxVi

— RadicalMedia_ (@UnToldCarlisle) June 16, 2013
Burasi cadde... Besiktas kadar olmasada azımsanmayacak bir kalabalıkta burda pic.twitter.com/rOZKBMvEJ9

— yigido (@attoynagi) June 16, 2013
18:47 GMT: Hundreds of protesters have blocked Istanbul's major E-5 highway near Avcilar, chanting anti-government slogans, Today's Zaman reporter Mahir Zeynalov tweets.

Meanwhile, police have been pushing regrouping protesters from the streets surrounding Taksim Square, firing tear gas and reportedly detaining dozens.

18:36 GMT:
Fierce clashes in Nişantaşı and Teşvikiye neighborhoods in central İstanbul.

— Mahir Zeynalov (@MahirZeynalov) June 16, 2013
18:14 GMT: The whole Taksim neighborhood took to their balconies to bang pots in protest of Prime Minister Erdogan, RT's Bel Trew reports from Istanbul.
It's extraordinary,everywhere I see people on their balconies with whistles, pots, pans, tambourines anything banging them against #erdogan

— Bel Trew - بل ترو (@Beltrew) June 16, 2013
Erdogan on Sunday said that the Turkish nation "is not the one banging pots at night," calling on his supporters to hang national flags in their homes as an "answer" to protesters.

17:31 GMT: A crowd of people tried to lynch anti-government protesters in the Central Anatolia Region city of Konya, Hurriyet reports. Police reportedly intervened, placing the protesters on buses away from the scene.

17:06 GMT: Police are detaining large groups of protesters in the streets leading to Taksim Square, reports on Twitter say.

Photo of protesters being arrested in Istanbul pic.twitter.com/V25MoqZvhl via @EsraD and @storyfulpro#Taksim#OccupyGezi

— Kety Shapazian (@KetyDC) June 16, 2013
16:36 GMT: Five Turkish trade unions, including the 240,000 member strong public sector union confederation KESK, have announced they would call a nationwide strike for Monday in protest of police violence at Taksim.
"KESK members will go to their workplaces tomorrow, they will read a statement, and they will take to the streets," KESK General Secretary Ismail Hakkı Tombul said.
Trade unions are expecting hundreds of thousands to take to the streets, using their "power of production," Hakkı Tombul said.

16:24 GMT:
Meanwhile RT @ABYASUN: A huge cloud of tear gas in Siraselviler near Taksim. #Turkeypic.twitter.com/lpruVELWux

— Mahir Zeynalov (@MahirZeynalov) June 16, 2013
16:15 GMT:"Clearing Gezi Park is my duty," Turkish Prime Minister Erdogan told the cheering crowds of supporters in Istanbul.
In Turkey, "you cannot hold a rally wherever you wish," Erdogan stressed, saying demonstrations must be held "where it is allowed."
Gezi Park has been "cleared and handed back to its people," the Prime Minister said. "Real environmentalists" are now at work in Gezi, planting flowers, he added.
Referring to the protesters' calls to retake Taksim Square, Erdogan urged people "not to fall into this trap."
He also slammed the foreign media for showing a "false" and biased picture of Turkey.
#LIVE Erdogan: "International media, CNN, Reuters, BBC, hide this picture, too" pic.twitter.com/TxKRm0l9wu

— ANADOLU AGENCY (ENG) (@anadoluagency) June 16, 2013
"International media is alone with their lies," Erdogan said as quoted by Anadolu news agency, also calling the media to be "honest."

15:21 GMT: Official Turkish news agency Anadolu claims "millions" are welcoming Prime Minister Erdogan at his AK party's Istanbul rally.
#BREAKING Millions ready to welcome Turkish PM Erdogan for "Respect to National Will" rally in Istanbul pic.twitter.com/QD85cwv61A

— ANADOLU AGENCY (ENG) (@anadoluagency) June 16, 2013
15:11 GMT: Hundreds-strong groups of protesters keep trying to march towards Taksim Square from nearby districts of Istanbul, such as Shishli and Besiktas.
NOW: Literal Army of people getting ready to retake #Taksim Square again. #anadolufasizmedireniyor#occupygezipic.twitter.com/j4h40SVPJP

— News Lark (@NewsLark) June 16, 2013
14:59 GMT:
huge demo continues in #berlin, walking towards Turkish embassy. #occupygezi#taksimpic.twitter.com/MGeBmbI31c

— Take the square (@takethesquare) June 16, 2013
13:20 GMT: As thousands are gathering for a pro-goverment rally in Istanbul, Twitter reports suggest streets outside Taksim Square are filled with tear gas. Sporadic clashes are reported as protesters try to push through the cordons into the square.
From the window of an 5th floor apartment at Abdi Ipekci St.,Istanbul (quite far away from Taksim) #occupyistanbulpic.twitter.com/djWGYLk6hE

— meldanar (@meldanar) June 16, 2013
12:35 GMT:
Istanbul Governor says 2policemen been shot by fire arms, 2 protesters hurt in overnight clashes, calls people to avoid #Taksim#occupygezi

— sebnem arsu (@sebnemarsu) June 16, 2013
12:33 GMT: Istanbul's authorities will not allow an anti-government protest in the city's central Taksim Square after a night of unrest, the governor said.
"There is a call for gathering in Taksim at 1600 (1300 GMT)," Governor Huseyin Avnni Mutlu told reporters. "After the current environment becomes stable, they can continue exercising their democratic rights. Under current circumstances we will not allow any gathering."
12:14 GMT: Fierce clashes in Ankara's Kizilay Square are continuing, say Twitter reports.
#occupygezi - Kizilay Sq in Ankara is under tear gas clouds again http://t.co/hzxCt3dahe

— opeiratis (@opeiratis) June 16, 2013
12:01 GMT: Tear gas and water cannon were used to disperse a crowd of demonstrators in Ankara's Kizilay Square, after police had blocked the funeral procession of Ethem Sarisuluk and refused to allow the commemorative demonstration at the place he was fatally wounded.
Following failed negotiations with the police, the procession had to turn back from the square after the raid, Hurriyet reported.
The killed 26-year-old protester was allegedly shot by a police bullet on June 1.
12.45pm local time, police already began dispersing crowd in Kizilay Sq., Ankara: v @140journos: pic.twitter.com/8MQ62eLoWF

— ilhan tanir (@WashingtonPoint) June 16, 2013
11:33 GMT: A Turkish opposition party member has claimed that his nose was broken during the violent protests on Saturday night in Istanbul. Ramis Topal, a member of the Republican People's Party said he was injured when police moved in to clear out protesters from Gezi Park .

"A policeman threw a helmet right into my face by aiming," the newspaper quoted Topal as saying," he told daily newspaper, the Rafikal. He added that police also kicked him when he tried to prevent them from launching tear gas into a hotel where some injured people were being treated.
11:26 GMT:
Police now clashing with protesters in Istiklal street near Taksim, more riot police deployed to the area.

— Mahir Zeynalov (@MahirZeynalov) June 16, 2013
11:22 GMT: Additional forces have been drafted into Istanbul to cope with the unrest.

09:37 GMT:
Police use tear gas and water cannons to disperse crowd trying to enter Gezi Park in Elmadağ street near Taksim Square, at least one injured

— Mahir Zeynalov (@MahirZeynalov) June 16, 2013
05:58 GMT: Those protesters who return to Taksim Square will be considered members of a terrorist organization, Turkey's EU Minister has said in an interview.

"I request our citizens who supported the protests until today kindly to return to their homes," Egemen Bagis said to broadcaster A Haber. He added that activists were playing into the hands of extremists groups who are bent on vandalism and terrorism.

04:00 GMT: The Istanbul Hilton had given refuge to protesters escaping the police. But law enforcement had stormed the lobby and bar to drive them out in the government's attempt to regain control of the area. Earlier in the night, RT's news agency, RUPTLY, captured the following scene.
01:00 GMT: Around 100 police officers now man the Bosporus Bridge, trying to stop protesters from reaching the European side.
00:00 GMT: The video posted on social networks allegedly shows police using water cannon against protesters taking refuge at the German Hospital not far from Taksim Square.
Sunday, June 16

Clashes have been reported across Istanbul, with police using tear gas and water cannon to stop people from reaching Taksim Square. Both of the metropolis' highways remain swamped with traffic and demonstrators. Turkish Prime Minister Tayyip Erdogan demanded the protesters leave Taksim Square before Sunday, warning them of police intervention should they fail to do so. That's as the city's government put the number of injured in clashes at 29, contrary to the reports of hundreds who suffered in the violence. Labor unions are planning to stage a general strike on Monday.

23:34 GMT: Clashes have been confirmed near the Fikirtepe metro-bus station. They have also resumed in Siraselviler, with police using tear gas and water cannon to prevent people from reaching Taksim again.
Further to this, specialized police vehicles now roam Istanbul's streets, and there are unconfirmed rumors of military police.
It is confirmed now. Riot police and thousands of protesters clash near Fikirtepe metrobus station, the highway is totally blocked.

— Mahir Zeynalov (@MahirZeynalov) June 15, 2013
23:29 GMT: Davide Martello, a pianist who has been playing at Taksim Square, says police took his piano, car and iPhone. However, he was not arrested.
The Turkish police seized my piano, my car and my Iphone. I need help!!! They didn't arrest me because I have an... http://t.co/AcPf1rB5YX

— Davide Martello (@Klavierkunst) June 15, 2013
22:36 GMT:
Walking past eerily quiet #gezipark - tents still up but everyone gone. Demolition team still working their way through

— Bel Trew - بل ترو (@Beltrew) June 15, 2013
22:33 GMT: Both Istanbul's major highways - the D-100 and the TEM are now completely swamped, with traffic at a standstill and protesters everywhere.
Thousands of people on Istanbuls highways marching towards #Taksim square... #OccupyGezipic.twitter.com/12KVEgtVaY Via @57UN

— Anonymous (@YourAnonNews) June 16, 2013
22:28 GMT: Clashes between the protesters and police are reported in Siraselviler neighborhood, not far from the Gezi Park.
Police are now preparing to intervene to protesters in Sıraselviler avenue, flashpoint of the clashes in Istanbul.

— Mahir Zeynalov (@MahirZeynalov) June 15, 2013
22:16 GMT:
The #Istikal look right now. People in control here pic.twitter.com/kQ9waeMxqq

— Lizzie Phelan (@LizziePhelan) June 15, 2013
21:37 GMT: RT Spanish correspondent Aleksandra Bondarenko has been hit by a rubber bullet while covering events in Istanbul. She says she was not injured thanks to bullet-proof vest.

21:13 GMT: Istanbul's governor says that reports of hundreds being injured are false and that the number is closer to 29, according to journalist Mahir Zeynalov. The news comes as literally thousands march on Istanbl's major E-5 highway, which is now completely blocked up.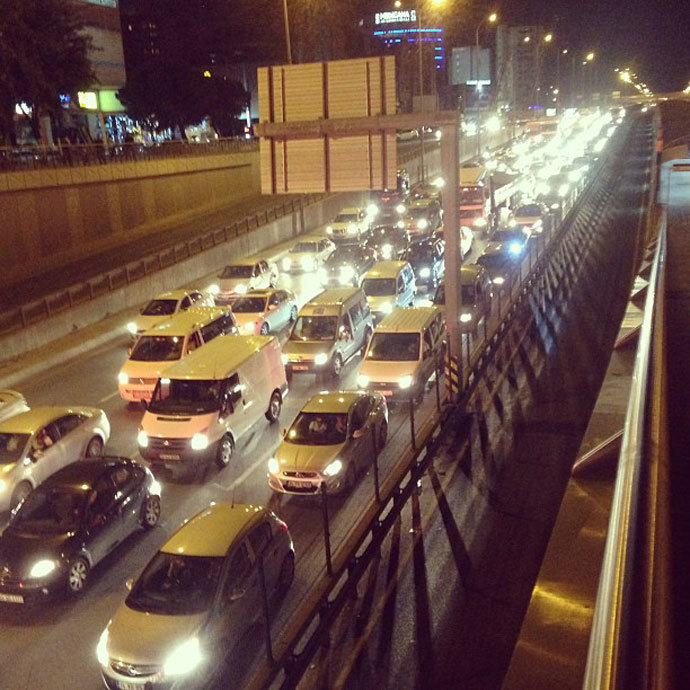 20:50 GMT: A Turkish public sector labor union has announced plans for a general strike on Monday, after Saturday's events that included another police raid on Gezi Park.
A spokesman for the Public Workers Unions Confederation (KESK) told Reuters: "We had already taken a decision to go on strike if there was an intervention on the park. So tomorrow we will declare a strike for Monday." The organization lists 240,000 members in 11 unions.
Another group, called the Revolutionary Trade Unions (DISK) is also deliberating on whether to hold a strike, according to an official of theirs.
20:32 GMT:
Govt badly mistaken if they thought they could end this easily. More ppl coming from Asian side. Shaping up to be most explosive night yet

— Lizzie Phelan (@LizziePhelan) June 15, 2013
20:30 GMT: As the crowd at Gezi Park hold hands to show their peaceful intentions, news of plastic bullets and gas cannisters spreads to the trendy Istikal Street.
Main shopping street #Istikal has turned into battlefield with police firing plastic bullets and gas cannisters

— Lizzie Phelan (@LizziePhelan) June 15, 2013
20:20 GMT:
more tear gas against crowds in the street #taksim#gezi#turkey#protestspic.twitter.com/XglLWojrwm

— Irina Galushko (@IrinaGalushkoRT) June 15, 2013
20:18 GMT: Police have reportedly entered Divan hotel, where protesters have taken refuge. There are reports of injuries.
Police determined to clean the area from protesters, including those who took shelter in Divan hotel.

— Mahir Zeynalov (@MahirZeynalov) June 15, 2013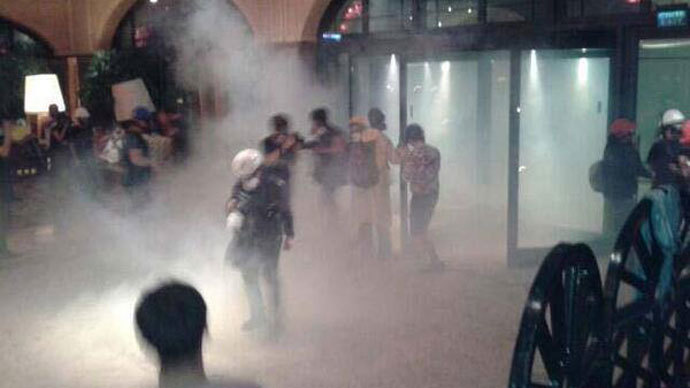 20:10 GMT: The ruling Justice and Development Party's (AKP) Spokeperson Huseyin Celik slammed the Taksim Solidarity Platform for not calling an end to their protest after meeting with Prime Minister Erdogan two days prior.

"A country's prime minister will meet you for 10 hours, you will reach an agreement then say something else behind his back. Wouldn't you feel cheated [if you were in his shoes?]", the Turkish daily Hurriyet cites Celik as saying.

CElik continued that the police evacuation could not have waited until Sunday.


20:00 GMT: The Istanbul Governor's office said 29 people had been injured after Turkish riot police moved in to clear Gezi Park, though none were in critical condition.
19:52 GMT:
Just found US tear gas canister: made by Non-Lethal Technologies Inc, Pennsylvania in #taksimhttp://t.co/3S7m39dG1x

— Bel Trew - بل ترو (@Beltrew) June 15, 2013
19:50 GMT: Riot police reportedly raiding a medical tent near Taksim Square.

Revirde polis !!! pic.twitter.com/rBBqaWO2Hi

— Bülent Saçak (@bulentsacak) June 15, 2013
19:46 GMT: The Confederation of Public Workers' Unions (KESK) and the Confederation of Revolutionary Trade Unions of Turkey (DISK), two of Turkey's four major national trade unions, will reportedly hold a general strike in response to the police raid on Gezi Park.

19:26 GMT:

Police just fired year gas at a group of 4 American journalists yelling "we're journalists"

— Benjamin Harvey (@BenjaminHarvey) June 15, 2013
19:22 GMT: Protesters flooded inside the Divan Hotel near Taksim Square to avoid the barrage of teargas as police remain outside.

21:40 itibariyle Divan Oteli koridorlarında gazdan etkilenen onlarca kişi bulunuyor. via @ergggpic.twitter.com/hOMfyn0Kua

— 140journos (@140journos) June 15, 2013
18:57 GMT:

Media and medical personnel not allowed in #gezi park #turkey#taksim#protests#occupygezi

— Irina Galushko (@IrinaGalushkoRT) June 15, 2013
18:51 GMT: Work crews are walking along side bulldozers in an effort to clear the remnants of the sit-in camp in Gezi Park.

18:46 GMT: Hundreds of protesters are reportedly clashing with police on Istiklal Avenue, a primary thoroughfare in the heart of Istanbul which leads up to Taksim Square.

18:39 GMT: RT's Irina Galushko says police are now removing tent's from Gezi Park. Earlier in the day, protesters had decided on their own initiative to remove all but one tent from the area "in order to make more room and organize Gezi Park."

18:30 GMT: A photograph depicting what has been described as a protester who was run down by a water cannon truck near Gezi Park. The man was reportedly screaming "I'm dying." The image has not been independently verified. Dozens of protesters have reportedly been injured since police moved in to clear the park.

cihangirde bir kişi tomanın altında kaldı. ölüyorum diyor pic.twitter.com/FlQeuNjAHn

— bayram balcı (@zerdusti) June 15, 2013
18:27 GMT:
Police attack Gezi park with gas NOW // La policía lanza gases al parque #Gezi#rbnews#occupyGezi#Turquíapic.twitter.com/7iXfOuvDvZ

— 15MBcn_int (@15MBcn_int) June 15, 2013
18:13 GMT:
Tear gas, flash grenades on #taksim#turkey#protests

— Irina Galushko (@IrinaGalushkoRT) June 15, 2013
18:05 GMT: Turkish police have reportedly used water cannons and fired tear gas near Gezi Park and are now telling people to immediately vacate the area.

17:59 GMT: Istanbul police have dispersed protesters from at least half the Taksim Square. Heavy smoke can be seen rising from Gezi Park.

17:49 GMT:
Police have got their gas masks on and are all kitted up. People looking nervous it's tense here on #taksim after #erdogan's speech

— Bel Trew - بل ترو (@Beltrew) June 15, 2013
16:05 GMT: Prime Minister Erdogan demanded the protesters leave Taksim Square before tomorrow, threatening them with police intervention.
"We have our Istanbul rally tomorrow. I say it clearly: Taksim Square must be evacuated, otherwise this country's security forces know how to evacuate it," Erdogan said in Ankara, as he announced the Sunday rally in support of his party AKP.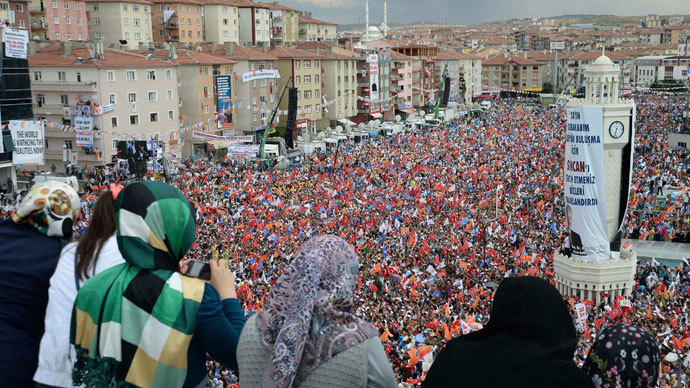 15:09 GMT: A rally in support of Prime Minister Ergodan's party AKP, titled 'Respect for the National Will' by the organizers, has gathered tens of thousands of attendees in Ankara, according to AP.
AK Parti'nin Ankara Sincan'da düzenlediği "Milli İradeye Saygı" mitinginin panoramik fotoğrafı pic.twitter.com/3jowW63x25

— Yeni Şafak (@yenisafak) June 15, 2013
Erdogan again slammed the Turkish anti-government demonstrators for violent protests, contrasting them with "peaceful" party supporters.
"If you want to hear the voice of democracy, come to Ankara" says #erdogan to his supporters, just 18 hours after he gassed protesters there

— Bel Trew - بل ترو (@Beltrew) June 15, 2013
He focused on a foreign support conspiracy, claiming the Turkish government has "all the evidence needed" of the "traitor scheme" behind the protests.
PM Erdogan: we have all the evidences needed, we documented the traitor organization/scheme. We will reveal of those soon.

— ilhan tanir (@WashingtonPoint) June 15, 2013
15:05 GMT: Protesters in Istanbul's Gezi Park have agreed to remove barricades standing at the park's entrance from Taksim Square, the Turkish daily Hurriyet reports. The activists, united under the banner of the Taksim Solidarity Platform, further agreed to remove their tents "in order to make more room and organize Gezi Park." The sit-in demonstration will reportedly continue with one common tent for all 116 organizations, who promised to "stand guard" at Gezi Park. The park will also be cleared of banners baring the logos of various political parties and other organizations. The decision follows a late night meeting with Prime Minister Recep Tayyip Erdogan on June 13. After an all-night debate at seven separate discussion forums, the protesters reached consensus regarding the current direction of the civil action, who are mostly united in their desire to "pursue resistance."
08:10 GMT: Protesters refuse to leave Gezi Park in Istanbul, reports Al-Arabiya quoting their statement.
06:59 GMT:
#occupygezi protesters met until 4:30 a.m. to discuss #Turkey PM Erdogan's offer, w/ overwhelming majority opposing it. Presser at 3 p.m.

— Emre Peker (@wsjemre) June 15, 2013
02:00 GMT: The BBC has announced on Friday that it is immediately suspending its partnership with Turkish private broadcaster NTV over censorship. According to a statement released by the BBC's Global News Director, Peter Horrocks, the BBC specifically cites NTV's decision not to transmit its program Dunya Gundemi.

"Any interference in BBC broadcasting is totally unacceptable and at a time of considerable international concern about the situation in Turkey, the BBC's impartial service to audiences is vital," said Horrocks.

The BBC has further detailed prior contact with NTV over its censored coverage of the ongoing protests in Istanbul and throughout Turkey. According to Horrocks on June 6 the BBC had "sought and received assurances from NTV that BBC programming would continue to be broadcast in full and without interference."

The partnership between the BBC and NTV previously included three weekly editions of the Dunya Gundemi program, which has aired since 2008, as well as other content.
Saturday, June 15
22:05 GMT: Turkish police have fired tear gas indiscriminately into a crowd of protesters in Ankara. They also fired water cannons into what was, according to witness accounts, a peaceful group of demonstrators. There are reports that 28 people have been detained.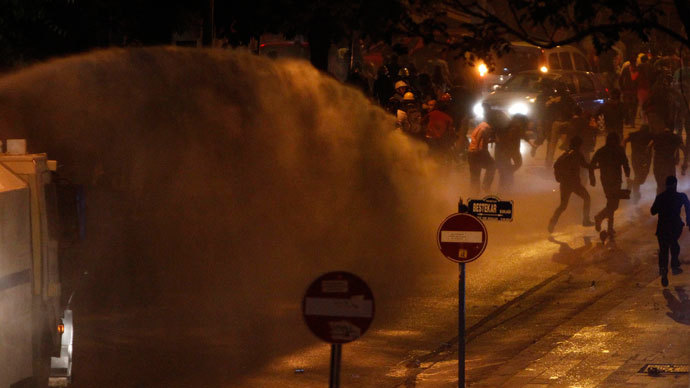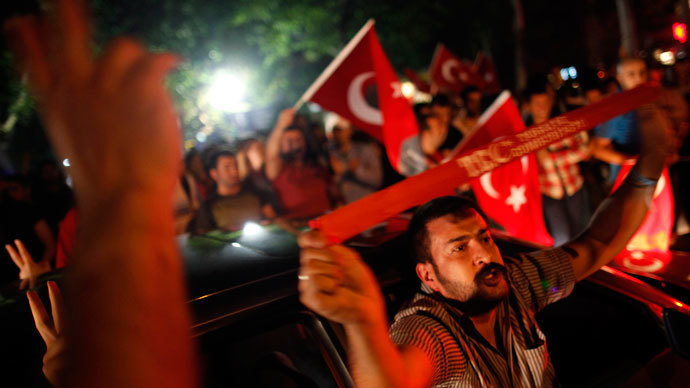 20:25 GMT: The mayor of Ankara has put up a banner that reads "Police, Ankara is proud of you," allegedly in a place where a policeman had killed a protester.

21:00 GMT: A Russian journalist working for the Novaya Gazeta newspaper has been beaten and detained by suspected Turkish intelligence services, as he was taking pictures of empty police cars on Taksim Square, the newspaper reports.

According to Arkady Babchenko's words, he was approached by several men in plain clothes ordering him to stop shooting. They then forcefully dragged him away to an alleyway, where he was beaten.

Babchenko was then taken to a hospital, still accompanied by the men, whom he suspects to be members of Turkey's special services. They accuse him of 'assaulting officers of the law'.

The journalist is currently being held at a police station, with a member of the Russian Consulate in Istanbul on the way.
#Ankara's Mayor put a banner up that reads: "Police, Ankara is proud of you." ---where cops killed a protester. | pic.twitter.com/A3LF9o8lUi

— ¤ProletarianDissent¤ (@Anon4justice) June 14, 2013
19:10 GMT:
Hundreds in #Ankara Tunali carrying Turkish flags,chanting"everywhere is Taksim, everywhere is Resistance" pic.twitter.com/pNYl6YBGW6

— Humeyra Pamuk (@PamukHum) June 14, 2013
17:53 GMT: The EU has praised the Turkish government's commitment to suspend their redevelopment plans for Gezi Park as a result of late night talks with the representatives of the Taskim square protesters.

"We welcome the number of constructive and positive signals coming from Turkey over the past 24 hours," Peter Stano, the spokesman for EU Commissioner Stefen Füle, said.

Stano also stressed the importance of investigations into the disproportionate use of force against peaceful protesters by Turkish law enforcement officers.

16:00 GMT: The Turkish Health Ministry has launched an investigation into an Istanbul Chambers of Medicine health center in Gezi Park. The Health Ministry's Inspection Services Department's requested details on their reasons for organizing health teams and the names of personnel. The Health Ministry said that "the ministry's ambulances and medical teams were already at Taksim Square," according to Hurriyet. The Turkish Doctors' Union (TTB) has said that helping the wounded is their main duty.

15:15 GMT: A 26 year old man has died as a result of protests in Ankara, Turkey, his brother told Reuters. Ethem Sarisuluk died on Friday after sustaining a head trauma and being held in intensive care for 10 days, according to the Turkish Medical Association. The body has been taken for forensic examination for an autopsy, the brother added.


Today is likely the last day of Istanbul protests. And business as usual in Taksim, only several communist flags and many riot police.

— Mahir Zeynalov (@MahirZeynalov) June 14, 2013

14:27 GMT: During a meeting with his AK Party, Recep Tayyip Erdogan, has addressed the protesters, saying that the government has heard their message.

"You have stayed here as long as you could and have relayed your message. If your message is about Taksim Gezi Park, it has been received and evaluated," Erdogan is cited as saying by Reuters. "Please, now leave the Gezi Park and go to your homes."

03:00 GMT: PM Erdogan and the Taksim Solidarity group (including several protesters) have reached an agreement during a meeting late Thursday, that Gezi Park will stay untouched and the matter will be passed onto a court, which in turn will decide the park's fate. Early Friday morning, the protesters shared their positive view of the developments:
"The prime minister said that if the results of the public vote turned out in a way which would leave this area as a park, they will abide by it," a member of Taksim Solidarity told reporters after the meeting.
"His comments that the project will not be executed until the judiciary makes its decision, is tonight's positive result."
00:40 GMT: Police in Ankara has aggressively begun dispersing protesters during a meeting between the prime minister and a delegation representing the Gezi Park protesters. While the meeting was in progress, a crowd of 200 demonstrators started blocking traffic at Kennedy Avenue, next to the US embassy. This resulted in some protesters making away on foot onto the nearby side-streets. Police have allegedly arrested five of them.
The chaos was less marked compared to previous days, due to heavy rains and a smaller crowd.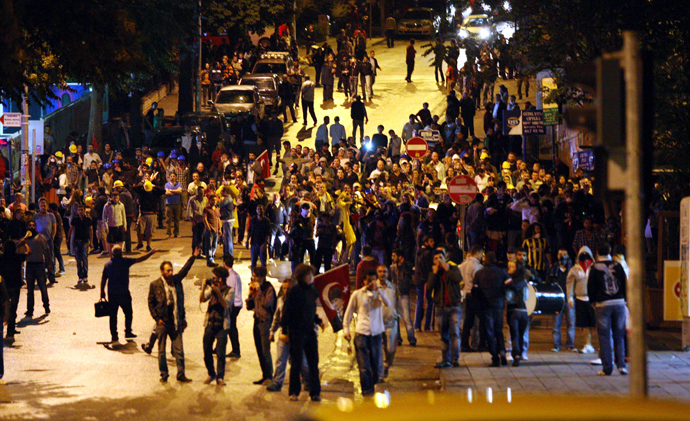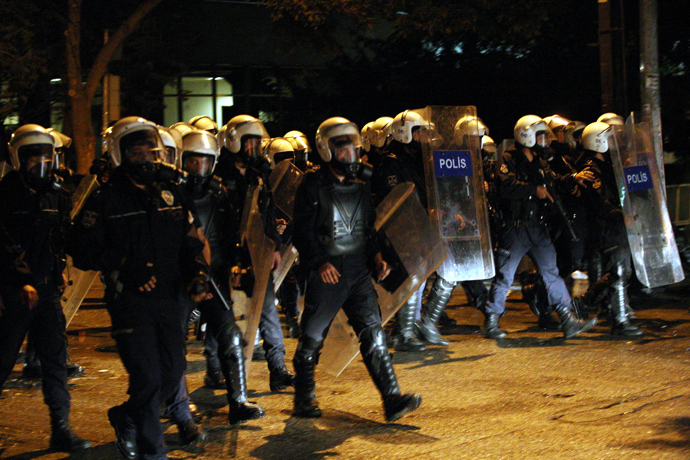 Friday, June 14

23:00 GMT: Taksim Square lit up with dozens of candles as protesters and passers-by held a candlelight vigil for the victims of the protests, with placards and pictures commemorating them.
22:36 GMT: Istanbul Governor Huseyin Avni Mutlu has put out an invitation to meet with any individuals or groups belonging to the protester camp, non-formally. He put out a Twitter message, telling people he would be sitting in a cafe just off Taksim, for "those who want to meet face to face, group by group ... until the morning if necessary."
18.14 GMT: Erdogan is scheduled to meet with representatives of the protest movement on Thursday night in a last-ditch attempt to stave off a violent showdown.
12:15 GMT: On Thursday morning police arrested 42 people Istanbul who were wearing masks and helmets while peacefully walking around the park.

11:45 GMT: The death toll in bloody protests across Turkey has reached five after 26-year-old Ethem Sarisuluk was pronounced dead after 12 days on life support. Over 5,000 people have sustained injuries.

09:30 GMT: Turkey's PM Tayyip Recep Erdogan has issued what he called a "final warning" for protesters, saying they will be removed from Istanbul's Taksim Square. The Interior Ministry has ordered a probe into excessive use of force by police following the EU Parliaments condemnation of violence, and calls for an investigation.
08:17 GMT: Turkey's private channels including Halk TV, Ulusal TV, Cem TV and EM TV have been fined over their live coverage of the Gezi Park protests in Istanbul. The Radio and Television Supreme Council ruled that the broadcasts were "harming the physical, moral and mental development of children and young people."

00:42 GMT: Hundreds of protesters chanted and sang in Istanbul's Taksim Square early on Thursday, defying an order to end almost two weeks of protests against Turkish Prime Minister Tayyip Erdogan.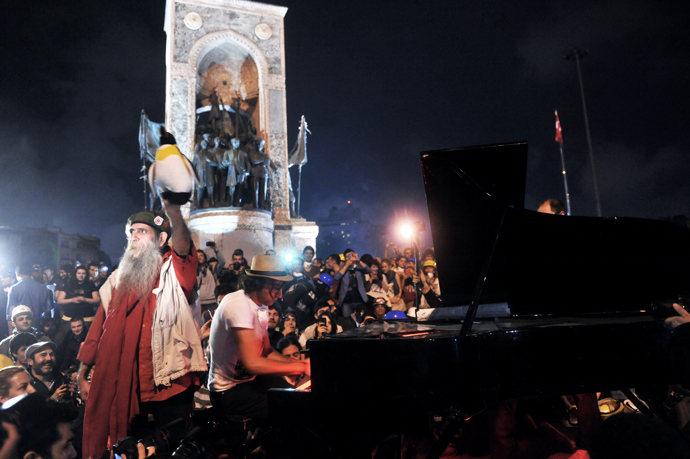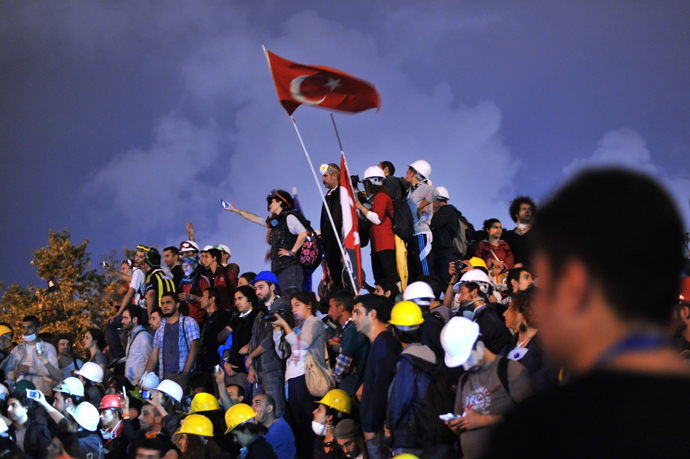 Thursday, June 13
19:41 GMT: Turkey's Ruling Justice and Development Party (AK Party) Deputy Chairman Hüseyin Celik has said a referendum might be held to decide whether to build barracks in Gezi Park or leave it as it is.
19:36 GMT: Turkish Prime Minister has met a group of 11 people to discuss Gezi Park protests as part of the government's attempt to listen to the demands of the demonstrators. The participants included artists, academics and students as well as Interior Minister, Environment and Urban Minister, Tourism and Culture Minister and the vice chair of the ruling Justice and Development Party (AKP). Prime Minister Erdoğan has warned that he would put an end to the gatherings, which he said were hurting Turkey's image and economy.

11:15 GMT: Turkish President Abdullah Gül has called for dialogue with legitimate demonstrators against the redevelopment of an Istanbul park, but noted that those who had taken to the streets in violent protests were a different matter.
"If people have objections ... then to engage in a dialogue with these people, to hear out what they say is no doubt our duty," Gül told reporters. "Those who employ violence are something different and we have to distinguish them ... We must not give violence a chance ... This would not be allowed in New York, this would not be allowed in Berlin."

08:10 GMT: The Radio and Television Supreme Council fined four Turkish TV channels for 24-hour live coverage of the Gezi Park protests in Istanbul, arguing that the broadcast was "harming the physical, moral and mental development of children and young people." Channels fined included: Halk TV, Ulusal TV, Cem TV and EM TV.
Wednesday, June 12
23:40 GMT: The White House has expressed its concern over Turkey's ways of resolving the protesters' grievances and the government's general handling of the situation.
White House spokesman Caitlin Hayden said in a statement: "We continue to follow events in Turkey with concern, and our interest remains supporting freedom of expression and assembly, including the right to peaceful protest."
"We believe that Turkey's long-term stability, security, and prosperity is best guaranteed by upholding the fundamental freedoms of expression, assembly, association, and a free and independent media. Turkey is a close friend and ally of the United States, and we expect the Turkish authorities to uphold these fundamental freedoms," she added.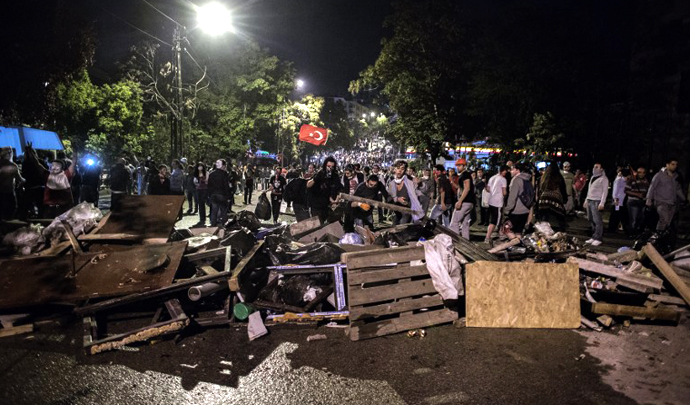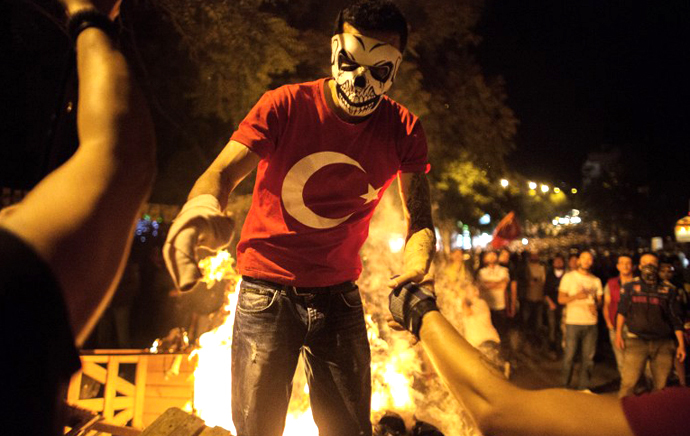 21:30 GMT: RT Spanish corespondent Aleksandra Bondarenko got struck by tear gas as she was reporting live from Taksim.
RT Spanish correspondent struck by tear gassing in #Istanbul#occupygezi protests twitter.com/KoleSnikov_Igo…

— Igor_Kolesnikov (@KoleSnikov_Igor) June 11, 2013
19:28 GMT: As clashes continue at Taksim Square, Istanbul Governor Huseyin Avni Mutlu has said police will continue operations in Taksim Square, day and night, until it is cleared, Reuters reported.
"We will continue our measures in an unremitting manner, whether day or night, until marginal elements are cleared and the square is open to the people," he said in a televised announcement.
17:35 GMT: Police use tear gas against thousands of protesters in Taksim as crowds returned to the square in the evening. Earlier on Tuesday, police and protesters clashes over a new barrier inside the square.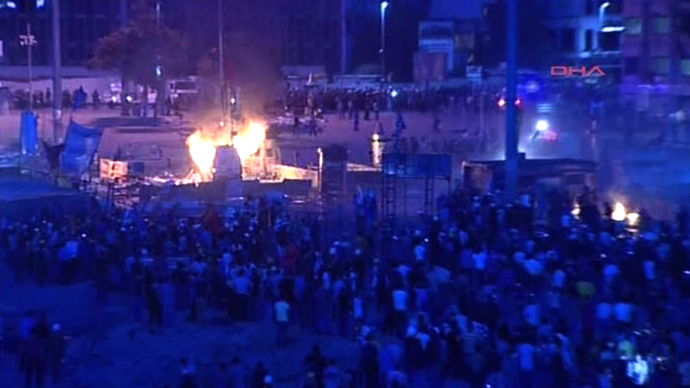 14:33 GMT: The police on Tuesday started to "intervene" and tear gas Gezi Park protesters, despite an earlier pledge that they would not target the park itself, Occupy Gezi protester Deniz Can Akkaya told RT.
There were reports from the protesters in the park that the police started using rubber bullets, he said.
Can Akkaya also cited "rumors" that the SDP party protesters who threw Molotov cocktail at the riot police were in fact "undercover policemen." The Governor of Istanbul has strongly denied such claims, he said. Some 50 members of the SDP have then been arrested in the party's headquarters.
The level of violence employed by the police against the protesters "seems not to be decreasing," Can Akkaya argued.
But the prime ministers' Wednesday meeting with the Gezi Park movement representatives could become a "turning point" of the protests, he said.
13:44 GMT: One protester in Taksim Square was reportedly killed by a tear gas canister, said Carroll Bogert of Human Rights Watch, citing the first-aid tent in Gezi Park. Occupy Gezi protester Deniz Can Akkaya also told RT one death was reported by his fellow protesters in the park.
First-aid tent in #GeziPark reports one man dead, struck in the head with tear gas canister #Taksim#Turkey twitter.com/carrollbogert/…

— carrollbogert (@carrollbogert) June 11, 2013
11:10 GMT: Some 30 to 50 lawyers protesting against the handling of the protest have reportedly been detained in front of a courtroom in Istanbul. Around 100 lawyers are waiting in front of the police station demanding the release of their colleagues.
Police violence at Courthouse.. He's lawyer. Think about activists.. #Turkey#DirenGeziSeninleyiz#DirenGeziParkı twitter.com/yusufemredurmu…

— Burcu Yaren Çayır (@burcuyarencayir) June 11, 2013
10:34 GMT: Erdogan says the government will have "no more tolerance" for illegal protests.
09:25 GMT: Erdogan's speech went harsher later, as he went on to criticize the violent aspects of the ongoing protest. He claimed that 95 per cent of the people in Taksim Square were not even aware of the location of the Gezi Park before the protest started. He also lashed out at social media over what he called the spreading of lies and misinforming international media on the nature of the conflict.
09:10 GMT: Speaking to his ruling AKP party in parliament on Tuesday following the raid on Taksim Square, Turkish Prime Minister Recep Tayyip Erdogan called for national unity. The conciliatory tone of the speech contrasted the sharp criticism of the protesters and the hardline stance that the Turkish leader demonstrated in the earlier days of the protest.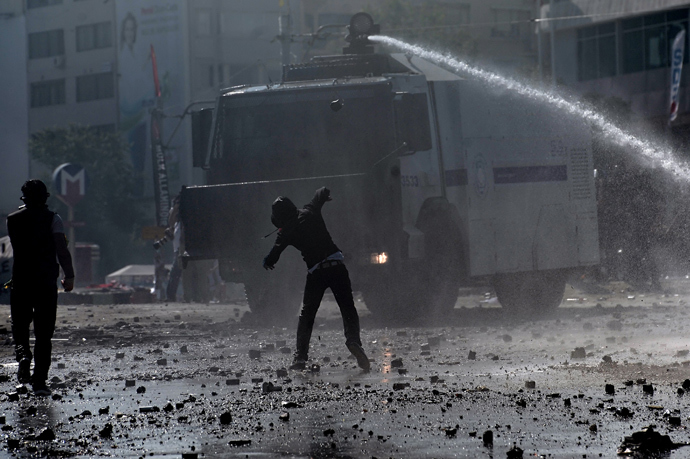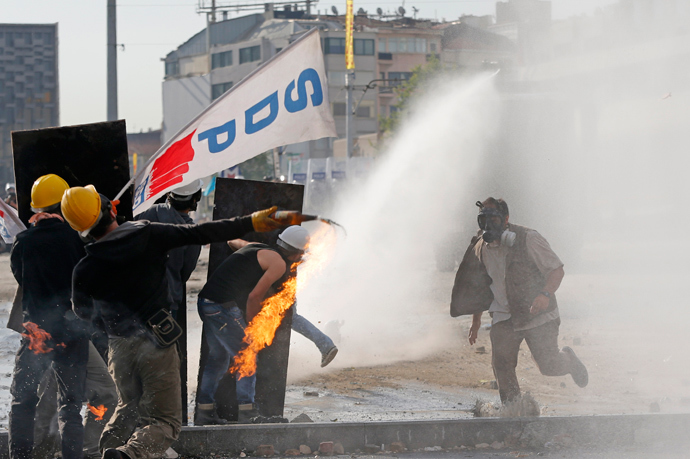 07:40 GMT: On Tuesday morning hundreds of police have taken over Taksim Square, using tear gas and water cannons to oust the few protesters present at the time. Police said they want to clean the area of rubble and graffiti left by the protest rallies. Over the subsequent hours police clashed with activists both at the square's perimeter and in the surrounding streets. Protesters tossed Molotov cocktails at the security troops, briefly setting one of the water cannon trucks on fire. Meanwhile police started dismantling barricades erected in the square over the days of the protest.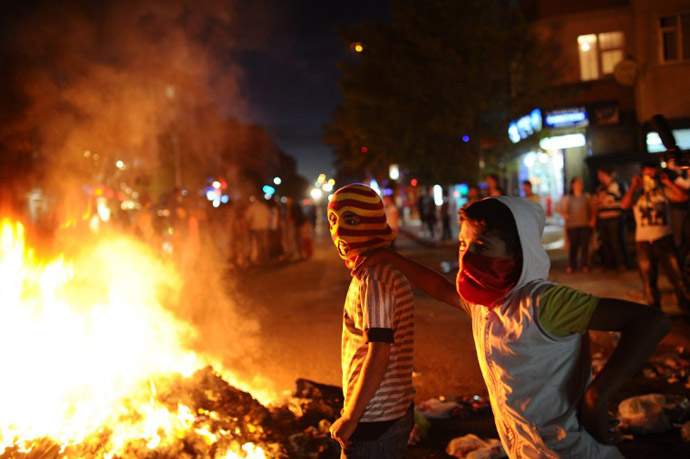 Tuesday, June 11
18:48 GMT: A criminal complaint about senior Turkish police and government authorities, including Prime Minister Erdogan, was filed by the Consumer Rights Association of Turkey (THD) for using tear gas against protesters. THD said the tear gas bombs threatened the lives of tens of thousands of people, including those staying in nearby houses, and have been a direct cause of at least one death in Ankara.
Another complaint was filed separately by the Ankara Bar Association about persons inside a car that allegedly drove into demonstrators on June 2. Witnesses noted that before driving into the crowd at fast speed, the car somehow managed to pass the police barricades, surrounding the area at the time. As a result of the incident, one person is said to be in a life-threatening condition, and two others injured.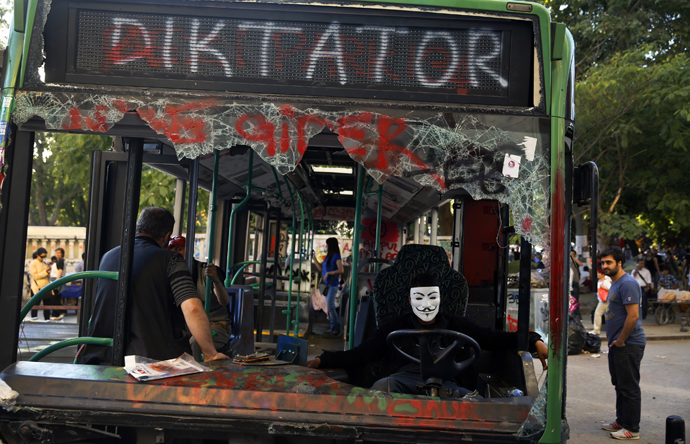 18:00 GMT: Turkish Prime Minister Erdogan will on Wednesday meet with the Gezi Park platform leaders, who organized the original sit-in to save the Istanbul park that turned into mass nationwide protests.
"They asked to meet the prime minister and he agreed to meet with the organizers," Deputy Prime Minister Bulent Arinc said on Monday, as quoted by Reuters.
The negotiations will be aimed at trying to halt the protests, he added.
12:40 GMT: A lone activist is seen standing in front of the Turkish Embassy in Moscow, demonstrating in support of the Turkish protesters.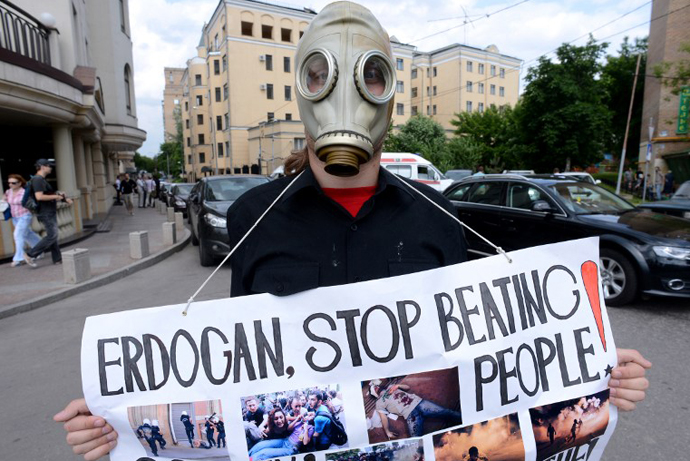 Sunday, June 9
Istanbul's Taksim Square saw more than 100,000 demonstrators gather on Sunday – the biggest crowd since mass protests began in Turkey 11 days ago, RT's Irina Galushko reported. Turkish Prime Minister Tayyip Erdogan has made a string of public appearances, giving defiant speeches to supporters in several cities across Turkey.
At Ankara airport, Erdogan warned protesters his patience "has limits," and called on the cheering crowds to stage pro-government mass rallies next weekend. A few kilometers away in downtown Ankara, thousands of demonstrators were dispersed by riot police who fired teargas and water cannons, as the Turkish capital braces for another night of protests.
Yet another photo of police brutality from yesterday night in #Ankara. #OccupyGezi#direnankaratwitter.com/57UN/status/34…

— Stun ☠ (@57UN) June 10, 2013
20:34 GMT:

#direnankaratwitter.com/Pivavai/status…

— Mr.Marauder (@Pivavai) June 9, 2013
19:57 GMT:

Photo: People in downtown Ankara are setting up barricades against the police. tmblr.co/ZjK0xrmzKrMa

— Occupy Gezi (@occupygezipic) June 9, 2013
18:47 GMT: Riot police used water cannons and tear gas to disperse thousands of anti-government protesters in central Ankara, Reuters reports. The police advanced just as the Prime Minister was addressing a rally of his supporters a few kilometers away.
At least two people were injured in the clashes in downtown Kizilay square, an AFP photographer saw.
18:45 GMT: PM Erdogan called on his supporters to prepare for pro-government rallies next weekend in Istanbul and Ankara.
"On Saturday, are you ready for a big Ankara meeting? ... The next day we will have the Istanbul meeting," Erdogan said to cheering crowds in the capital.

17:45 GMT: In Germany, protesters march in Berlin's Kreuzberg district in support of the Turkish anti-government demonstrators.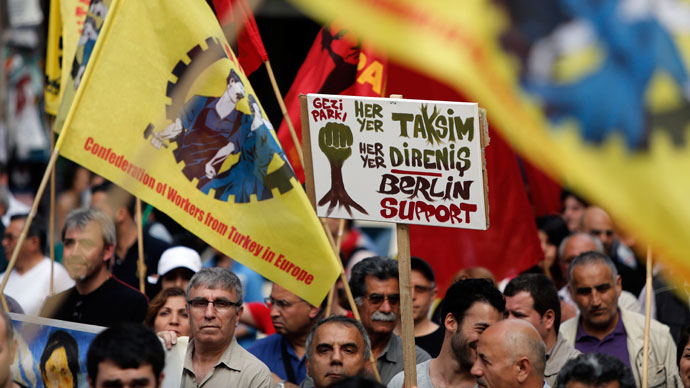 16:20 GMT:"We have been patient, but there is an end to our patience," Prime Minister Erdogan warned, as he addressed the supporters of his ruling Justice and Development Party (AKP) in Ankara airport.
More than 600 police officers have been injured in the riots, he added.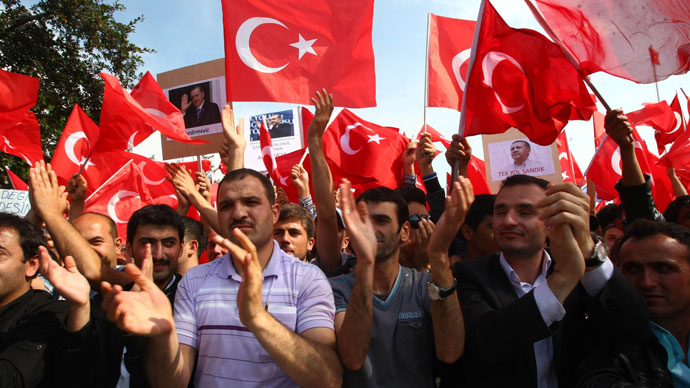 14:44 GMT: Turkish Prime Minister Erdogan has arrived in Ankara, and is speaking to supporters at the airport. Preparations for a pro-Erdogan mass rally in Ankara began Sunday morning.

Erdogan calls protestors "capulcu" (vandals) again. Seem to be a lot more in Taksim today than Erdogan supporters at Ankara airport

— Mark Bentley (@MarkABentley) June 9, 2013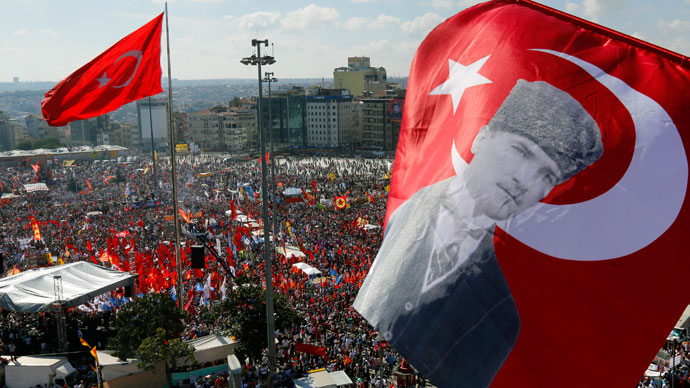 14:06 GMT: After clashes in the Turkish capital Ankara overnight, slogans like "Resist, Ankara, Istanbul is with you" can be heard in Taksim.
Dun gece #Ankara'da yasanan catismalardan sonra bugun #Taksim'deki slogan "Diren Ankara #İstanbul seninle" twitter.com/zeynep_erdim/s…

— Zeynep Erdim (@zeynep_erdim) June 9, 2013
12:26 GMT: Turkey does not need the early elections demanded by the protesters, said Huseyin Celik, deputy chair of Erdogan's AKP party.
"The government is running like clockwork. There is nothing that necessitates early elections," he told reporters in Istanbul, as quoted by Reuters.
According to Celik, "things are going well in Turkey," and elections should not be held just because "people are marching on the streets."
Erdogan says "Istanbul was a desert" be4 he was elected mayor. Compare satellite images: #occupyzafer#occupygezi twitter.com/ILoveArctic/st…

— Zafer Avindik (@ILoveArctic) June 9, 2013
11:43 GMT: Turkish Prime Minister Erdogan on Sunday urged supporters of his Justice and Development Party (AKP) to "teach a lesson" to the anti-government demonstrators at the next local election.
"There are just seven months left until the local elections. I want you to teach them a first lesson through democratic means at the ballot box," Erdogan told a crowd of cheering loyalists in the southern Turkish city of Adana.
11:00 GMT:

people piling into #taksim for 13th day of #occupygezi , concert underway #istanbul#turkey

— Irina Galushko (@IrinaGalushkoRT) June 9, 2013
10:03 GMT: Istanbul governor Hüseyin Avni Mutlu apologized in his Twitter for the police violence against protesters.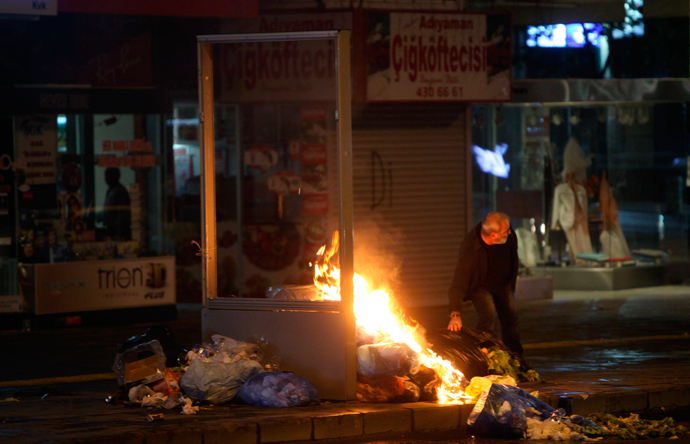 09:51 GMT: Six policemen have committed suicide since the Gezi Park protests started, Hurriyet daily reported, quoting Faruk Sezer, the head of the Emniyet-Sen police union. Sezer admitted that the police force has come under fierce criticism over how they handled the protests – but also said they had been forced to work under severe conditions.

"The violence you see at the end is the reflection of the violence suffered by the policemen. They are not just subjected to violence by protesters, but by 120-hour consecutive working periods, stale bread and food," Sezer said. He claimed that staffers drafted from other cities had to sleep on benches, shields or cardboard because state authorities did not provide accommodations.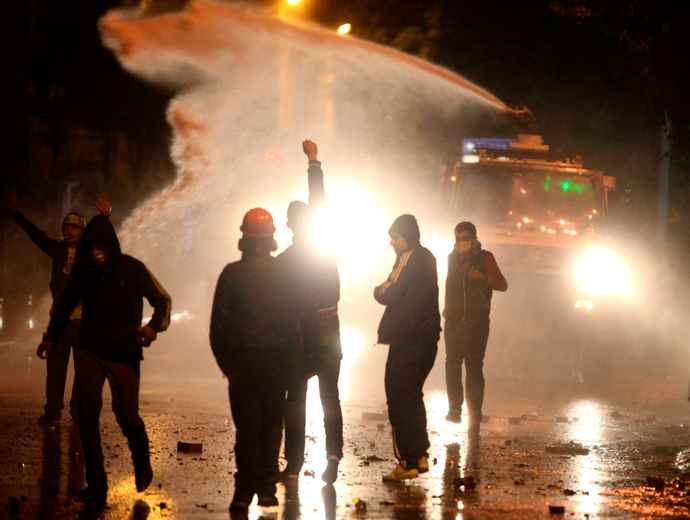 Saturday, June 8
At the close of Turkey's ninth day of social unrest, thousands of activists defied Prime Minister Erdogan's call to stop protests immediately. Around 10,000 protesters gathered in downtown Ankara where their demonstration was cut short by "a sudden and unexpected intervention" by Turkish police. Reports say officers began to arrest youths at random and used tear gas and water cannons to disperse the masses.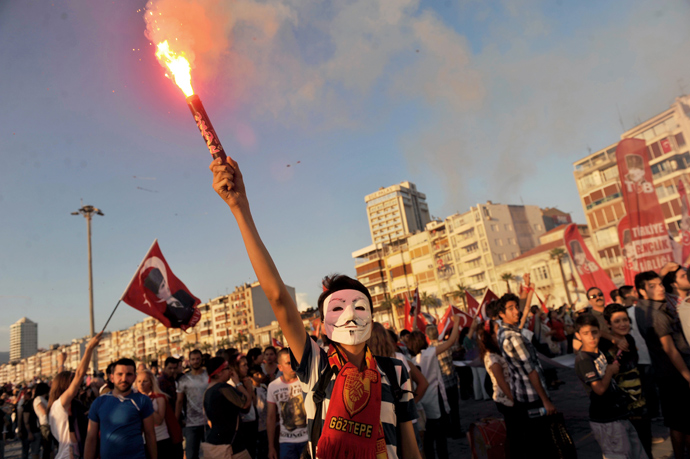 The dramatic scenes in Ankara were contrasted by Turkish government rhetoric which stated that the protests were being "normalized" and were "under control." Parliamentary spokesperson, Cemil Cicek told press following a leading party meeting that the government was ready to listen to "reasonable, legal and democratic demands."
Meanwhile, the sit-in protest in Taksim Square in Istanbul was undisturbed by police who kept their distance from the peaceful demonstrators.
22:39 GMT:
Ankara'da TOMA'ya müdahale... twitter.com/fraksiyon_org/…

— Fraksiyon (@fraksiyon_org) June 8, 2013
22:12 GMT: Police have dispersed protesters shooting fireworks and setting fires in the streets of Ankara.
21:35 GMT: Ankara police use tear gas to disperse demo, reports AFP.
Now it's confirmed by multiple Ankara tweeps that the demos were indeed met w/Ankara police forces, gas, water cannons. Gezi Park

— ilhan tanir (@WashingtonPoint) June 8, 2013
21:19 GMT: Thousands rally in Istanbul's Taksim Square as day nine of the anti-government protests is closing to its end.

21:15 GMT: Deputy Prime Minister Huseyin Celik says the protests are now "under the government's control" and the process is "becoming normalized and increasingly in line with common sense".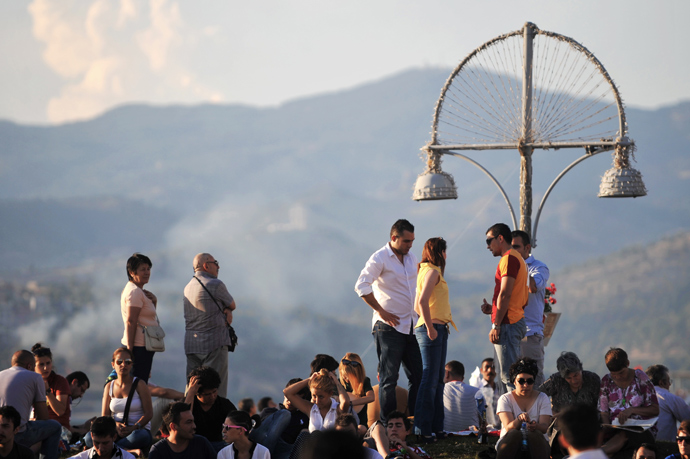 "We are ready to listen to all reasonable, legal and democratic demands," Celik said after a meeting between Erdogan and the ruling AKP party's top officials in Istanbul.
18:49 GMT: An OWS rally in New York is gathering dozens of those wishing to express their solidarity with Turkish protesters.

Wow, zuccotti park is PACKED right now. #OccupyGezi#occupygezinyc#WeAreGezi twitter.com/SeaNick_/statu…

— Nicky Ocean ⚓ (@SeaNick_) June 8, 2013
15:58 GMT: Istanbul's mayor declared that Gezi Park would not be used as a venue to build a shopping mall, but the project to create a replica of Ottoman-era military barracks there would continue.

"We are definitely not thinking of building a shopping mall there, no hotel or residence either. It can be... a city museum or an exhibition center," Istanbul mayor Kadir Topbas said as quoted by AFP. "The plan for the barracks was part of our election promises, the people gave us the authority to do it."
Topbas however added that the final plans would be made "through dialogue" and "the number of trees can be increased."
15:44 GMT: PM Erdogan's Justice and Development Party says there is no question of calling early elections after a week of the most violent protests in decades.
"Local elections will be held in March 2014, presidential elections in August 2014, and general elections in June 2015, and a change in the schedule is out of the question," said Deputy Chairman Huseyin Celik after meeting the party's executive committee.
13:35 GMT: Rumors on Twitter that police are planning a raid on protesters in Gezi Park may be a provocation, Istanbul Governor Huseyin Avni Mutlu said, urging calm. "The claims since yesterday that an intervention is being prepared for Taksim Gezi Park could be claims from people who are trying to provoke violence. Be careful," he wrote today on his Twitter account, as cited by Turkish Hurriyet daily.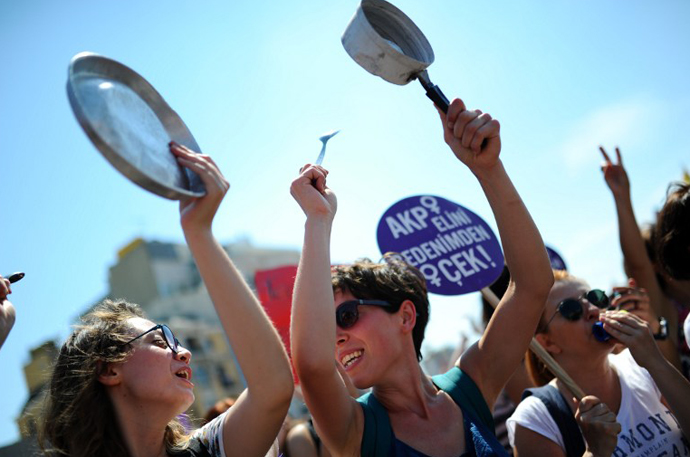 13:30 GMT: Turkish Prime Minister Erdogan and parliamentary Speaker Cemil Cicek will hold an emergency meeting later on Saturday to discuss the mass protests across the country, Hurriyet daily reports.
11:25 GMT: The "excessive" use of force by police against protesters is currently being investigated, Multu Alkan, a senior member of the ruling party and a close associate of PM Erdogan told Itar-Tass. She admitted than on May 31, protesters were forced to defend themselves against police.

People who gathered in Gezi Park "were really concerned" about environmental protection, which is their democratic right, she said. However, law enforcers dispersed the rally using "disproportionate" force, which worsened tensions and resulted in wider protests, Alkan explained.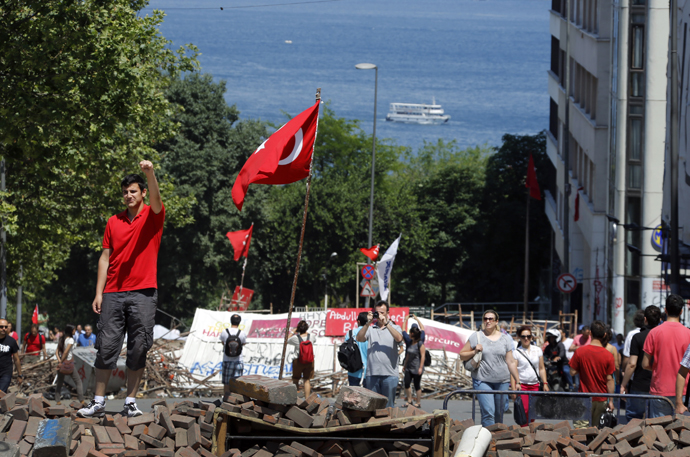 In her view, "it was a mistake" that the ruling party and the government have so far failed to explain to the population what specific changes are planned for Taksim Squar and Gezi Park for the development project. "No trees will be cut down. On the contrary, new ones will be planted," the official stated, adding that Justice and Development Party is ready to listen to protesters' proposals as long as they are in line with the law.
09:37 GMT: As anti-government protests in Turkey enter their ninth consecutive day, Prime Minister Tayyip Erdogan is to convene a party leadership meeting.
08:50 GMT: Thousands of activists are continuing their occupation of Istanbul's Taksim Square in protest against a construction project that would see parts of the park demolished. Istanbul residents carried food and blankets to Taksim Square, the epicenter of the protests.

"A week ago, I could never imagine myself sleeping out on the streets of Istanbul. Now I don't know how I can ever go back," Aleyna, a 22-year old protester said, according to AFP.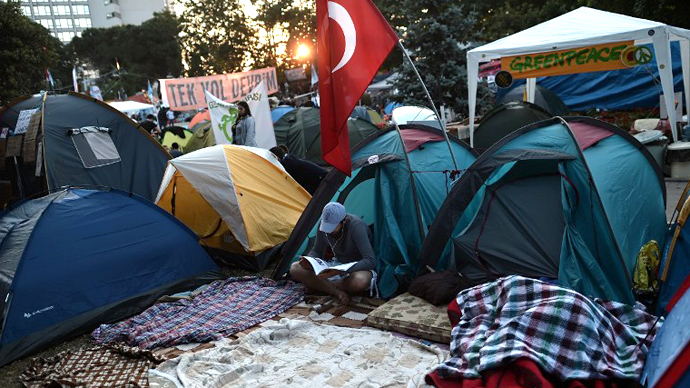 The capital Ankara is expected to see more protests over the weekend.

08:00 GMT: Clashes broke out between police and protesters overnight in Istanbul's Gazi suburb. Police reportedly used teargas and water cannons against a group of 5,000 protesters who had mounted barricades on the road. The protesters retaliated with fireworks and slingshots.
Friday, June 7
Thousands of activists gathered in Istanbul's Taksim Square as Prime Minister Tayyip Erdogan returned to Turkey from North Africa. Many of the protesters, who barricaded themselves in the center of the square that has become a symbol of the unrest, demanded the resignation of the Turkish leader. For his part, Erdogan has announced an uncompromising policy towards protesters whom he has denounced as "extremists and vandals." He also defended the use of force to suppress anti-government activists as justifiable given that other EU countries and the US employed similar tactics to control protests.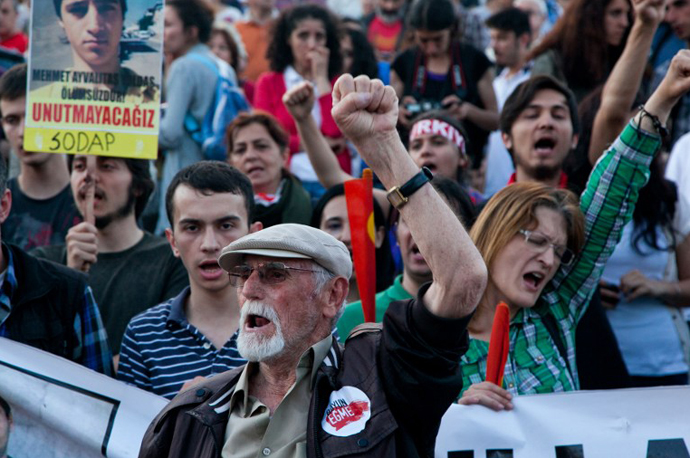 "Similar protests have taken place in Britain, France, Germany and bigger ones in Greece," he said, accusing the EU of double standards.
EU Enlargement Commissioner Stefan Fuele has urged Turkey to launch a probe into reports of police brutality during the recent protests. He appealed for a "swift and transparent investigation" that would bring those responsible to justice.
"Excessive use of force by police against these demonstrations has no place in such a democracy," said Fuele.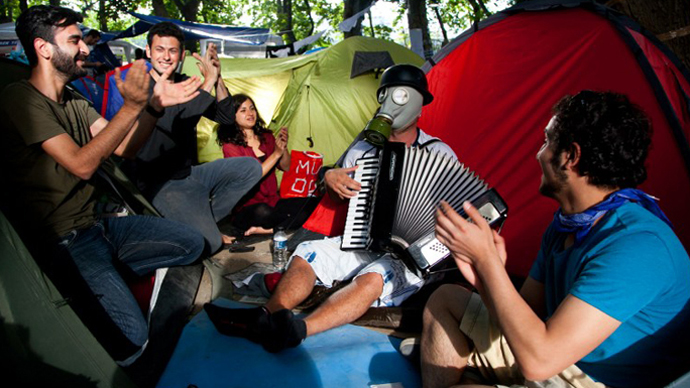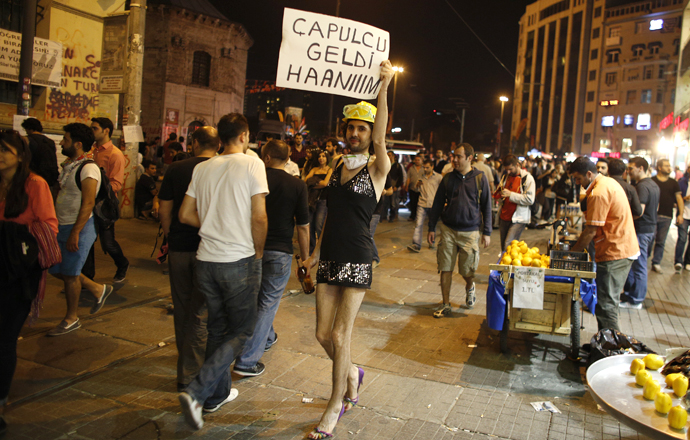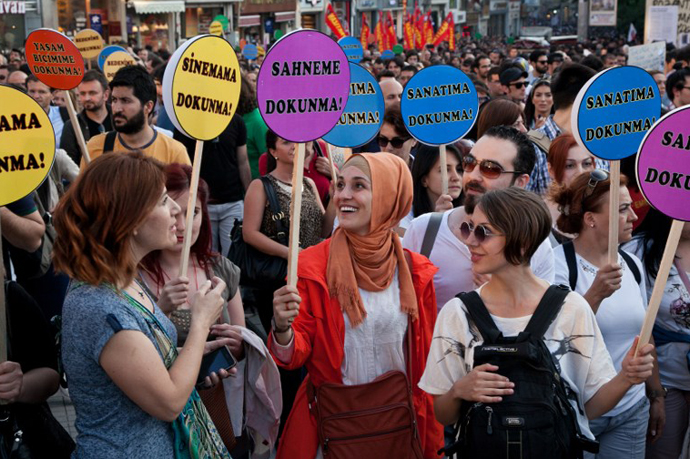 Thursday, June 6
23:50 GMT: Turkish Prime Minister Erdogan has demanded that protests, which he claims "are bordering on illegality," immediately end.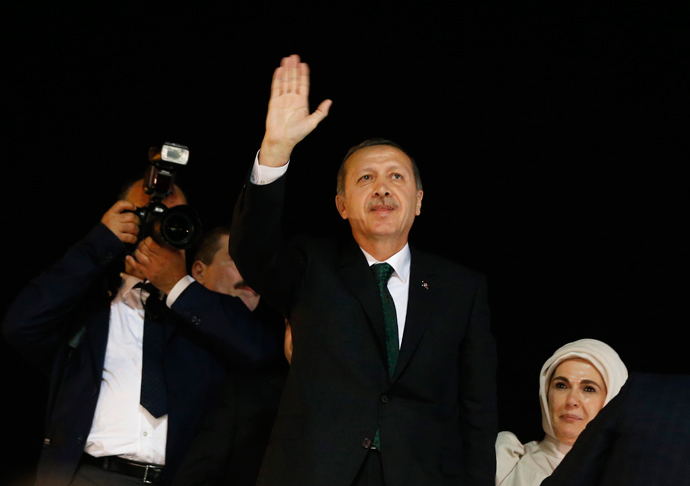 22:39 GMT: American trend forecaster Gerald Celente, who works as a business consultant and publishes the Trends Journal, told RT the Turkish youth are upset over Prime Minister's Erdogan decision to illegally seek a fourth term in office, along with his ignoring the public's interest in keeping the park free of development.
"They are saying they're having things forced on them without a say in matters," Celente said. "By the way this goes on in every country. You could talk about police brutality – name your place. I remember what happened here in the States with the G20 meetings in Pittsburgh or the battle in Seattle or what went on in Nottingham in the UK a few years ago. Police brutality is nothing new but I think there's more of an undercurrent."
"I think you're going to see a crackdown on the demonstrators. He's already made it clear there won't be any compromising, that the so-called shopping mall and the barracks are going up and that he still regards these people as terrorists."
22:27 GMT: Turkish ruling Justice and Development Party (AKP) has been sending out short messages inviting people to show popular support and come to the airport to meet PM Erdogan.
Here is the sample of SMS messages inviting people to welcome #Erdogan in airport twitter.com/HazelAcar/stat…

— Altan Alpay (@Altan) June 6, 2013
22:09 GMT:

Istanbul authorities extended the work of metro going to airport until 4 a.m. to make it easy for Erdogan fans to greet the prime minister.

— Mahir Zeynalov (@MahirZeynalov) June 6, 2013
21:13 GMT: Thousands have gathered at Istanbul airport waving flags to welcome Prime Minister Recep Tayyip Erdogan back home from his trip to Tunisia.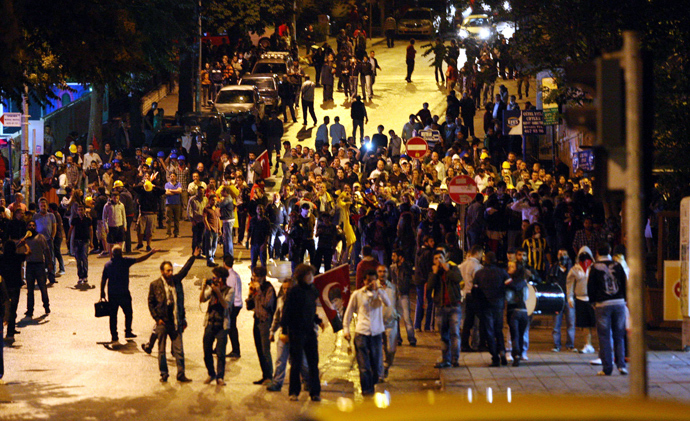 20:34 GMT:

The best photo of the resistance in Turkey. #direngezi#direngeziparkitwitter.com/hsnzsy/status/…

— Hasan Özsoy (@hsnzsy) June 6, 2013
17:27 GMT: Turkish Prime Minister Recep Erdogan has postponed his speech until tomorrow. He was initially expected to deliver his address amid raging protests in Istanbul and across the country.
13:40 GMT: A Turkish police officer has been pronounced dead after falling from a 5-meter-high bridge while pursuing protesters in the country's southern Adana Province. Three protesters have also died to date.
13:30 GMT: Turkish authorities released 33 Twitter users arrested in Izmir on Wednesday for allegedly tweeting false reports amid anti-government demonstrations, Al Jazeera reports. The release came a few hours ahead of Turkish Prime Minister Recep Tayyip Erdogan's return from an overseas trip.

12:41 GMT: Turkey's PM has vowed that development of Taksim Square will go ahead, despite ongoing protests. Tayyip Erdogan made the remark in Tunisia, and is due to return to Turkey today.
Twitter bird on the wall in #Ankara. #WeAreGezi#OccupyGezitwitter.com/57UN/status/34…

— Stun ☠ (@57UN) June 6, 2013
08:17 GMT: A second trade union federation representing hundreds of thousands of workers, including teachers, doctors and bank staff, joined the protests on Wednesday. Members marched on Taksim Square in Istanbul, banging drums, chanting slogans like "Tayyip resign" and waving flags and banners.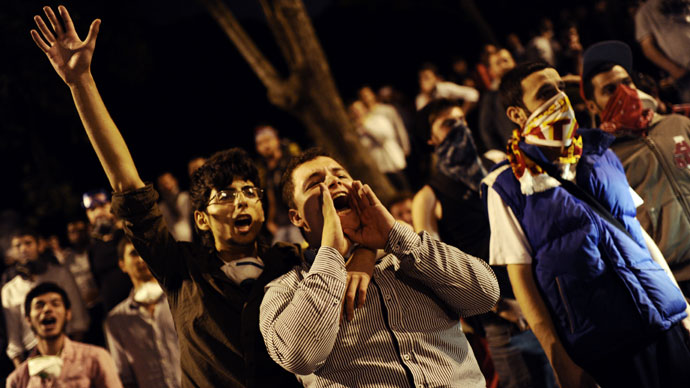 Wednesday, June 5
23:59 GMT: On the sixth day of unrest in Turkey, activist Ethem Sarısülük died from head wounds sustained during clashes in the capital city Ankara, making it the third death to date. Earlier in the day, activists presented a list of demands to end the ongoing anti-government demonstrations.
Over the course of the day Wednesday, the Turkish authorities continued targeting social media, detaining at least 25 individuals and accusing them of using Twitter to "instigate public hatred and animosity." Government networks were hacked in support of protesters by Anonymous hacktivists and the Syrian Electronic Army.

Activists planting a garden where the first trees were cut down in Gezi before construction stopped. #occupygezi twitter.com/BatmanWI/statu…

— Jenna Pope (@BatmanWI) June 5, 2013
19:40 GMT: Turkish President Abdullah Gül has indicated that a bill intended to restrict alcohol consumption and sales in Turkey might not be approved. The controversial legislation has widely been seen as one of the triggers for the ongoing protests in Turkey, where protesters have often cited the country's lack of respect for lifestyles that fall outside of conservative ruling party's own definition of Turkish identity.
18:57 GMT:

"Capitalism will cut down the tree if it can't sell the shadow." twitter.com/duygullah/stat…#Turkey#Resistanbul#WeAreGezi#OccupyGezi"

— Windy Blue (@wind1of1blue) June 5, 2013
15:28 GMT: A third protester, Ethem Sarısülük, died from head wounds sustained during clashes in the capital city Ankara that sprang from the Taksim Gezi Park protests, a representative of the Turkish Medical Association (TTB) said. Earlier, two people died in related clashes: 22-year-old Abdullah Comert, a branch member of the Republican People's Party (CHP), was killed in Antakya on June 3, and 20-year-old Mehmet Ayvalıtas was hit and killed by a car that plowed into protesters on June 2.


13:10 GMT:
Taksim getting crowded with unions now twitter.com/bramvermeul/st…

— Bram Vermeulen (@bramvermeul) June 5, 2013
11:05 GMT: Activists have presented a list of demands to end the ongoing anti-government demonstrations. Protesters are demanding the government halt redevelopment plans for Istanbul's Taksim Square that would uproot trees in Gezi Park. They are also calling for a ban on the use of teargas by police, the immediate release of all detained protesters, and the lifting of restrictions on freedom of expression and assembly. Their final demand is that officials responsible for the violent crackdown be removed from office, including governors and senior police officials.
08:14 GMT: RT correspondent Irina Galushko reports from Istanbul that protests and sit-ins are continuing in Taksim, as nationwide protests enter their sixth day.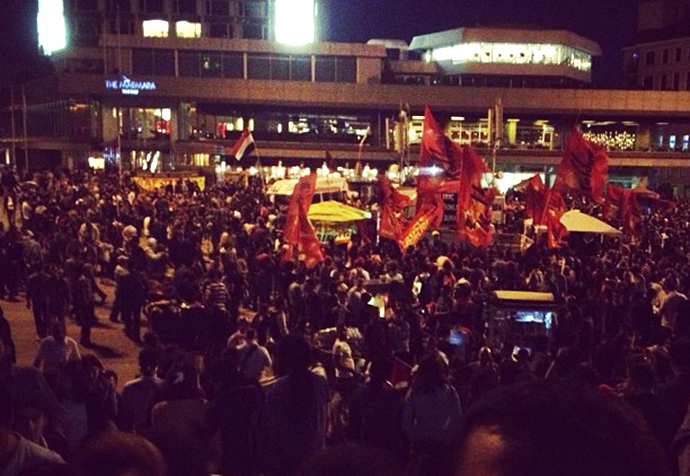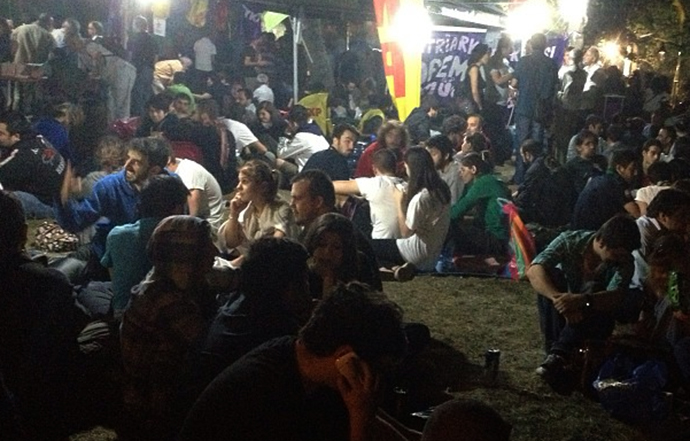 2:14 GMT: Nurettin Yigit Gultekin, a Turkish activist and also one of the many individuals who has been at the receiving end of tear gas deployed by police, spoke with RT regarding the use of gas as well as water cannons against demonstrators.
"They want to create fear, and anxiety over the nation. Personally I can say that Turkish media, who remain silent over the use of excessive force by police forces," says Gultekin.
"It reduced my vision... and since I have asthma, during the events I have had multiple, severe asthma attacks. And I can say that the main provokers are the police and the government," he added.
In response to Prime Minister Erdogan calling the protesters "looters" and "extremists," Gultekin dismissed the claims and said that protests are only peaceful.
"Well, for this event, for this wonderful event, people from different backgrounds are coming together, and this is something really important and new for our nation. To call us looters and extremists he has to prove it with evidence," says Gultekin.
"This matter has become more than just about saving a bunch of trees... they cannot scare us, we are the people, we are the nation, we are Turkey. They cannot change that, they know that. This is a peaceful event, we do not do any harm to anyone, or anything." Gultekin added that, as a protester, he expected the Turkish government to offer an apology, and to grant the country its freedom of speech.
1:03 GMT: Three tech-savvy Turkish professionals have successfully bypassed the funding goal on their project to publish a full-age, front section advertisement in The New York Times in support of the ongoing protests in that country.

The online fundraiser quickly surpassed the $30,00 threshold, with $2,500 per hour in donations logged in the project's first day, surpassing $85,000 just 36 hours after launching.

The three men, entrepreneur and investor Murat Aktihanoglu, angel investor and World Bank advisor Oltac Unsal and UI designer Duygu Atacan, were moved to action after what they perceived as a heavy-handed police response to demonstrators, and a dearth of news coverage by the country's press.
Tuesday, June 4

23:58 GMT: Sixteen individuals are said to be in police custody awaiting charges of "inciting" others to participate in the ongoing protests via Twitter following police raids on thirty-eight residences, according to Turkish daily Radikal.

22:34 GMT: A company based out of California, AnchorFree, announced that over the weekend installs of its VPN software from users in Turkey increased by 1,000 per cent. VPNs allow online users to avoid filtering systems imposed by governments, and the serious uptick in downloads of the software coincided with what was so far the peak in demonstrations throughout that country. The surge seems to indicate increasing concerns that Prime Minister Recep Tayyip Erdogan's government will try to curtail online freedoms.
Such concerns are likely based on the government's 2011 introduction of an already existing filtering system, but more recently the PM's reference to social media as "the worst menace to society." While many in Turkey have accused domestic media of censoring their coverage of the ongoing unrest, social media have been flooded with eye-witness accounts, as well as video and images from protest sites.

21:17 GMT:

Equipped with his gas mask,their wedding takes place amidst protests in #Istanbul#Turkey#occupygezi#direngeziparki twitter.com/gi_syrian/stat…

— G(@gi_syrian) June 4, 2013
20:13 GMT: The RT cameraman who got teargassed last night at Gezi Park is getting ready for more action while our correspondent cuts soundbites.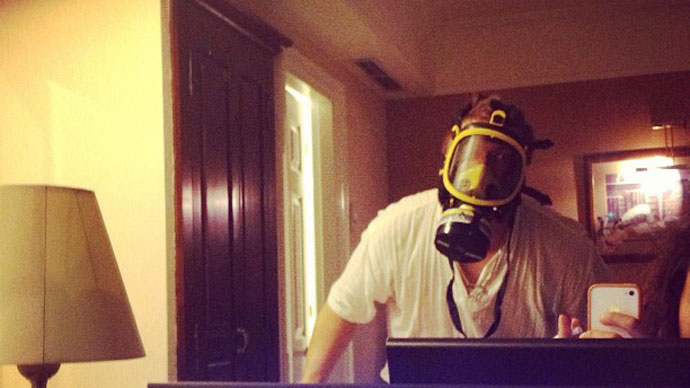 18:41 GMT:

Scattered protests in most Istanbul districts are much smaller than they were yesterday.

— Mahir Zeynalov (@MahirZeynalov) June 4, 2013
13:35 GMT: Hundreds of protesters start flocking back to the Taksim Square in Istanbul.

13:14 GMT: Turkish demonstrators have restrained a man who tried to attack a police van during a protest held in front of the prime minister's office in central Ankara, AFP reported.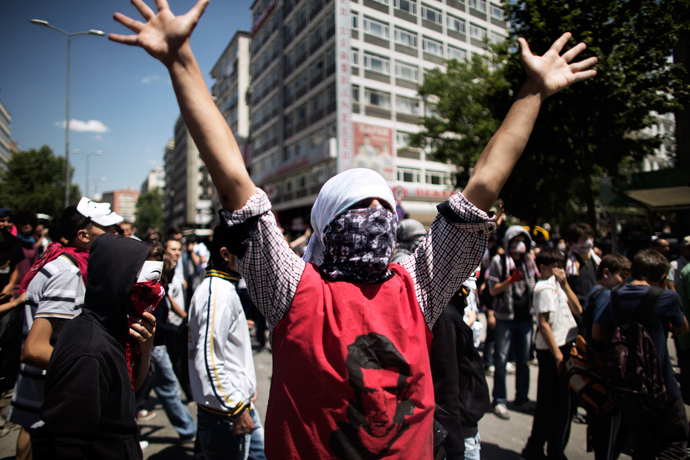 12:27 GMT: The UN human rights office voiced concerns on Tuesday about the excessive police force used against Turkish protestors, and urged the country's government to bring the "perpetrators" to justice. Turkey must conduct a "prompt, thorough, independent and impartial" investigation, said Cecile Pouilly, spokesperson for the UN high commissioner for human rights.

"We welcome the acknowledgment on the part of the authorities that disproportionate force may have been used, and their call for an investigation of law enforcement officers who are alleged to have broken the law and violated international human rights standards," Pouilly said.

She also stressed that those injured in the clashes must be given timely medical care, and that those arrested should be treated lawfully.

11:51 GMT: On Tuesday, Turkish Deputy Prime Minister Bulent Arinc apologized to demonstrators wounded in the violent clashes, and said he would meet with the organizers of the original sit-in to save the Istanbul park.

"I apologize to those who were subject to violence because of their sensitivity for the environment," Arinc said, adding that the police are now restricted to using tear gas only in cases of self-defense, and that they were wrong to use it on peaceful protesters.

"There is a need to clearly communicate to remove confusion in people's minds. In line with this, today we will meet with the associations and representatives of those who opened the lawsuit... to learn their views," Arinc said.

Arinc went on to praise the initial public protest against the park demolition as "legitimate and patriotic," but urged the protesters not to be agitated by "marginal and illegal groups." The government expects "all unions, political parties and everyone who loves and cares about Turkey" to end the demonstrations immediately, he added.

10:12 GMT: The protests have caused over 70 million lira ($37 million) in damage, Bloomberg reports, quoting Turkish deputy Prime Minister Bulent Arinc.

08:40 GMT: People across the world are rallying to support Turkish protesters and demand that Ankara stop its crackdown. Solidarity actions were held in Canada, Greece, Germany, the Netherlands, the UK and the US, among other countries.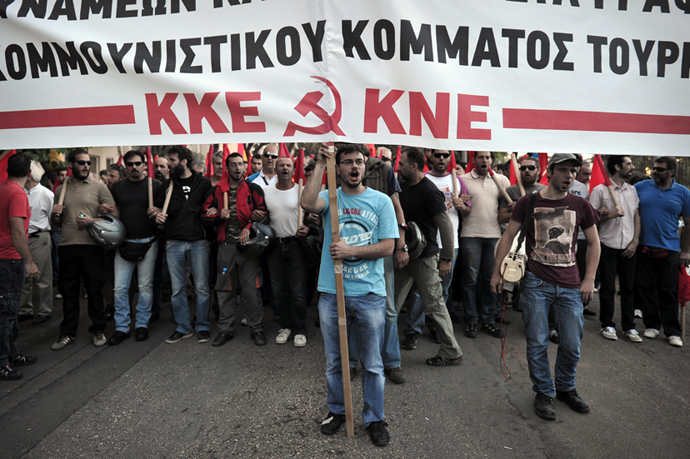 03:02 GMT: The ongoing unrest in Turkey has sparked Internet hacking attacks as well, with at least four Turkish government websites targeted in what activists have dubbed '#OpTurkey.' A Syrian hacker identified as 'Security Dr@Gon' defaced 34 Turkis-hosted websites, four of which are governmental, with messages supporting the protesters. One of the hacked government websites was that of the Ministry of Religious Affairs, while the other three were run by tourism and environmental development authorities..

02:55 GMT: Turkey's leftist Public Workers Unions Confederation (KESK), which represents 240,000 members, begins a two-day "warning strike" midday Tuesday (0900 GMT) to protest the government's heavy-handed response to the Taksim Gezi Park protests. The move could see hundreds of thousands of public servants walk off the job to call for a "democratic Turkey" rather than raise concerns over legal changes, KESK General Secretary Ismail Hakkı Tombul said. Later on Tuesday, KESK will further discuss the strikes with representatives from the Confederation of Progressive Trade Unions (DİSK), the Turkish Medical Association (TTB), the Turkish Engineers Association and the Turkish Architects Association.
02:21 GMT: Some demonstrators turned their anger on Turkish media on Monday, following criticism that the country's domestic media have been censoring police brutality during mass protests. Several hundred protesters gathered outside of the headquarters of Turkish television channel NTV, bearing signs with messages such as "media for sale" and "how much did you sell your honesty for?" according to a report by euronews.

01:12 GMT: Amnesty International and other international groups criticized Turkey's police response as excessive on Monday, with widespread reports of physical confrontations with demonstrators. Residents of Istanbul set up make-shift hospitals in the district of Besiktas to deal with the wounded.
Monday, June 3

23:37 GMT:

@rt_com The place Abduallah Cömert was executed by the unknown (possibly Police) Shooter twitter.com/hikmetsir/stat…

— Oğuz Dolar (@Oguzdolar) June 3, 2013
22:45 GMT: The Union of Turkish Doctors confirmed the death of 22-year-old Abdullah Cömert in the city of Antakya in the province of Hatay, near Turkey's border with Syria. The death would mark the second to be confirmed since protests flared up on Friday in Istanbul and across Turkey. According to news reports Cömert died of injuries sustained after being shot by unidentified gunmen, though many users via social media were placing the blame on local police forces.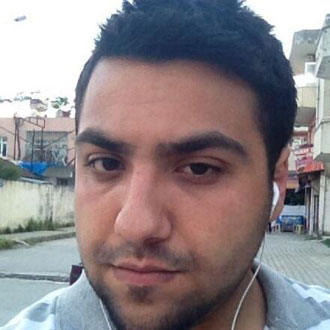 22: 39 GMT: Istanbul's stock exchange suffered its biggest one-day loss in a decade due to investor concern as protests appeared headed into their fifth day. The market closed 10.5 per cent lower on Monday, according to CNBC.
The Istanbul Stock Exchange National 100 Index has more than quadrupled in value since late 2008, though analysts worry that prolonged political unrest could harm Turkey's tourism as well as foreign capital investment, both of which are key to the country's economy.
22:32 GMT:
Resistance in the streets of #Ankara, this pic is from 10min ago#occupygezitwitter.com/57UN/status/34…

— Stun ☠ (@57UN) June 3, 2013
21:49 GMT:
#Turkey opposition raises over 55k for full page ad in New York Times.

— Seref Isler (@seref_i) June 3, 2013
20:31 GMT:

A couple defy restrictions on PDAs in Ankara today - Spreading the love! #Turkeyvia tinyurl.com/leopnot twitter.com/M_Hollinghurst…

— Megan Hollinghurst (@M_Hollinghurst) June 3, 2013
20:23 GMT: According to the Turkish Medical Association at least 3,195 people had been injured in clashes Sunday and Monday.
20:11 GMT:
Genius! RT @pdacosta: Demonstrator in Turkey wears gas mask made out of plastic water bottle (by Umit Bektas) twitter.com/pdacosta/statu…

— Sunny Hundal (@sunny_hundal) June 3, 2013
19:23 GMT: Crew of RT's correspondent Irina Galushko and RT in Arabic crew have suffered from tear gas after police attacked protesters in Istanbul's Taksim Square.

19:03 GMT: Speaking in Morocco where the Turkish PM is on his visit, Erdogan said the situation in his country is "now calming down," despite the fourth day of violent protests against his rule.

18:43 GMT: Hundreds of Greek leftists, nearly a thousand, marched in support of Turkish protesters. "From Taksim Square to Athens, we fight poverty and hunger," they chanted referring to Istanbul's main square.

18:19 GMT: The US has expressed concern about reports of excessive use of force by Turkish police. "We obviously hope that there will be a full investigation of those incidents and full restraint from the police force," Reuters cited US secretary of state John Kerry as saying.

Speaking at the daily briefing, White House spokesman Jay Carney said the US believes that "the vast majority of the protesters have been peaceful, law-abiding citizens exercising their rights." Carney also called on "all sides to refrain from provoking violence."

18:03 GMT: Ankara police started a crackdown at noon, using tear gas and water cannon against protesters.

17: 42 GMT: Police intervened with tear gas and water cannon in the city of Ankara, where protesters gathered to show support with the Taksim Gezi Park demonstration. Around 300 students were shouting slogans and marching toward the Prime Ministry complex after staging a sit-in. Protesters continued to return to Kızılay Square after being repeatedly dispersed by police through the side streets. To resist against a possible police intervention protesters have built a barricade with two municipality buses and a construction truck on the Kolej crossroad.
16:13 GMT: Hundreds of protesters flock back to the Taksim Square in Istanbul, colorful banners and flags in their hands.

14:16 GMT:
Live picture of crowd gathered in #Izmir. #occupygezi#direngeziparkitwitter.com/57UN/status/34…

— Stun ☠ (@57UN) June 3, 2013
13:00 GMT: A 20-year-old man died when a taxi drove into a group of demonstrators on an Istanbul highway, Turkish doctors' association TBB said on Monday. Four other protesters were injured in the incident, one of them seriously. According to AFP, the incident took place back on Sunday and a police car was involved.
12:46 GMT:
Update: there are roughly 3000 people at #gezi and on #Taksim, most of them young #Istanbul#OccupyGezi

— Irina Galushko (@IrinaGalushkoRT) June 3, 2013
12:20 GMT: The Confederation of Public Workers' Unions (KESK), one of Turkey's four major labor unions, says it will launch a strike on Tuesday. The 'warning strike' in response to what the union called 'state terror' against anti-government protests is to last for two days. The KESK counts some 240,000 members in its ranks.
11:40 GMT: Ankara police have arrested at least 1,500 protesters, according to opposition Republican People's Party member Aylin Nazlıaka. She says many of the detainees were forced to sign testimony, denied access to lawyers and had their mobile phones seized. The Interior Ministry reported holding 500 people in custody in the capital.
11:10 GMT: Turkish police are using tear gas against the opposition in Ankara, a Reuters witness said. The law enforcers were targeting a groups of some 1,000 protesters, most of them young people, as they were advancing towards the capital's Kizilay Square demanding the resignation of PM Erdogan. The violent confrontation is now in its fourth successive day.
Hundreds of people are demonstrating outside NTV network to protest scant media coverage of protests.

— Mahir Zeynalov (@MahirZeynalov) June 3, 2013
08:45 GMT: Erdogan says the Turkish intelligence services are investigating possible foreign links to the weekend riots.
08:25 GMT: Erdogan says Turkish people must not be provoked by the protest organized by extremist forces and claims that the latest riots have nothing to do with the Gezi Park sit-ins.
07:05 GMT: Prime Minister Erdogan is to leave Turkey on a four-day visit to North Africa. He is expected to speak at the Istanbul airport – his fifth address in the last two days – before flying out of the country.
01:47 GMT: Amid the ongoing anti-government protests in Turkey, Washington has called on all parties to "calm the situation." The White House in particular urged security forces to "exercise restraint." In a statement released on Sunday, spokeswoman Laura Lucas said the US believes peaceful public demonstrations "are a part of democratic expression."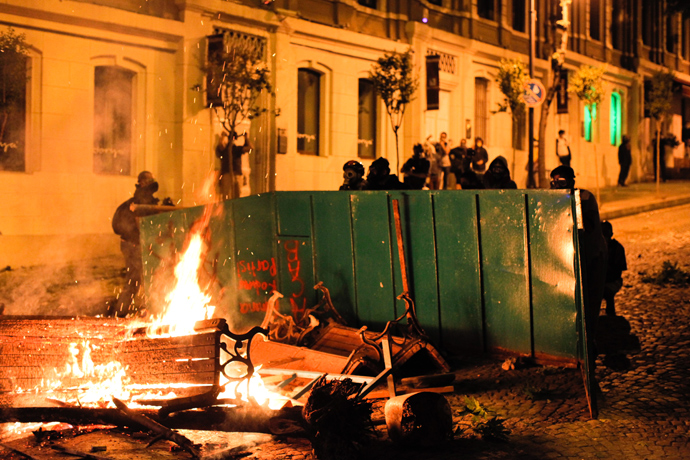 Sunday, June 2

23:18 GMT: As of noon GMT (16:00 Moscow Time), a crowd of several dozen supporters of anti-government protests in Turkey have staged a rally in Moscow's Gorky Park – the capital's famous central leisure destination. The people were holding up banners in Turkish and English saying things like 'Istanbul is not alone', and waving Turkish flags.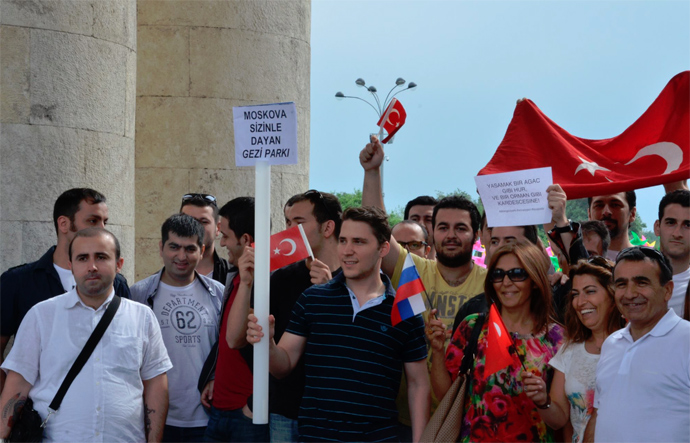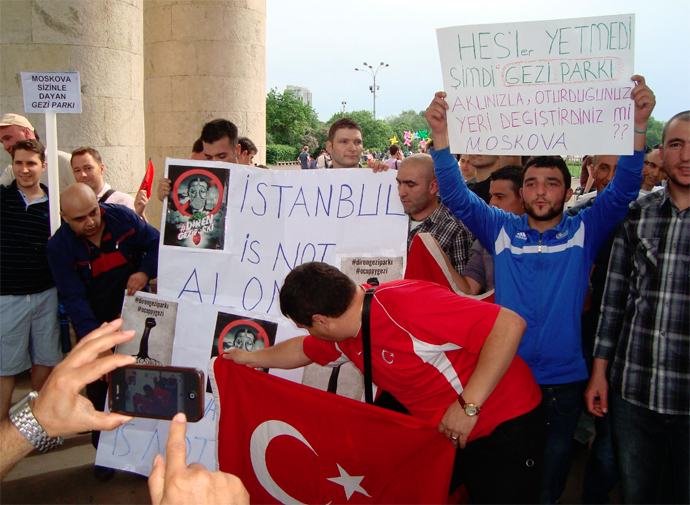 22:01 GMT:
people taking shelter at Dolmabahce mosque twitter.com/mehmetkirali/s…

— Lizzie Phelan (@LizziePhelan) June 2, 2013
21:37 GMT:
Besiktas demonstrators are walking towards Gumussuyu near Taksim. #occupygezi#direngeziparkitwitter.com/57UN/status/34…

— Stun ☠ (@57UN) June 2, 2013
19:38 GMT: Decrying the reaction of Turkish authorities to the ongoing protests as those of a "petty dictator," Anonymous vows to kick off a worldwide action which will "bring the Turkish government to its knees." With #opTurkey, the hacktivist collective plans to "attack every Internet and communications asset of the Turkish government."

19:20 GMT:Anonymous claims to have taken down several websites across Turkey, targeting municipal governments in Mersin and Izmir as well the Gebze Institute of Technology.

"An itibari ile..DOWN:DOWN mersin.gov.trDOWN eshot.gov.trDOWN resmigazete.gov.tr " via @boxerescape

— Anonymous (@YourAnonNews) June 2, 2013
19:05 GMT:"Clashes in Besiktas slowed down but hard to breathe because of tear gas. One bad news: Thousands from Taksim heading to that area," Mahir Zeynalov, a journalist for the Turkish daily Today's Zaman wrote from the scene via Twitter. Zeynalov said protesters are chanting at police: "We have gone crazy, come and gas us!"

18:42 GMT:

Hundreds from Taksim are heading to Besiktas, where police and protesters clash.

— Mahir Zeynalov (@MahirZeynalov) June 2, 2013
18:38 GMT: Police are firing tear gas to disperse protesters outside Turkish PM Erdogan's office in Istanbul, AFP reports.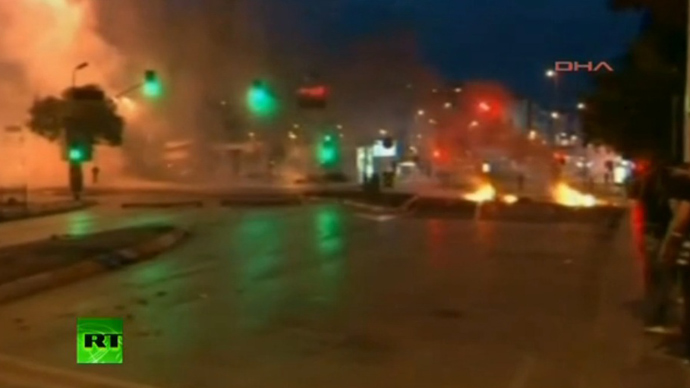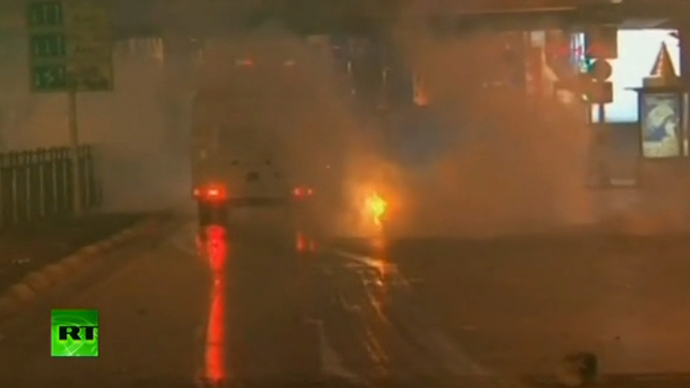 18:37 GMT: Basak, a computer engineer from Istanbul, told RT that what began as a peaceful protest has turned ugly because of the way the police behaved.
"These protesters are just young people and it is their first protest, it is my first protest. We have learnt not to go out without masks and goggles. Everybody is angry in Turkey at the way the police are treating their own people," she said. Basak explained that the police were using the tear gas canisters like bullets firing them directly at people and "six people are blind as a result."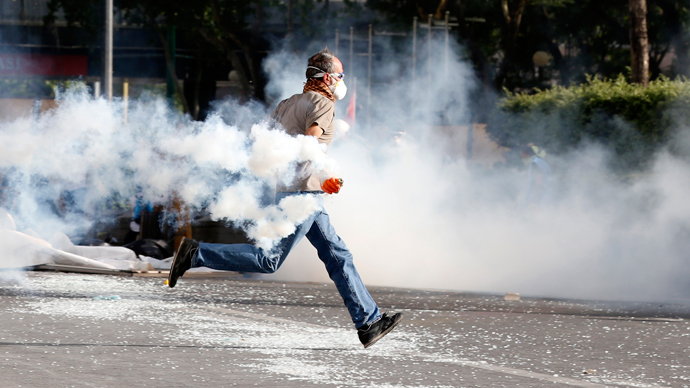 18:35 GMT:

People on the roof of the atatürk cultural center that PM wants to destroy. #OcccupyGezi twitter.com/ReadyMadde/sta…

— Ready-Made (@ReadyMadde) June 2, 2013
18:28 GMT: The "so-called pro-Islamic people" who support the government of Prime Minister Recep Tayyip Erdogan are in fact in the minority, while the majority are actually against his government because of its domestic and foreign policies, Sinan Tolun, a former journalist at the EBA Economic Press Agency, told RT. Tolun mentions how recent efforts to "implement prohibition" in Turkey reflect the government's desire to set up an Islamic state in Turkey.

"Turkey was founded by Ataturk, and this government is betraying Ataturk's legacy. They are especially struggling against the secularism of Turkey…Turkey is [constitutionally] a secular state. We are not happy about it," Tolun argues.

Internationally, Tolun says that that before Erdogan assumed office, Turkey never interfered in the internal affairs of neighboring countries like Syria. He believes that Erdogan's policies are "mainly serving US interests, not Turkish interests."


18:10 GMT: Police deploy "excessive amounts" of teargas on Kizilay Square in the Turkish capital of Ankara to break up an anti-government demonstration.

Kizilayda asiri gaz var. Hic durmadan atiyorlar. #direnankara @pinarcetin twitter.com/kilementaayn/s…

— Ilgım Üşengeç (@kilementaayn) June 2, 2013
18:05 GMT: In Istanbul, thousands of protesters are still surrounding the Prime Minster's Office. While the situation on Sunday night was largely peaceful, Orchun Sunear, a musician, told RT that he had seen a lot of people being seriously hurt by police, and even witnessed people being crushed by a police tank. A friend of his named Lednah, also a musician, is in a coma after being caught up in the crackdown.

"My father, and grandmother have never seen anything like this, In three generations the police have never behaved like this. This is not normal in Turkey and I don't understand why this is happening," he said.

18:00 GMT: Clashes have been reported in the Anatolian city of Izmir and the southern city of Adana – Turkey's third and fourth largest cities. Earlier in the day, police fired tear gas and used water cannons to disperse around 1,000 protesters who were attempting to march to the prime minister's office in the Turkish capital of Ankara. While the atmosphere in Istanbul's Taksim Square has mostly been festive throughout the day, clashes were later reported between police and protesters near the prime minister's office in the city.

17:38 GMT:
Barricades get serious in #occupygezi, this one is huge. #Turkey twitter.com/BenhamAlex/sta…

— Alex Benham (@BenhamAlex) June 2, 2013
17:20 GMT: Syrian authorities have issued a travel warning advising its citizens not to visit neighboring Turkey for safety reasons.

"The demands of the Turkish people don't deserve all this violence," Haaretz cites Information Minister Omran Zoabi as saying. "If Erdogan is unable to pursue non-violent means, he should resign."


17:05 GMT: Between 15-20 young people wearing masks attacked reporters near the Prime Minister's office in Istanbul, but no one was injured, Al-Jazeera reports.
17:03 GMT:
The rally in Taksim is scaling down. Now there are 5,000 the most in Taksim square. May be 200-300,000… instagram.com/p/aEF9FiPLnR/

— Mahir Zeynalov (@MahirZeynalov) June 2, 2013
17:00 GMT: The ongoing protests in Turkey differ from the Arab Spring in that they don't fit into "a NATO, Gulf State, Al-Jazeera led geo-political strategy," Middle East expert and journalist Gearoid O' Colmain told RT.
"Many protesters many want to compare the Taksim protests to Tahrir. There was a genuine element of popular uprising in Egypt, and it was at least initially a peaceful uprising. But I think there is an essential difference here. The protests in Tunisia and Egypt were given help from the National Endowment for Democracy, The International Republican Institute, Freedom House – canvas and regime change organizations. They have admitted that themselves and we have State Department documents even to prove that now. The Rand Corporation, for example, were boasting about their democratization, or what they call democratization in Egypt," he argues.
O'Colmain believes that the protests gripping Turkey are much more significant because they could develop into "a very genuine uprising."
"I don't think that there is any regime change agenda here from external powers like we had for example, in Egypt…I don't think it fits into "a NATO, Gulf State, Al-Jazeera led geo-political strategy like we had for example in Egypt."
16:54 GMT: A New York rally organized by the Occupy Wall Street movement in the Zuccotti Park in support of the Turkish protests has continued into a second day:

Happening now: solidarity action in zuccotti park. #OccupyGezinyc#occupyhomecoming#J2 twitter.com/SeaNick_/statu…

— Nicky Ocean ⚓ (@SeaNick_) June 2, 2013
16:13 GMT: More than 1,700 people have been detained since a harsh police crackdown against activists staging a sit-in protest at Gezi Park near Taksim Square spiraled out of control on Friday. Turkish Interior Minister Muammer Guler said "a large majority of the detainees were released after being questioned and identified," the state-run Anatolia news agency cites him as saying.
Officials claimed that 53 civilians and 26 police officers had been hurt in the clashes, though Amnesty International alleges that hundreds have been wounded and two have been killed.
16:05 GMT: Turkish Prime Minister Recep Tayyip Erdogan has announced that a mosque, and not a shopping mall will be built in the Artillery Barracks project intended to replace Taksim Gezi Park, the Turkish daily Hurriyet reports.
Erdogan added that he did not need permission from the political opposition or a "few marauders" for such projects, as the authority had already been granted by the people who voted his ruling Justice and Development Party into power.

15:10 GMT: Police have fired tear gas and used water cannons to disperse around 1,000 protesters who were attempting to march to the prime minister's office in the Turkish capital of Ankara, AFP reports.

14:58 GMT:
Crowd significantly swelled. My estimate: 80-100,000 protesters in Taksim. Many more outside Taksim.

— Mahir Zeynalov (@MahirZeynalov) June 2, 2013
14:56 GMT: Activists have set up a massive barrier en route to Taksim in the event that police decide to storm the square and drive the protesters away.

14:49 GMT: Demonstrators donning Guy Fawkes masks, which have come to symbolize both for the hacktivist collective Anonymous and international protest.

Protesters #anonymous masks 1000s of protesters gather plans over demolish #GeziPark @crypt0nymous @anonopslegiontwitter.com/Lbdolly/status…

— LB Dolly(@Lbdolly) June 2, 2013
14:40 GMT:
14:37 GMT: Turkish Prime Minister Recep Tayyip Erdogan dismissed charges he is an authoritarian leader on Sunday, claiming the protests were being driven by an extremist fringe.

"If they call someone who has served the people a 'dictator,' I have nothing to say," AP cites Erdogan as saying in an address to a group representing migrants from the Balkans. "My only concern has been to serve my country."

In another speech delivered the following hour, Erdogan said: "I am not the master of the people. Dictatorship does not run in my blood or in my character. I am the servant of the people."

14:08 GMT: A photograph from Kizilay Square in the Turkish capital Ankara, where activists allege a protester was shot by police.

The pool of blood at Kizilay Square is marked with a sign that says "Police shot a protester here" #ACAB#OccupyGezi twitter.com/kabrettaa/stat…

— كابي (@kabrettaa) June 2, 2013
14:00 GMT:
Walked around to count: Nearly 30,000 protesters now gathered in Taksim square. Another 100,000 or so around Taksim trying to get in.

— Mahir Zeynalov (@MahirZeynalov) June 2, 2013
13:35 GMT: The website for Condornaoletal, a producer of non-lethal weapons which "offer law enforcement officials the capacity to apply force gradually, reducing the situations in which the use of firearms is required," has been hacked by Anonymous. Such large quantities of tear gas were used against Turkish demonstrators, local media reported that police were running low on their stocks of the asphyxiating gas.
Reporting in: A Tear Gas Bomb producer condornaoletal.com.br for #Turkey Hacked & Defaced #OccupyGezi#Anonymous

— Anonymous Germany (@AnonNewsDE) June 2, 2013
13:30 GMT:A petition to US President Barack Obama asking the White House to "Condemn the actions taken against peaceful protesters in Istanbul Turkey" has already garnered over 95,000 votes as of June 2nd. In accordance with the We the People petitioning system on the whitehouse.gov website, if the petition reaches the 100,000 signature threshold by June 30th, "it will be reviewed by the Administration and we will issue a response."
13:18 GMT: Many protesters can be seen holding up the red and golden banner for the Communist Party of Turkey (TKP) on Taksim Square.
After two days of clashes party flags dominate the #Taksim square, cav bella coming out of speakers. #istanbul twitter.com/zeynep_erdim/s…

— Zeynep Erdim (@zeynep_erdim) June 2, 2013
12:45 GMT: Turkish Prime Minister Recep Tayyip Erdoğan has said that he will not seek permission from marauders to implement the plans for Taksim, where the protests were taking place. He stated to protesters that if their actions stemmed from upset over lost trees to build a mall in the area, he would like to remind them that the Turkish government had planted some across the country, according to local news agency Hurriyet, also stating "no one had the right to increase tension in Turkey by using uprooted trees as an excuse," reported Turkish Weekly. However, he also said the projects were not yet final, and accused protesters of destroying property, asking rhetorically if damaging them constituted democracy.
Turkish PM Erdogan: "I will not seek permission from hoodlums to implement my plans for Taksim" #OccupyGezitwitter.com/57UN/status/34…

— Stun ☠ (@57UN) June 2, 2013
12:28 GMT: Protesters have cleaned up Gezi Park and the surrounding streets after the riots and clashes.
The real tear bomb: after the police attack, PEOPLE cleaned Gezi park twitter.com/DirenGezi/stat…#occupygeziparki#OccupyIstanbul

— Occupy Sydney (@occupySYDNEY) June 2, 2013
What the protesters did last night RT @turkeyemergency We take the streets then we clean up after us #occupyistanbul twitter.com/cumhuriyetgzt/…"

— Erol Akcay (@akcayerol) June 2, 2013
11:45 GMT: A free food stall has been set up in the square's Gezi Park for exhausted demonstrators.
A free-for-all food stand is set up at Gezi Parki, #Taksim. #occupygezi#direngeziparki#direnankaratwitter.com/57UN/status/34…

— Stun ☠ (@57UN) June 2, 2013
11:10 GMT: "Not a single policeman around Taksim Square," reads the caption.
Taksim Meydanı ve çevresinde tek bir polis yok. t.co/3cg74qNxy4

— Erdal Kaplanseren (@kaplanseren) June 2, 2013
11:00 GMT: Turkish demonstrators continue to gather on Istanbul's Taksim Square, following withdrawal of heavy police presence. The crowd could be heard chanting and singing in unison. They have been saying: "This is our Taksim, this is our Istanbul," and "we are all soldiers of Mustafa Kemal [Ataturk]," according to Haaretz.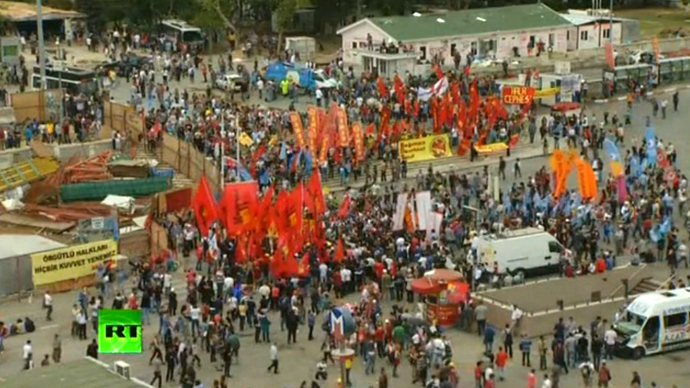 10:10 GMT: Istanbul has witnessed bouts of vandalism during the protests.

Bu araçlar kendiliğinden bu hala geldi sanırım...! twitter.com/AdnanBoynukara…

— Adnan Boynukara (@AdnanBoynukara) June 2, 2013
Hale bak!!! twitter.com/tgoruryilmaz/s…

— Turan Görüryılmaz (@tgoruryilmaz) June 2, 2013

08:52 GMT: An Ankara resident, who preferred to remain anonymous, told RT that police have started gathering in the street as more protests are expected on Sunday afternoon. Recalling the Saturday clashes, she described police actions as "horrible," saying that officers were shooting at people, without caring if they were women, children or the elderly. Cafes and some other public places were used as hospital and medical students volunteered to treat the injured. She also said that one person was killed Saturday after being targeted by water cannon.

07:21 GMT: At least two people were killed in the demonstrations in Turkey, Amnesty International said on Sunday. Over 1,000 protestors were injured. Most of them were hurt near Taksim Square in Istanbul, the focal point of the recent protest.
#Istanbul municipality has already cleaned up after long night of rowdy #protests twitter.com/JessicaJJLutz/…

— Jessica J.J. Lutz (@JessicaJJLutz) June 2, 2013
05:06 GMT: Turkey Prime Minister, Erdogan says protestors should go home, "If you bring 100,000, I'll bring out a million."He has also vowed to rebuild the Ottoman barracks.
I can't even walk in Taksim due to construction and small rocks everywhere, let alone staying there for too long under rain.

— Mahir Zeynalov (@MahirZeynalov) June 2, 2013
03:08 GMT: With Istanbul and Ankara gripped by a third day of anti-government demonstrations, protests have also spread to the Turkish-controlled part of Cyprus.
As Melis Tutan, a Cyprus-based journalist reports, Turkish students started gathering on Saturday to protest the events in Istanbul and express their grievances over the policies of the Erdogan government and what they describe as police terror.
Thousands of people took to the streets of Nicosia, Kyrenia, Famagusta and Morphou, Tutan told RT. "Many civil organizations and students walked together towards the Turkish Embassy in Nicosia. At the beginning police tried to stop them, but then they were allowed to chant slogans."
The protests were peaceful and no arrests were made.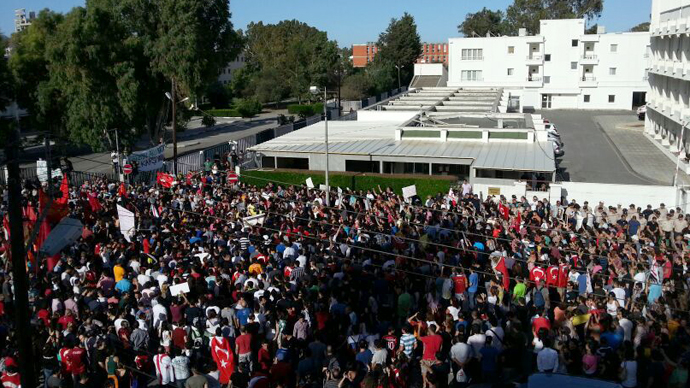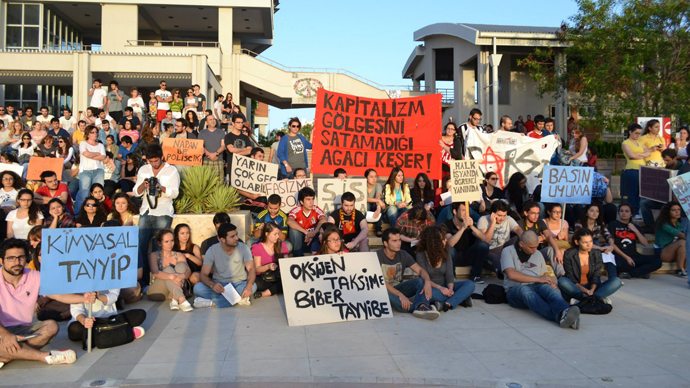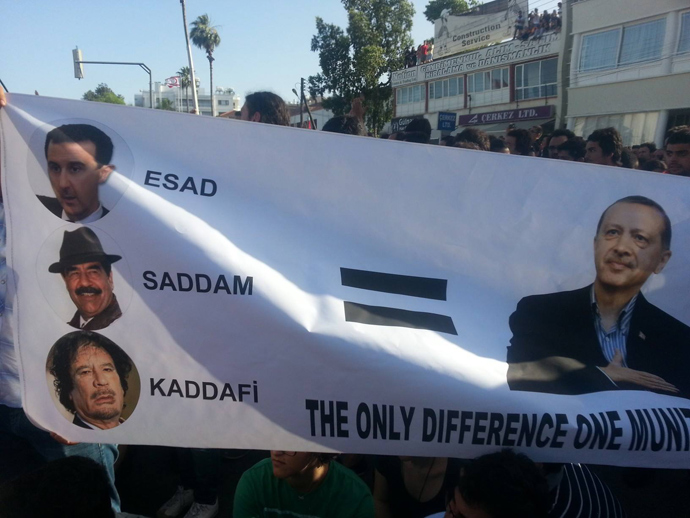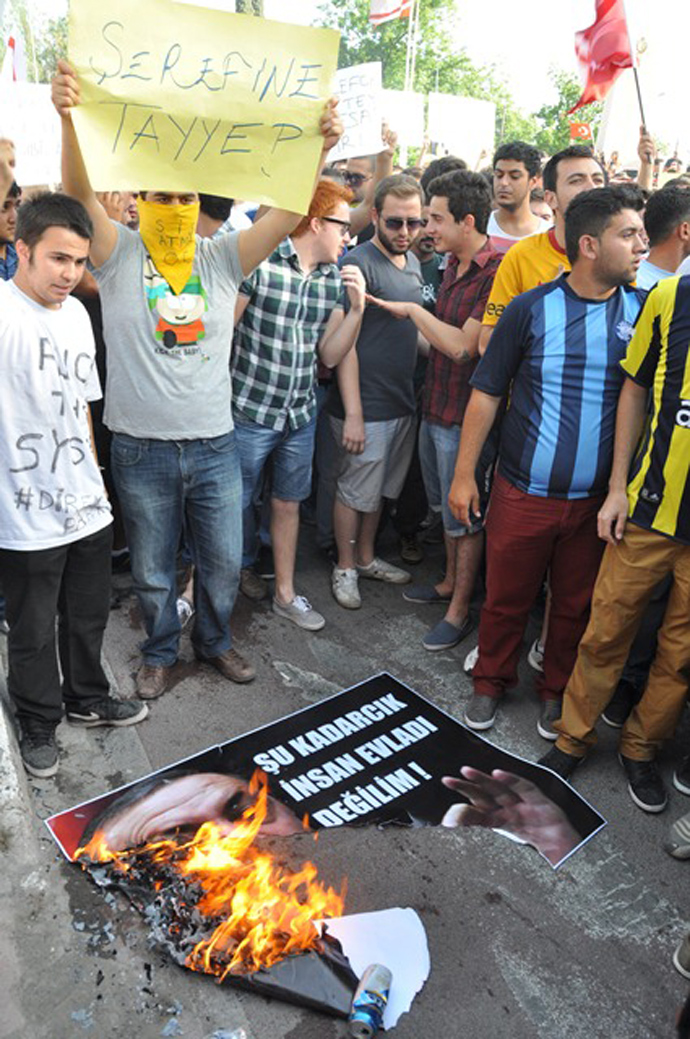 00:55 GMT: A YouTube video allegedly depicts scuffles between police and protesters in Istanbul's Besiktas neighborhood.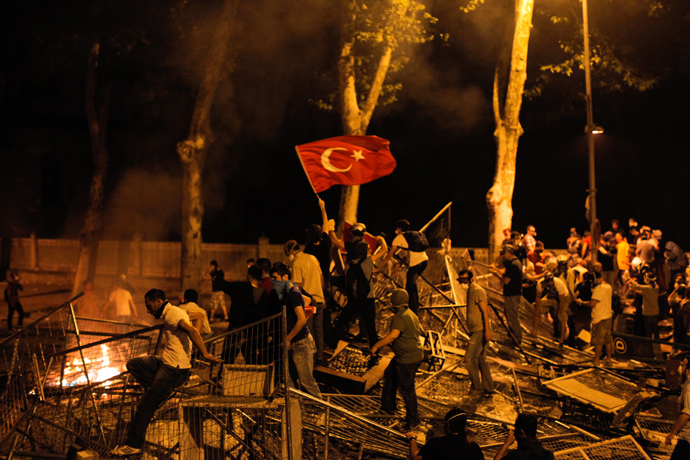 Saturday, June 1
21:27 GMT: This June 1 Ankara witness video allegedly shows a protester being run over by a police vehicle, as the surrounding crowd quickly rushes toward the scene.
21:19 GMT: Photo shows protesters taking care of an injured demonstrator during a rally in support of protests in Istanbul and against the Turkish Prime Minister Recep Tayyip Erdogan and his ruling Justice and Development Party (AKP), in Ankara, on June 1.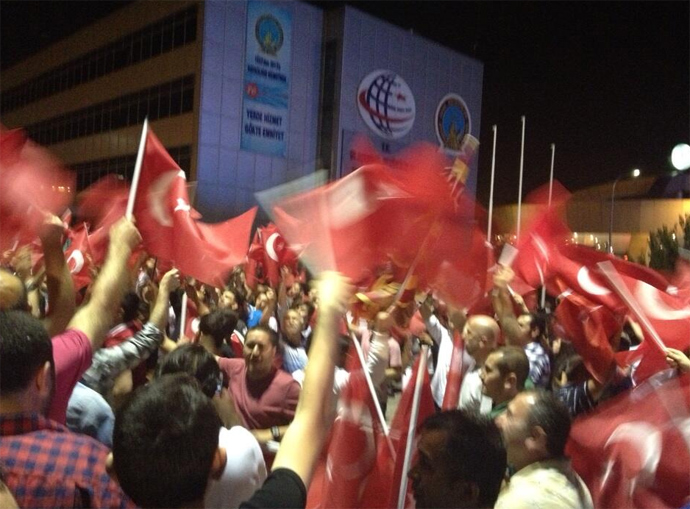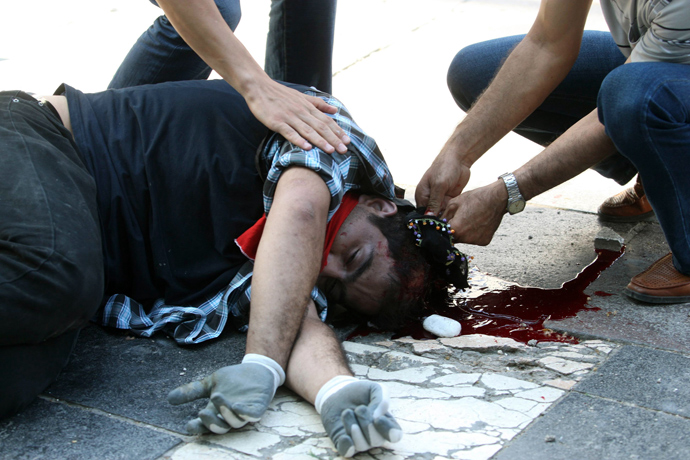 20:46 GMT: Triumph and jubilation as the Taksim Square crowd celebrates the retreat of riot police on Saturday. The epicenter of protests had earlier been marked by fierce clashes with police and dozens of injured. But the mood has bounced back and the Turkish are now ecstatic - singing, dancing and drinking.
19:43 GMT: Twitter users say police have used tear gas against the protesters in Beşiktaş, an Istanbul municipality located on the European shore of the Bosphorus.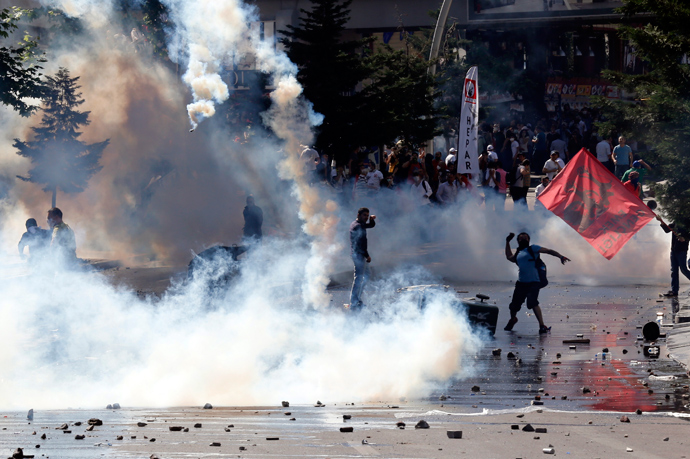 Protesters claim the clashes erupted after the police deployed armored cars and started firing gas at a peaceful demonstration, arresting both ralliers and passersby.
this is the view at besiktas from the sea. please, somebody tell them to stop: twitter.com/umutgokbayrak/…"yujj" #direnbesiktas#direngaziparki

— serdar paktin (@paktin) June 1, 2013
Besiktas @ 21.58 it was peaceful before the police attacked!!! twitter.com/pnarongun/stat… via @edihvet

— Ebru Kefeli (@ebrukefeli) June 1, 2013
19:14 GMT: More than 90 demonstrations took place in 48 provinces of Turkey over two days, and 939 people have been detained across the country as part of "necessary security measures," Turkish Interior Minister Muammer Güler said.
#Ankara Turkey 30 min ago twitter.com/Sukrukucuksahi…#occupyGezi#direngeziparki#OccupyTaksim#OWS#Istanbul#1j

— djvjgrrl (@djvjgrrl) June 1, 2013
17:34 GMT: Solidarity protests are being staged or planned across Europe and the US, with people in cities including Boston, London, Berlin, Athens, Nicosia and Helsinki rallying against the violence in Turkey.
Turkey: the world is watching. Aerial view of crowd in Taksim Square twitter.com/minikprof/stat…

— Jennifer Tesoro (@JennTesoro) June 1, 2013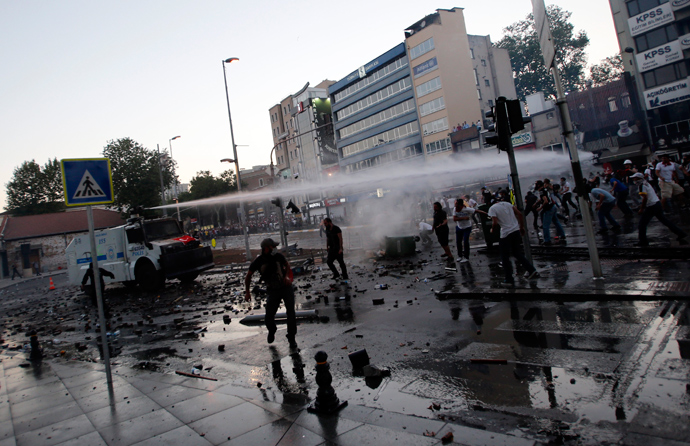 16:41 GMT: In New York City's Zuccotti Park, hundreds of Occupy movement supporters are gathering for a solidarity demonstration. The protesters say they will march about 3 miles to the Turkish Consulate.
I'd put the crowd at Zuccotti for #occupygezi at about 600-700 so far; lots of chants in Turkish, high energy. Lots of smiles. #fb

— Joshua Stephens (@joshuacstephens) June 1, 2013
#Istanbul you're not alone! #OWS#occupy#occupyistanbul#geziparki twitter.com/OccupyAstoriaL…

— Occupy Astoria LIC(@OccupyAstoriaLI) June 1, 2013
16:36 GMT: Protesters in Egypt will gather for Taksim solidarity protest at 7 pm local time tomorrow in front of the Turkish Embassy, Cairo, RT's Bel Trew reports.

16:17 GMT: Human Rights Watch urged Erdogan's government to "end police violence and excessive use of force against protesters across Turkey" in a statement published on the group's website.
"The police's record on abusive policing has been surpassed as they use tear gas and water cannon fire against peaceful demonstrators," said Emma Sinclair-Webb, senior Turkey researcher at Human Rights Watch.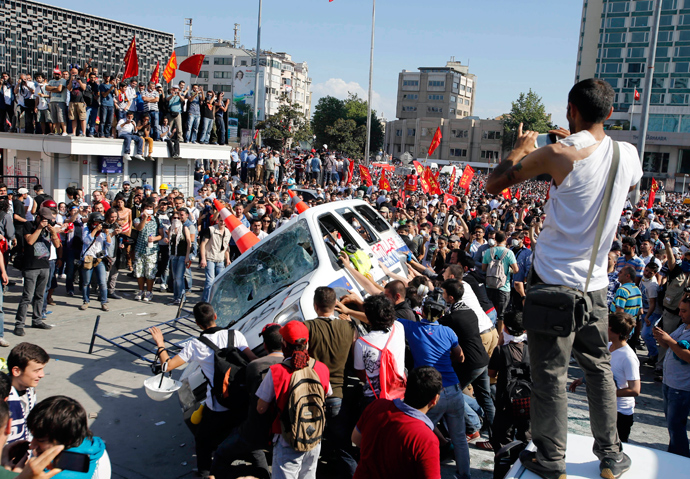 "The government's failure to respect the right to protest and to speak out is fuelling discontent among people in Turkey," she added.

15:56 GMT:

More and more people headed to #Taksim Square from every direction they can. #occupygezi twitter.com/justinvela/sta…

— Justin Vela (@justinvela) June 1, 2013
15:45 GMT: Turks have gathered in front of the EU Parliament in Brussels to protest violence in Turkey, chanting anti-government slogans and holding banners, RT's Tesa Arcilla reports. "This is not about a park. It's about the abuse of state power. It's about media being censored. This is about democracy," reads one of the banners held by protesters.
Chanting continues on media censorship, fascism, dictatorship, police violence #Turkey (Brussels protest) twitter.com/Tesa_RT/status…

— Tesa Arcilla (@Tesa_RT) June 1, 2013
15:15 GMT:

Taksim sq full with protesters demanding Erdogan to go #Occupygezi twitter.com/LizziePhelan/s…

— Lizzie Phelan (@LizziePhelan) June 1, 2013
15:05 GMT: Protesters keep posting tweets saying there has been little or no coverage of protests in mainstream Turkish media.

14:40 GMT:
Police container burning at Gezi Parkı. Reason unknown but provocation rumors spreading. #OccupyGezi#DirenGeziParkıtwitter.com/57UN/status/34…

— Anonymous (@AnonOpsLegion) June 1, 2013
14:18 GMT:
Thousands marching towards the #Taksim Square right .#TURKEY#تركياtwitter.com/omas7/status/3…

— Eng.Osamaالحجي (@omas7) June 1, 2013
13:49 GMT: The police are withdrawing from Taksim Square in Istanbul, allowing the people to protest, the state-run Anadolu Agency reported.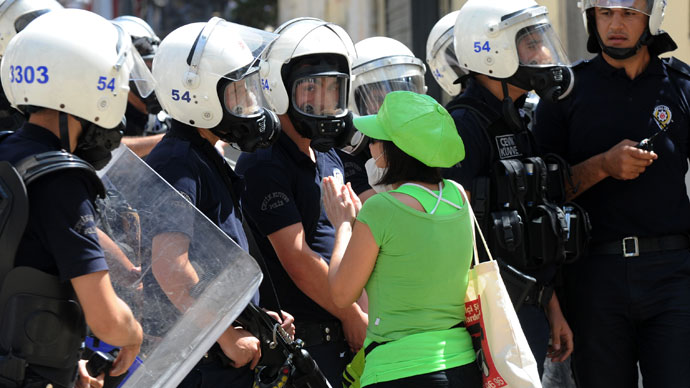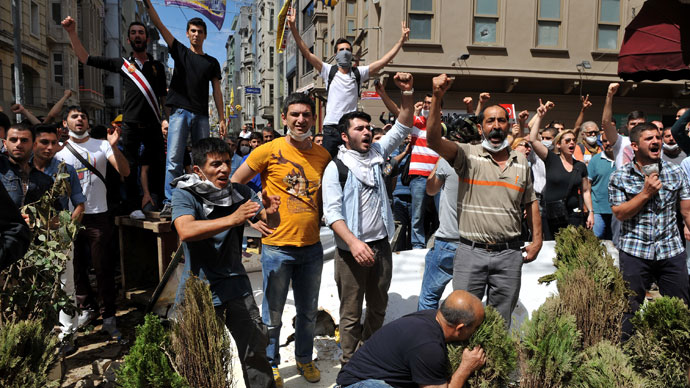 13:27 GMT: Nearly 1,000 people have been injured in clashes with the police in Istanbul alone, and at least six of them lost eyes after being hit by gas canisters, Reuters reported citing Turkish Doctors' Association.
The European parliament and human rights groups such as Amnesty International raised their concern about excessive use of force by police in Turkey. The US State Department said it is concerned about the high number of injuries.
"The severity shown by the police is completely disproportionate and is leading to a spreading of the protests," Martin Schulz, head of the European Parliament and a leading member of Social Democratic Party of Germany said in a statement.
Turkish volunteer MDs headed towards #occupyistanbul to treat the wounded... This is what it means to be a doctor. twitter.com/QueenBee_MD/st…

— Queen Bee, MD (@QueenBee_MD) June 1, 2013
13:19 GMT: The ongoing protests in Turkey are being "hijacked" by oppositional minded forces and even criminal elements attempting to air their own grievances with the current government, Mahir Zeynalov, a reporter from the Turkish daily newspaper, 'Today's Zaman', told RT.
"All these protesters are not out on the streets protesting the cutting of several trees. The main opposition are trying to get behind these protests," Zeynalov argues. "There are really sincere protesters that have legitimate demands… but this has gone well beyond what they were initially protesting. It has become an opportunity for other groups to stage their protests and to use the opportunity to actually attack police forces and express their discontent about the government's other policies."
13:09 GMT: Turkish Prime Minister Recep Tayyip Erdogan urged to end the protests raging for the second day.
"I call on the protesters to stop their demonstrations immediately," Erdogan said, demanding they not cause "further damage to visitors, pedestrians and shopkeepers."
12:44 GMT:
Local media: 57 arrested tdy in #Istanbul (81 ystdy) #OccupyGezi#Turkey

— Rawya Rageh (@RawyaRageh) June 1, 2013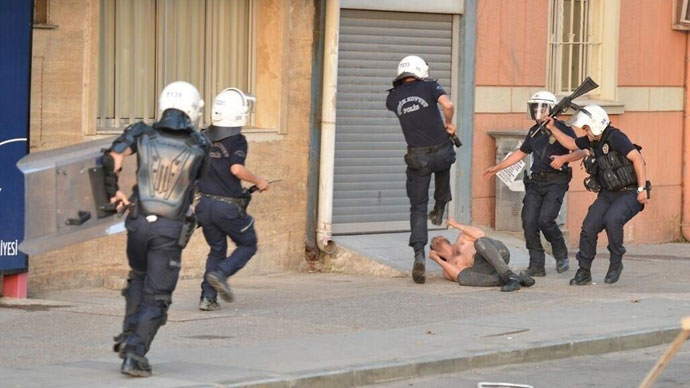 12:37 GMT: Turkish police on Saturday have been using an unidentified orange gas with a smell "different" from normal teargas, protesters report on Twitter. Some claim it is a dangerous chemical.
rumours abt the gas today makes ppl faint. similar was used on mayday, inducing fainting&vomiting #occupygezi

— meyrem♥☭♀ (@myriamonde) June 1, 2013
12:06 GMT: Pharmacies selling gas masks at great discounts - some give them for free. Major hotels offer food, water and refuge to protesters, activists report on Twitter.
This is how every citizen is participating in the protests #occupygezi#occupytaksim#occupyistanbul#occupyturkeytwitter.com/DeSoNiR/status…

— Sinan (@DeSoNiR) June 2, 2013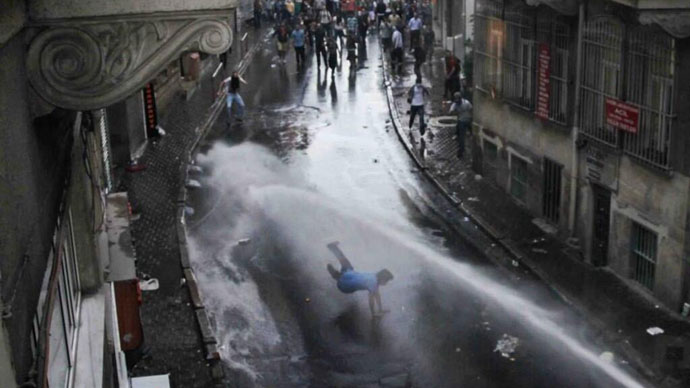 11:50 GMT:
Istiklal street as of now! Check out the picture for #occupyistanbultwitter.com/_ElifYilmaz_/s…

— Mehmet Binay (@mehmetbinay) June 1, 2013
10:52 GMT: All across the country, activists on Twitter are warning their fellow protesters of the authorities blocking the internet and telephone networks, as well as tracking the demonstrators.
#occupygezi "There are local internet blackout at important strategic points in Istanbul."

— Jacob Appelbaum (@ioerror) June 1, 2013
#occupygezi "Shops, hotels and private homes are now opening up their wifi so that people on the streets can still connect."

— Jacob Appelbaum (@ioerror) June 1, 2013
10:20 GMT:

Already had our morning dose of tear gas.. Good morning to you, too, riot police #OccupyGezi#Turkey

— Rawya Rageh (@RawyaRageh) June 1, 2013
10:17 GMT: Turkish PM Tayyip Erdogan stressed that he would push ahead with plans to redevelop Istanbul's central Taksim Square despite protests, according to Reuters. Erdogan pointed out that the redevelopment plans were being used by protesters as a pretext to escalate tensions.

09:59 GMT: As quoted by Mahir Zeynalov, a correspondent for 'Today's Zaman', Turkish Prime Minister Erdogan commented on the events: "Construction works in Gezi Park in Taksim is not related to the Topçu barrack construction. Everyone has a right to protest peacefully. But no one has right to occupy and disrupt public order. All attempts to change the government other than via the ballot box are anti-democratic, illegal."

09:20 GMT:
Fascism will do everything it can to blind the people. Organize! Resist! Fight Back! twitter.com/pdacosta/statu…#OccupyGezi

— Occupy Wall Street (@OccupyWallStNYC) June 1, 2013
09:13 GMT:
08:15 GMT: Police have cracked down on protesters in Ankara, using teargas and water cannons, as protests spread from Istanbul to the capital.
07:06 GMT: Police clashed with groups of stone-throwing young protesters trying to reach Taksim Square in Istanbul.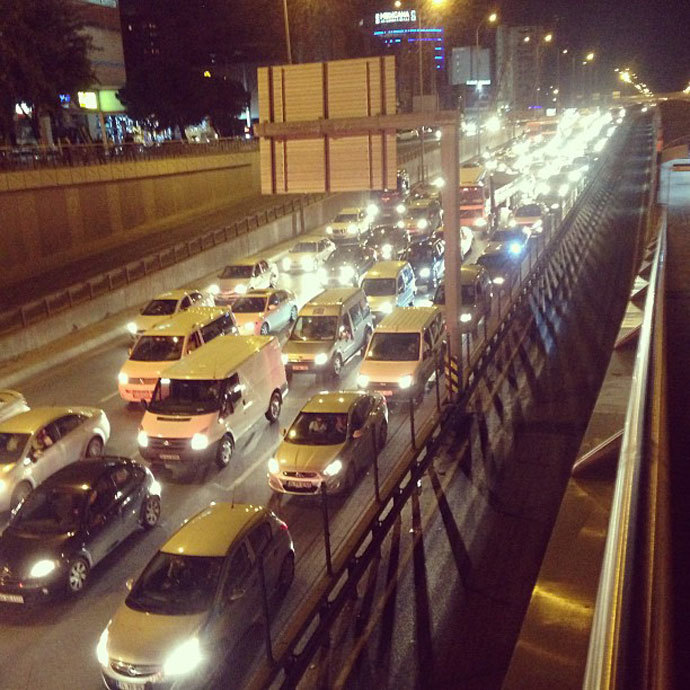 06:20 GMT: Police are firing teargas to bar the protesters from reaching the main square, AP reported Saturday morning.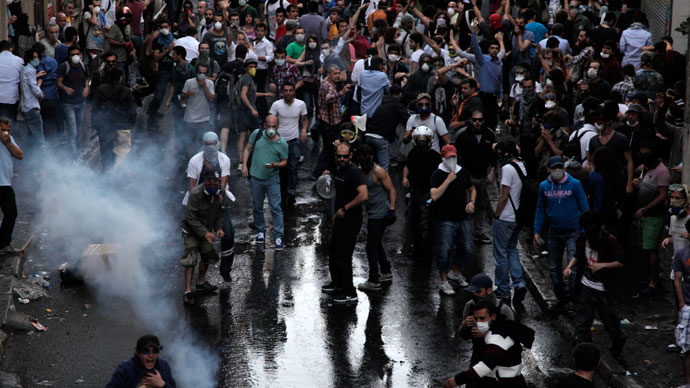 05:40 GMT: Security has been stepped up in the metropolis, with police forces drafted from other regions. Some districts in Istanbul have been cordoned off. Traffic is currently at a standstill.

04:55 GMT: Thousands are crossing the Bosphorus Bridge this morning, to get to Taskim Square in the heart of Istanbul, marking the second day of protest turbulence engulfing Istanbul.
02:34 GMT: The photos show angry crowds in the streets of the Turkish capital, Ankara, overnight. Thousands rallied in the center of the city earlier on Friday chanting for the government to resign. Police fired tear gas to disperse several dozen opposition supporters trying to reach the AKP headquarters.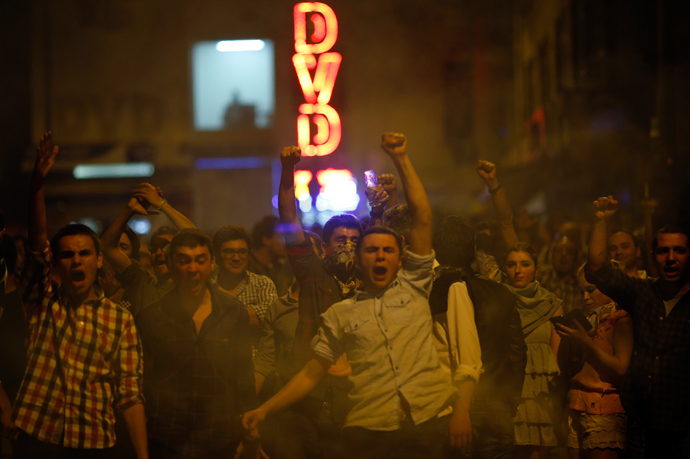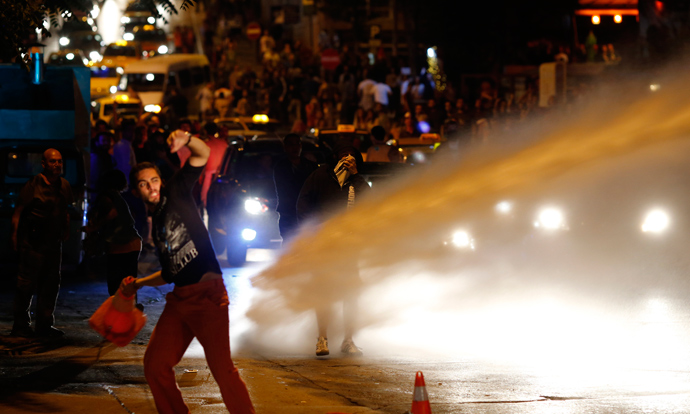 01:20 GMT: Thousands of fans from the three largest soccer teams in Turkey joined the demonstrators in Istanbul, Ayda said.
01:18 GMT: As of 3:00am local time, even the most remote and quiet neighborhoods of Istanbul had joined in the protest, Ayda, a demonstrator, told RT. People are "banging on pots and pans, yelling, honking their car horns on the streets, and yelling slogans like "Erdogan, istifa!" (Turkish: Erdogan, resign!)."
00:00 GMT: Istanbul resident Tan Tunali told RT Istiklal Caddesi, the street leading to Taksim Square, was almost empty as of 2:00am local time, with the protesters spreading to other streets. "Now a lot of people spontaneously started taking to the streets and probably many of them are trying to get to Taksim."
Friday, May 31

23:50 GMT: According to an Istanbul-based activist, who has chosen to go by the alias Pink Pig, the protest is growing bigger. "People are coming from everywhere." A witness video shows that the demonstration has spread to the Besiktas Sqaure, which is to the west of Taksim Square.

"Today the police used gas bombs and water cannon to get the protesters away from the Gezi park. And then from Taksim square too. They closed all the entries to the Taksim square. They closed the Taksim metro station. Since the morning we smelt gas in the streets of Taksim," the activist told RT.
23:19 GMT:
Live picture of huge crowd gathered at Galatasaray, near #Taksim. #occupytaksim#direngeziparki#occupygezitwitter.com/57UN/status/34…

— Stun ☠ (@57UN) May 31, 2013
22: 40 GMT: Witness says '1000s of people in Ankara closed off the protocol road, marching toward the parliament building.' Earlier reports emerged of the protests and tear-gas having spread from Istanbul's Gezi to the capital Ankara. Protesters also witnessed at two locations in Izmir, according to social media pictures. Thousands are currently reported to be marching towards the Parliament.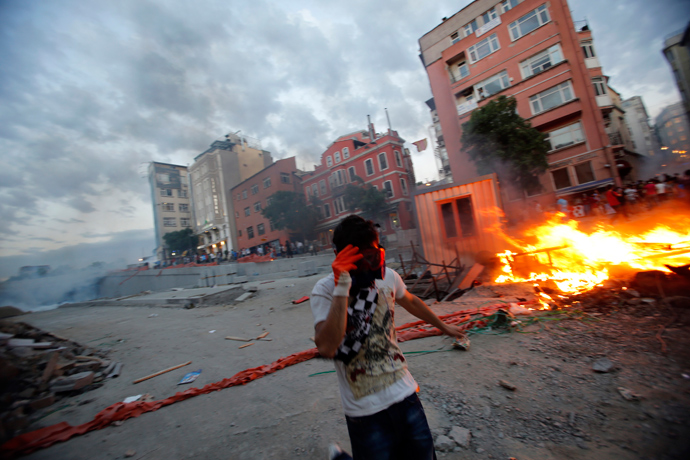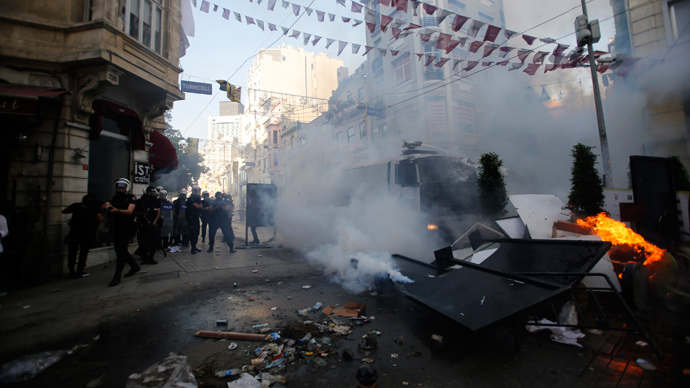 Tear gas canisters littering #Taksim sq #OccupyGezi#Turkey twitter.com/RawyaRageh/sta…

— Rawya Rageh (@RawyaRageh) May 31, 2013
For those who want 2 understand what is happening right now in #Istanbul with #direngeziparkı#occupygezitwitter.com/57UN/status/34… Via @57un

— Occupy Wall Street (@OccupyWallStNYC) May 31, 2013
22:36 GMT: There are reports that police are teargassing people in a subway station.
Pic taken by source in #Taksim that shows police allegedly tear gassing subway station #occupygezi#Istanbul#Turkey twitter.com/SulomeAnderson…

— Sulome Anderson (@SulomeAnderson) May 31, 2013
22: 31 GMT: Witness says 'military distriburting masks' as police continue with the teargas, adding that it appears 'the military haven't been reined in by the government.'

22:26 GMT:
Police started to throw gas bombs and started to fire up the tyres near Talimhane#occupytaksim#occupygezi twitter.com/elifabidinoglu…

— Elif Abidinoğlu (@elifabidinoglu) May 31, 2013
Turkish Police Sure Know How To Treat A Lady#direngeziparki#occupygezi#Prick twitter.com/C0d3Fr0sty/sta…

— Anonymous(@C0d3Fr0sty) May 31, 2013
22:24 GMT: Police said to have used plastic bullets, causing more severe injuries.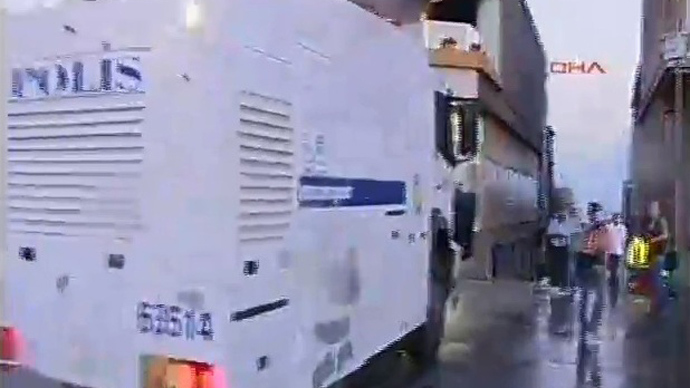 22:15 GMT: Six out the twelve protesters injured so far have incurred serious head trauma.
22:00 GMT: 12 protesters injured, 100 receive minor injuries.
20:00 GMT: Police carry out dawn raid against protesters.
21:39 GMT:
Armored patrol on streets of Istanbul tonight. (Photo by Emine Sevim) #Turkey twitter.com/AnupKaphle/sta…

— Anup Kaphle (@AnupKaphle) May 31, 2013
21:00: GMT: A video shows police using water cannons to disperse protesters at Istanbul's landmark Taksim Square.
21:00 GMT:
Greenpeace joins peaceful Gezi protests in solidarity, and to protect the right to peaceful protest #occupygezi twitter.com/Greenpeace/sta…

— Greenpeace (@Greenpeace) May 31, 2013
You can share this story on social media: