Taksim detainees start hunger strike as prosecutor extends detention – report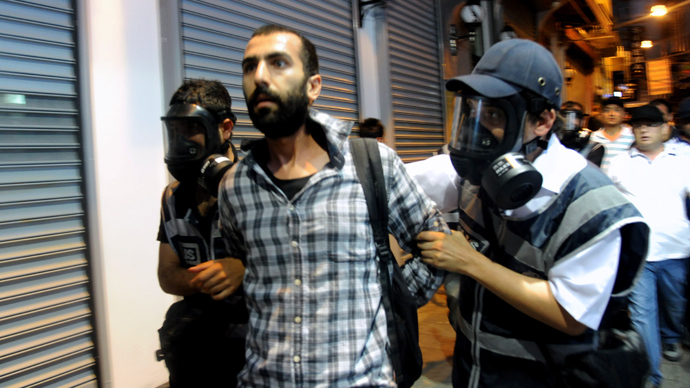 Around 50 people who were detained because of the Gezi park protests in Istanbul began a hunger strike on Wednesday, as prosecutors extended their detention period and the death toll from the Gezi Park incidents rose to five, Turkish media reported.
The move by prosecutors was met with strong public reaction, with the Taksim Solidarity Platform and other human rights organizations and unions calling for the detainees' immediate release, Radikal, a Turkish daily, reported.
The Taksim Solidarity Platform is made up of over 100 nongovernmental organizations.
On July 8, police detained seven members of the Taksim Solidarity Platform, which is made up of over 100 nongovernmental organizations .  Mucella Yapici, who had recently taken part in a delegation which met Prime Minister Erdogan, was among those arrested. Yapici's residence was also searched by the police. Houses belonging to eight other people with links to the organization were searched, as well.
The Human Rights Association (IHD) called on officials to release members who "were detained while exercising their right to demonstrate."
"The police are trying to intimidate people by detaining Solidarity Platform members. Even the detentions have not sufficed; the police have conducted lengthy searches at the houses of those who were detained," the IHD said in a statement.
The head of the Confederation of Progressive Trade Unions (DISK), Kani Beko, also spoke out against the detentions, calling them "unlawful" and "unfair."
"Be it through detentions, arrests or the searches, or the attitude towards organizations like the Chamber of Architects and Engineers (TMMOB), the unlawfulness and unfairness of the ruling Justice and Development Party (AKP) government [has been shown]," Beko said.
The death toll from the Taksim protests rose to five people on Wednesday.
Nineteen-year-old Ali Ismail Korkmaz died at the Osmangazi University Hospital in Eskisehir, having suffered a brain hemorrhage. He had been attacked by a group of people as he was fleeing police at the Gezi Park demonstrations on June 2.
The Gezi Park protests mushroomed after police violently disrupted a peaceful sit-in by environmentalists who objected plans to turn central Istanbul's last green space into an Ottoman era army barracks and a shopping mall.
Prime Minister Tayyip Erdogan's AK party moved to curb the power of the Union of Chambers of Turkish Engineers and Architects (TMMOB), which was heavily involved in the anti-government protests. The action sparked allegations that Erdogan is waging a vendetta against protesters. 
Under the government-sponsored bill, the TMMOB- which represents 400,000 professionals - will lose its ability to grant final planning approval to urban planning projects.
An Istanbul court has cancelled Erdogan's redevelopment project, but authorities can appeal against the ruling.
The protests spread to dozens of cities across the country as people voiced their anger at what they see

You can share this story on social media: