'Why were police so angry?': Turkish protesters slam police brutality as over 1,700 get arrested
Across Turkey, witnesses are reporting a disproportionate response by police to the protests, which in most instances begun peacefully. At least 2 people have reportedly been killed, over 1,700 detained across the country and hundreds have been injured.
Follow RT's LIVE UPDATES on the protests

Most of the injuries were sustained near Taksim Square in Istanbul, the focal point of the recent protest. 
Massive demonstrations from last night are currently continuing in the streets, with the metropolis of Istanbul witnessing cases of vandalism. Rallies kicked off on Friday: authorities decided to cut the trees in Geza Park, and people took to the streets to protest. 
"The latest expression of public anger is unprecedented in character. Unlike previous anti-government rallies and demonstrations, people are protesting wherever they are, including banging pots in their homes regardless of the time," journalist Mahir Zeynalov writes in the Turkish daily Today's Zaman.

Erdogan commented on the current events stressing that protestors should go home. "If you bring 100,000, I'll bring out a million," he threatened. The leader also vowed to rebuild the Ottoman barracks. However, he warned police against using excessive force.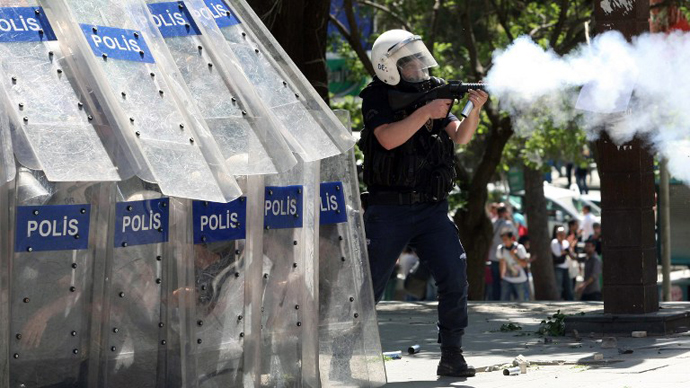 The protest spread to 50 provinces in the last three days. Up to 1,700 people have been detained across the country as part of "necessary security measures," Turkish Interior Minister Muammer Guler said. Most of them were released after being identified and questioned. 
The capital, Ankara, has been engulfed by the anti-government protests, too, the activists say. And they don't really understand why the police crackdown is so violent.

"People in Geza Park were just sitting there, and police started firing at their tents, which were in the park, so we don't really understand why they used such force and why they are so angry," activist Seda Guner indicated to RT.

Police overkill in Izmir, Ankara - witnesses to RT
Similar demonstrations have flared up around the country, including in Izmir and the capital, Ankara, despite a court decision temporarily to halt demolition of the park.
Izmir, on Turkey's western coast, is usually a peaceful city and is not used to violence, Ayberg Yagiz, a product designer, says.
"We were standing there just protesting, singing some songs, like 'Tayyip Resign', when the police started firing at us with teargas and pepper gas. They were using their pepper gas rifles as a weapon. They aimed at us protesters, they aimed at me but they missed," he told RT.
Yagiz explained that exactly the same thing happened in Ankara during protests when he was there two days ago. The protester wanted to make clear that many of his friends took part in the protests and that they were not what he would consider to be typical 'protesters' but are businessmen, actors and musicians.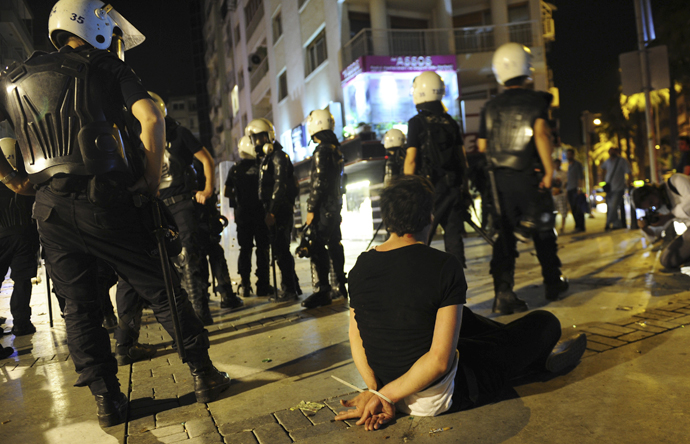 In Izmir and Istanbul there was a lack of ambulances, despite a large number of people being wounded, the protestor complained. Yagiz explained how protesters forced one passing ambulance to stop and found policemen concealed inside.
The protests in Izmir and Ankara have been woefully under-covered by the Turkish media. In Ankara he said he saw one journalist from Reuters, but at the Izmir protests he didn't see any journalists at all either from TV or the press.

Another Ankara resident, who preferred to remain anonymous, told RT that police have started gathering in the street as more protests are expected on Sunday afternoon. Recalling the Saturday clashes, she described police actions as "horrible," saying that officers were shooting at people, without caring if they were women, children or the elderly. Cafes and some other public places were used as makeshift hospitals and medical students volunteered to treat the injured. She also said that one person was killed Saturday after being targeted by water cannon.  

In Istanbul, thousands of protesters are still surrounding the Prime Minster's Office. While the situation on Sunday night was largely peaceful Orchun Sunear, a musician, told RT that he had seen a lot of people being seriously hurt by police, and even witnessed people being crushed by a police tank. A friend of his called Lednah, also a musician, is in a coma after being caught up in the crackdown..
"My father, and grandmother have never seen anything like this. In three generations the police have never behaved like this. This is not normal in Turkey and I don't understand why this is happening," he said.

Basak, a computer engineer from Istanbul, told RT that what began as a peaceful protest has turned ugly because of the way the police behaved.
"These protesters are just young people and it is their first protest, it is my first protest. We have learnt not to go out without masks and goggles. Everybody is angry in Turkey at the way the police are treating their own people" she said.
She explained that the police were using the tear gas canisters like bullets firing them directly at people and "six people are blind as a result," she claimed.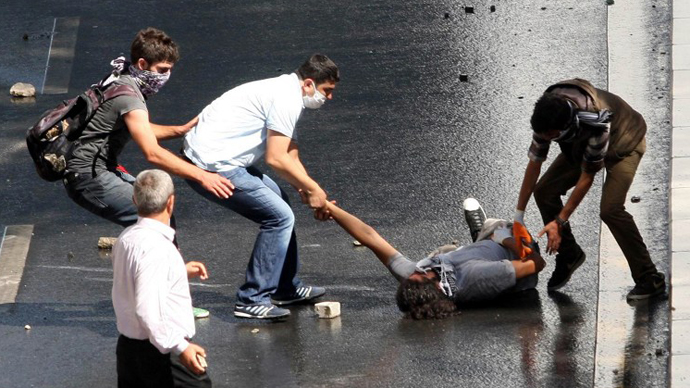 In the meantime, protests spilled into the Turkish-controlled part of Cyprus.
As Melis Tutan, a Cyprus-based journalist reports, pointed out to RT, Turkish students started gathering on Saturday to protest the events in Istanbul and express their concern over the policies of the Erdogan government and what they describe as police terror.
Thousands of people took to the streets of Nicosia, Kyrenia, Famagusta and Morphou, Tutan told RT.
"Many civil organizations and students walked together towards the Turkish Embassy in Nicosia. At the beginning police tried to stop them, but then they were allowed to chant slogans."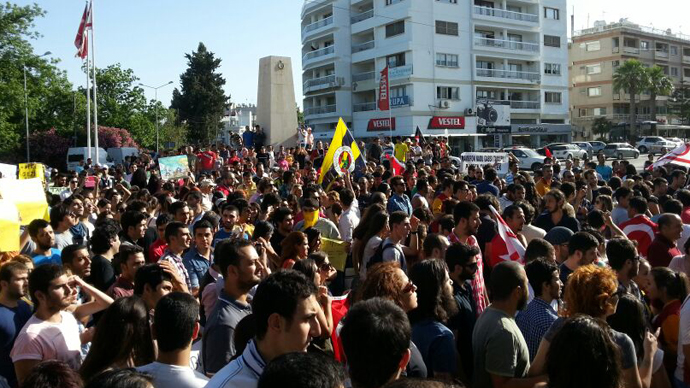 Solidarity protests were also staged or planned across Europe and the US, with people in cities including Boston, London, Berlin, Athens, Nicosia and Helsinki rallying against the violence in Turkey. For instance, in New York City's Zuccotti Park, hundreds of Occupy movement supporters gathered for a solidarity demonstration, and marched to the Turkish Consulate.
Turks also staged in front of the EU Parliament in Brussels to protest the violence in Turkey, chanting anti-government slogans and holding banners.
"This is not about a park. It's about the abuse of state power. It's about media being censored. This is about democracy," one of the banners held by demonstrators, read.

You can share this story on social media: