Turkish policeman dead after falling from bridge while pursuing protesters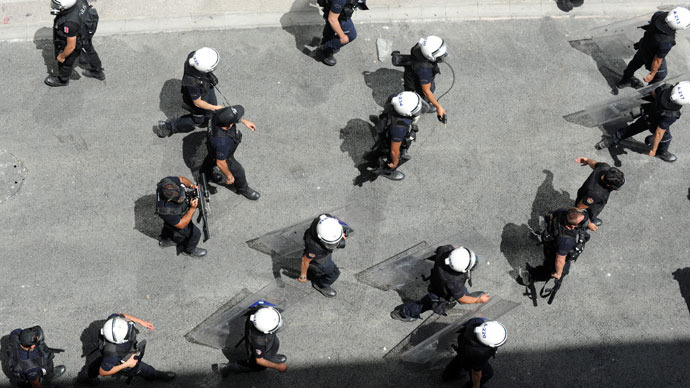 A police officer died after falling off a bridge into an underpass while pursuing protesters in Turkey's southern Adana Province. Protests have continued in Turkey for a seventh straight day, killing three and injuring over 4,000.
Mustafa Sari was hospitalized on Wednesday after falling from a 5-meter-high bridge while pursuing protesters. The officer was critically injured when he landed on an underpass still under construction. 
Turkey has been rocked by protests since last week, when a small demonstration started in Istanbul over the city's plans to cut down trees in the park. It quickly grew into mass nation-wide protests with daily clashes between protesters and police.
On Wednesday trade unions joined the nationwide demonstrations.
You can read more on the protests in Turkey in RT's live timeline.

Two others were killed earlier and one person is on life support after being declared brain dead, and some 4,300 people have been injured in the protests, according to the Turkish Human Rights Foundation.
Dozens of police officers have also been injured, AP quoted the Turkish government as saying.
Turkish police have been criticized for their mass crackdown on the protests, and their widespread use of teargas and pepper spray to disperse demonstrators.
Earlier, Turkish Prime Minister Tayyip Erdogan slammed the protests as undemocratic, and dismissed them as being organized by extremists. While Deputy Prime Minister Bulent Arinc, who is formally in charge while Erdogan is abroad, apologized on Tuesday for the police brutality against demonstrators.
But police again used teargas to disperse thousands of demonstrators in Ankara on Wednesday.
You can share this story on social media: