Turkey imported 628 tons of teargas and pepper spray in 12 years – report
Turkey has bought $21 million in tear gas and pepper spray – mainly from US and Brazil – over the past 12 years, Turkish media reported. The US is known for its exports of crowd control munitions to countries rocked by widespread protest.
In total, Turkey imported 628 tons of tear gas and pepper spray between 2000 and 2012, Turkish newspaper Sozcu reported quoting Customs and Trade Minister Hayati Yazici.
Turkey is currently being rocked by its biggest wave of anti-government protests in years. At least two people have been killed and thousands injured from clashes with police since the protests began on Friday. Videos and images have emerged on social media showing police in riot gear firing tear gas, using pepper spray and physically beating demonstrators.
Ankara has been criticized for its mass crackdown on the protests and its widespread use of tear gas and pepper spray to disperse demonstrators.
On Tuesday, the UN's human rights office urged Turkey to conduct an independent probe into how its security forces have treated the anti-government protesters. "We're concerned about reports of excessive use of force by law enforcement officers against protestors in Turkey," UN high commissioner for human rights spokesperson Cecile Pouilly said.
Opposition Nationalist Movement Party [MHP] leader Devlet Bahceli condemned the police's excessive use of tear gas: "Yes it is true that the [ruling Justice and Development Party] AKP has established gas chambers similar to the Nazis, it is true that the AKP pokes its nose into everybody's private lives," Bahceli told his party members in Parliament.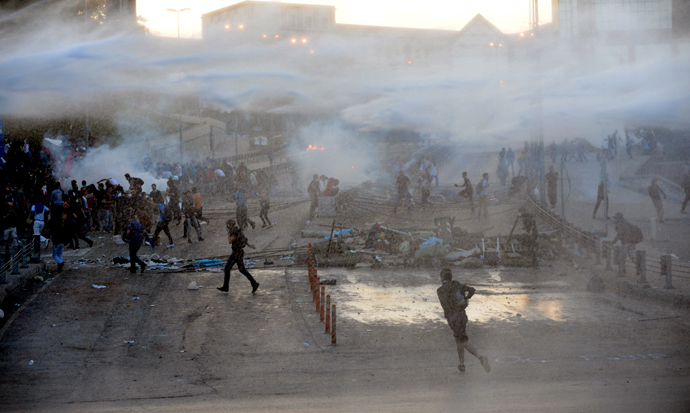 Human Rights Watch urged Turkish Prime Minister Tayyip Erdogan's government to "end police violence and excessive use of force against protesters across Turkey," the group said in a statement published on its website.
"The police's record on abusive policing has been surpassed as they use tear gas and water cannon fire against peaceful demonstrators," said Emma Sinclair-Webb, senior Turkey researcher at Human Rights Watch.
Turkish Deputy Prime Minister Bulent Arinc apologized on Tuesday for the initial treatment of the protesters at the planned demolition of Taksim Gezi Park to build a mall. He said that the police's actions were wrong, and said that security forces have been ordered not to use tear gas except in cases of self-defense.
"The excessive violence that was used in the first instance against those who were behaving with respect for the environment is wrong and unfair. I apologize to those citizens," Arinc said at a news conference.
However, Prime Minister Erdogan has referred to the protests as the work of secular enemies who have failed to come to terms to the electoral win of his own AK Party.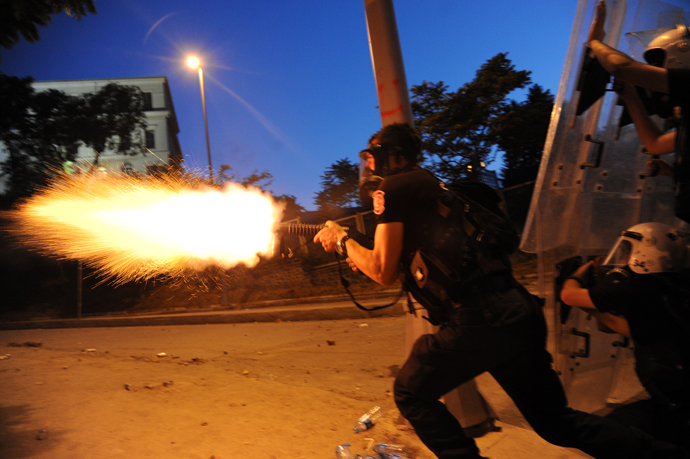 US a major dealer of crowd control munitions
The US has a history of selling tear gas and other crowd control munitions to countries wracked by widespread protest. Amnesty International harshly criticized the US State Department for approving export licenses for the shipment of crowd control munitions and tear gas to Egypt amidst the violent and often lethal crackdowns on protesters by security forces in 2011.
Amnesty confirmed that one US companies had shipped 21 tons of ammunition to Egypt – enough for 40,000 rounds of tear gas grenades and canisters – in addition to a separate shipment of 17.9 tons.
In 2013 alone, Egypt's Interior Ministry ordered 140,000 teargas canisters from US, amounting to nearly $2.5 million. Egypt's opposition has said the purchase recalls the rule of ousted dictator Hosni Mubarak.
You can share this story on social media: