Second fatality, thousands injured as police try to curb Turkey protests
A second fatality has been confirmed as protests in Turkey enter their fifth day. With several thousands already reported injured Turks continue to flood social media with video, images, and allegations of police brutality.
Follow RT's LIVE UPDATES on the protests

On Monday, the Union of Turkish Doctors confirmed the death of 22-year-old Abdullah Cömert in the city of Antakya, which is located in the province of Hatay, near Turkey's border with Syria. 
The fatality was the second so far to be confirmed since protests flared up on Friday in Istanbul and Ankara, and sprouted demonstrations nationwide.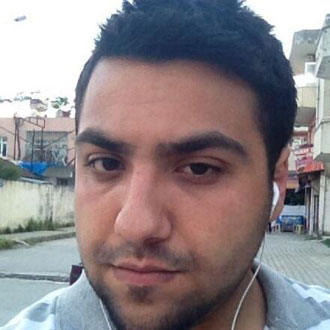 According to Turkish news reports Cömert died of injuries sustained after being shot by unidentified gunmen, though many users via social media were placing the blame on local police forces.  

The BBC has reported that Cömert was a member of the youth wing of the opposition Republican People's Party, but did not speculate as to the exact cause of death.

Earlier on Monday, the Turkish Doctors' Union announced that 20-year-old Mehmet Ayvalitas, the first reported fatality since Friday, was hit by a car in the Mayis district of Istanbul on Sunday. 

Though many Turkish social media users again placed blame on police forces for the death of Ayvalitas, any such link had yet to be confirmed. According to the BBC the vehicle in question ignored warnings to stop and ploughed into a crowd of demonstrators.
According to the Turkish Medical Association, which was cited by CNN International on Monday, the violence has so far left 3,195 people injured, with 26 in serious or critical condition. 
"There has been unprecedented violence against protesters and social protest," demonstrator Neslihan Ozgunes told CNN on Monday.

Abdullah Cömert in polis tarafindn infaz edildigi yer! Basimz Sagolsun Bars kenti #Antakya @barisatay @kenancamurcu twitter.com/hikmetsir/stat…

— Hikmet Sir (@hikmetsir) June 3, 2013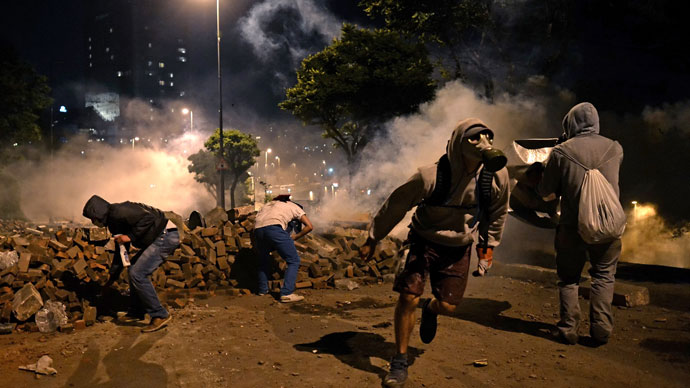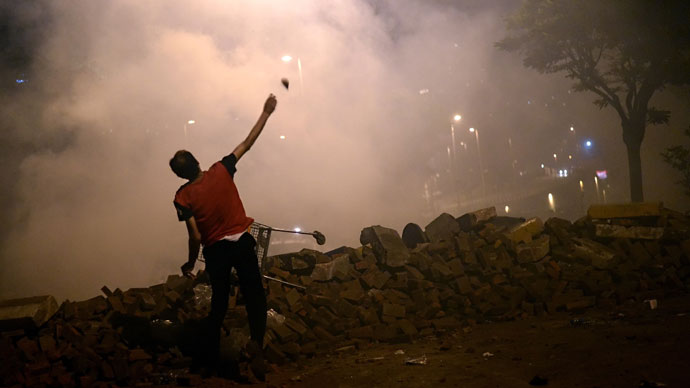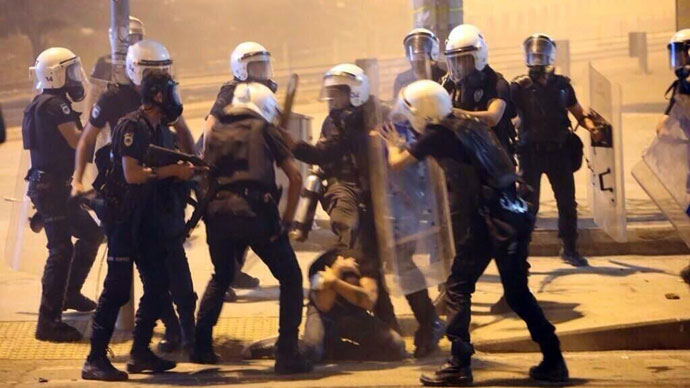 So far the majority of the injured have occurred in Istanbul, though the protests have since spread to Ankara, Izmir, Adana and smaller cities, such as Antakya to the East. Both video and images depicting police in riot gear firing tear gas, using pepper spray or at times physically beating demonstrators have appeared throughout social media. Often, images alleging excessive use of force by Turkish police have shown lone protesters surrounded by riot gear-clad officers. 
On Sunday night, protesters in the Besiktas district of Istanbul tore up paving stones to build barricades, and police responded with tear gas and water cannon. According to the BBC,  mosques, shops and a university in Besiktas were reportedly turned into makeshift hospitals to treat the injured demonstrators. 
Protesters in #Ankara say police paint over ID numbers on their helmets to prevent identification #Turkey#occupygezi twitter.com/SulomeAnderson…

— Sulome Anderson (@SulomeAnderson) June 3, 2013
International groups such as Amnesty International have criticized the Turkish police response as excessive. On Sunday, a CNN crew reported witnessing authorities roughing up at least one protester in Ankara. One CNN videographer was reportedly even kicked by a police officer,

Turkey's Prime Minister Recep Tayyip Erdoğan responded to widespread protests on Monday by dismissing these as the work of "extreme elements". 
At a news conference prior to a trip to Morocco, which the PM declined to postpone despite the ongoing demonstrations, Erdoğan accused the political opposition of provoking "his citizens."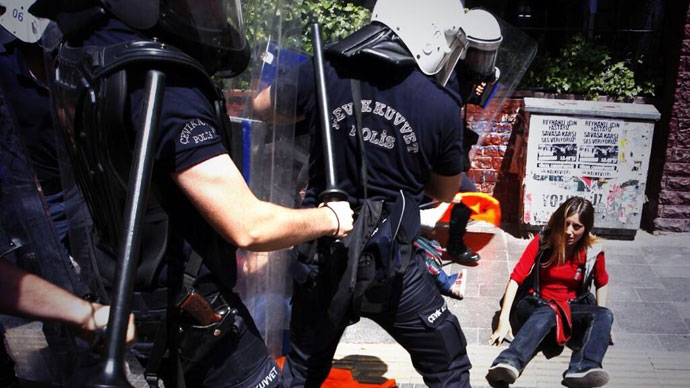 You can share this story on social media: