From Little Rocket man to Dear Kim: Drama all set for historic talks in Singapore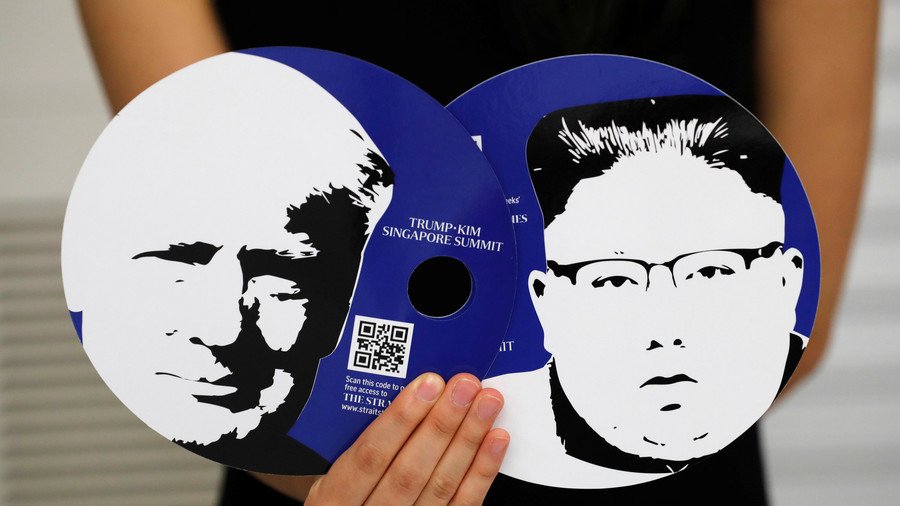 Donald Trump and Kim Jong-un started as arch-antagonists trading insults and threats of war. But now with Trump saying it's Kim's only shot at peace, the world is holding its breath waiting for their historic meeting in Singapore.
Donald Trump and Kim Jong-un are meeting in Singapore on Tuesday at around 9am local time and their historic summit will be the first face-to-face talks ever between a sitting American president and a North Korean leader. For decades, Washington and Pyongyang barely spoke to each other, neither after the Korean War, nor after the fall of the Iron Curtain. Rare instances when they did engage in talks were limited to negotiating release of American detainees or other issues.
More frequently, both the US and North Korea exchanged insults and threatened military action, and it seemed like nothing was going to change. All of a sudden, it did.
Flip-flops: From personal insults to talks
When Trump took office, there was nothing in his rhetoric that could predict any effort to make peace with North Korea. The tycoon-turned-president's first year in White House was tainted by heated exchanges with Kim. Trump had famously called the North Korean ruler 'a Little Rocket Man', and was furiously labeled "mentally deranged dotard" by Pyongyang.
Reacting to North Korea's ballistic missile launches and a 2017 nuclear test that caused widespread international condemnation, Trump fired off a series of insulting tweets, including the one in which he claimed his nuclear button was bigger than that of Kim.
Aside from the boyish escapade, the situation in the Korean peninsula quickly got serious. The US and its ally South Korea began massive military exercises, probably seen in the North as war preparations.
At times, the Pentagon was sending carrier strike groups, nuclear-capable submarines and strategic bombers to the region, prompting Pyongyang to threaten strikes on American military installations in the South and beyond. At the time, Trump vowed to unleash "fire and fury" the likes of which "the world has never seen," and also claimed the US is "locked and loaded" if there's a need to take on North Korea.
But in early 2018, North Korea made a power move and sent a team and high-ranked delegates to the Winter Olympics in Pyeongchang, South Korea. Preliminary negotiations between two Koreas started, followed by the first – largely successful – meeting between North and South Korean leaders since 2007.
In March, Trump surprised the world by accepting an invitation from Kim to meet in person, which Pyongyang delivered via Seoul. Shortly afterwards, Singapore has been selected as a venue for the historic meeting. However, the path to the summit has been rocky, with Trump calling it off completely and saying he will pull out of the talks if something goes wrong.
But after some diplomatic bickering and tit-for-tat outbursts, the pair will now sit down together.
"The entire world is watching the historic summit between [North Korea] and the United States of America, and thanks to your sincere efforts ... we were able to complete the preparations for the historic summit," Kim reportedly told the Singaporean Prime Minister, Lee Hsien Loong, who he met in anticipation of the summit.
What's in store for Trump-Kim summit?
The historic summit's agenda is shrouded in mystery as neither leader officially announced his position. However, judging by what American officials were saying, the US wants North Korea to give up its nuclear weapons completely under international supervision. In exchange, Washington could offer security assurances to Kim and his government, as well as economic relief, according to State Secretary Mike Pompeo.
But readiness to talk doesn't mean you should expect to get a final deal in Singapore. President Trump has described it as a "get-to-know-you situation" and said "it's a one-time shot and I think it's going to work out very well." He predicted that he will know "within the first minute" if the Singapore summit, which has been under threat of cancellation, is a success. "Just my touch, my feel, that's what I do," Trump explained.
Some experts say the progress is only possible if the US is willing to give – as well as take. "There's too many people in Washington who see an agreement with North Korea as something to be avoided," Gregory Elich of the Korea Policy Institute, told RT. He said he believes the US wants the North to accept a "kind of capitulation model again."
Trump's & Kim's doppelgangers got it done
Meanwhile in Singapore, whose prime minister had already met with both leaders, Trump's and Kim's lookalikes were shaking hands and tasting seafood at a mock get-together. Footage of the event shows the two characters surrounded by media and eager onlookers. "I hope that after this summit the world is a safe place," the faux Trump told.
Kim Jong-un's doppelganger, Australian Howard X, said that he gets a lot of female attention for his role as North Korea's leader. "Women tell me I am better looking than the real Kim. Yeah, I'm a little thinner. I can't catch up with him. I mean, I try to eat and eat and eat, but he is just getting too fat too fast. I think I'm going to be out of a job soon with how fat he is getting," Howard X said.
Security in Singapore has been ramped up and traffic has been slowed to a near-standstill on the roads in the vicinity of the hotels where Kim and Trump are staying. Tuesday's meeting is set to take place at the five-star Capella Hotel, on the island resort of Sentosa.
Kim's armored black Mercedes has earlier been spotted in the streets of Singapore. To much surprise of Singaporeans it was almost surrounded by multiple bodyguards in identical black suits jogging alongside the vehicle as it arrived at the St Regis hotel.
Like this story? Share it with a friend!
You can share this story on social media: