'Fire and fury' wasn't tough enough - Trump on North Korea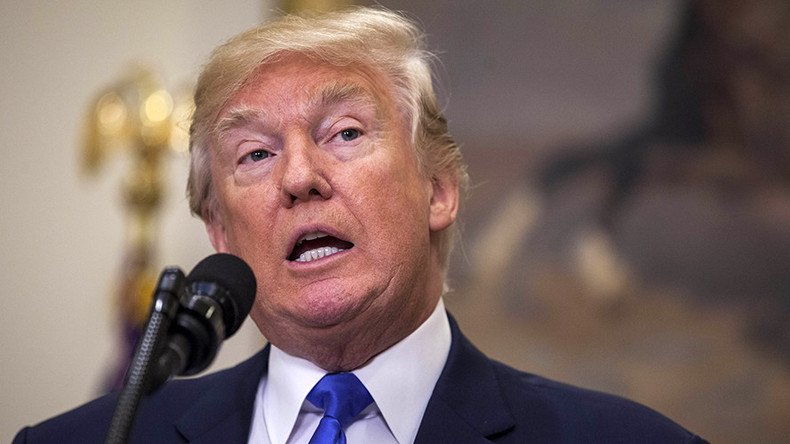 US President Donald Trump said his "fire and fury" warning to North Korea may not have been "tough enough," shrugging off domestic critics who accused him of reckless rhetoric.
Speaking to reporters at his Bedminster, New Jersey resort, the president said North Korea should "get their act together" or it will "be in trouble like few nations have ever been," according to AP.
North Korea should be "very, very nervous" if it does anything to the US, Trump told reporters, according to Reuters, adding that he thinks China can and will do a lot more to resolve the crisis.
"We'll always consider negotiations," the president added.
"I have great respect for what China and Russia did" in the Security Council, with a 15-0 vote for sanctions." He cautioned, however, that the sanctions may not be as effective as many expect.
"The people of our country are safe, our allies are safe," he concluded.
Following the meeting with his security advisers on Thursday afternoon, Trump said the US was "preparing for many different alternatives" about North Korea.
"He's disrespected our country greatly," Trump said of North Korea's leader Kim Jong-un. "He's not getting away with it."
"Let's see what he does with Guam," Trump said. "That's not a dare. That is a statement of fact."
On Tuesday, Trump had warned North Korea that it would "face fire and fury like the world has never seen" if Pyongyang continues threatening the US and its ally South Korea.
Since then, North Korea has threatened to bomb the US territory of Guam, saying that a plan to fire four missiles near the Pacific island would be ready for Kim Jong-un's consideration within days.
Because of North Korea, the US will increase its military budget by "many billions" of dollars, including expenditures on missile defense, Trump said on Thursday.
On Wednesday, Defense Secretary James Mattis warned North Korea against starting a war or an arms race, urging Pyongyang to refrain from "any consideration of actions that would lead to the end of its regime and the destruction of its people."
You can share this story on social media: