Trump warns North Korea new threats will be met with 'fire & fury'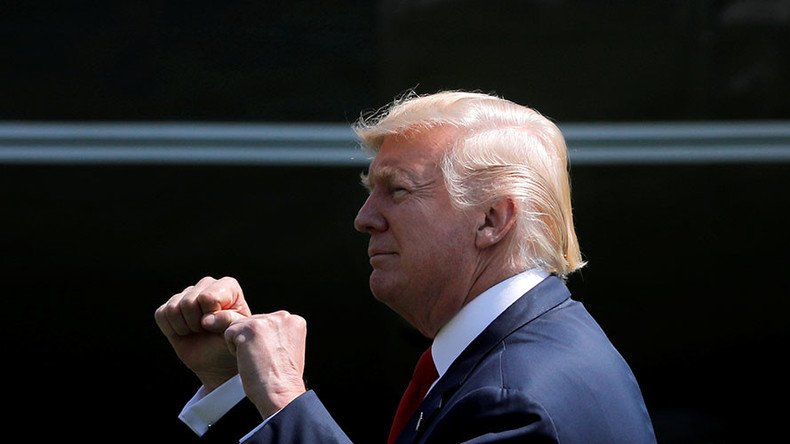 US President Donald Trump has yet again called for tough and decisive action over the "dangers posed by North Korea," while praising the UN's solidarity over the crisis. Meanwhile, the Pentagon is reportedly reviewing missile restrictions with Seoul.
"North Korea best not make any more threats to the US. They will be met with fire and fury like the world has never seen," Trump said on Tuesday afternoon.
Trump's statement comes three days after the United Nations Security Council (UNSC) unanimously voted to impose a new round of sanctions on Pyongyang in response to its latest ballistic missile tests.
"After many years of failure, countries are coming together to finally address the dangers posed by North Korea," Trump tweeted on Tuesday morning, adding that "we must be tough & decisive!"
After many years of failure,countries are coming together to finally address the dangers posed by North Korea. We must be tough & decisive!

— Donald J. Trump (@realDonaldTrump) 8 августа 2017 г.
Earlier, Trump expressed pleasure with "Russia's and China's cooperation" with the US against North Korea in adopting the UNSC resolution targeting key North Korean exports.
Washington has repeatedly pushed for the denuclearization and disarmament of North Korea, while it conducts joint drills with its allies in the region, including South Korea and Japan. The US is also reconsidering the size of missiles that South Korea can obtain as well as bolstering its defense capabilities, Reuters reports, citing the Pentagon.
"There is currently a limit on the warhead size and missiles that South Korea can have and yes, it is a topic under active consideration here," Pentagon spokesman Captain Jeff Davis stated on Monday, as quoted by Reuters.
"I would tell you that we would be favorably inclined to do anything which furthers the defense capabilities of South Korea and we certainly have seen our alliance change and adapt over time before," Davis said.
The Pentagon statement came following Seoul's request to increase the cap on payloads to 1,000kg, voiced by South Korean President Moon Jae-in during a telephone conversation with Trump on Monday, South Korean Yonhap news agency reports.
Just completed call with President Moon of South Korea. Very happy and impressed with 15-0 United Nations vote on North Korea sanctions.

— Donald J. Trump (@realDonaldTrump) 7 августа 2017 г.
Under the 2012 agreement with the US, South Korea is currently allowed to develop missiles with a range of up to 800km (497 miles) and a payload of 500kg, according to the Nuclear Threat Initiative (NTI). The agreed guidelines, which increased the range of South Korean missiles by 500 km but did not increase the payload, are considered "controversial" by the NTI. The organization says the missiles can "contribute to tensions in Northeast Asia" and despite their ability to reach any part of North Korea, they wouldn't protect from the North's mobile missile forces and attacks from island territories.
READ MORE: US offers N. Korea direct talks if missile tests stop, doesn't mention nuclear testing
Following what was believed to be the second intercontinental missile (ICBM) test conducted by North Korea on July 28, Moon Jae-in apparently changed his mind over American Terminal High Altitude Area Defense (THAAD) missile defense systems. Seoul requested renewed talks with the US on deploying THAAD systems, while earlier the South Korean leader had criticized the decision of previous government to host the missiles and announced he would delay additional deployments until environmental concerns were addressed.
You can share this story on social media: