North Korea's missile launch result of US & allies' saber-rattling – Russian senator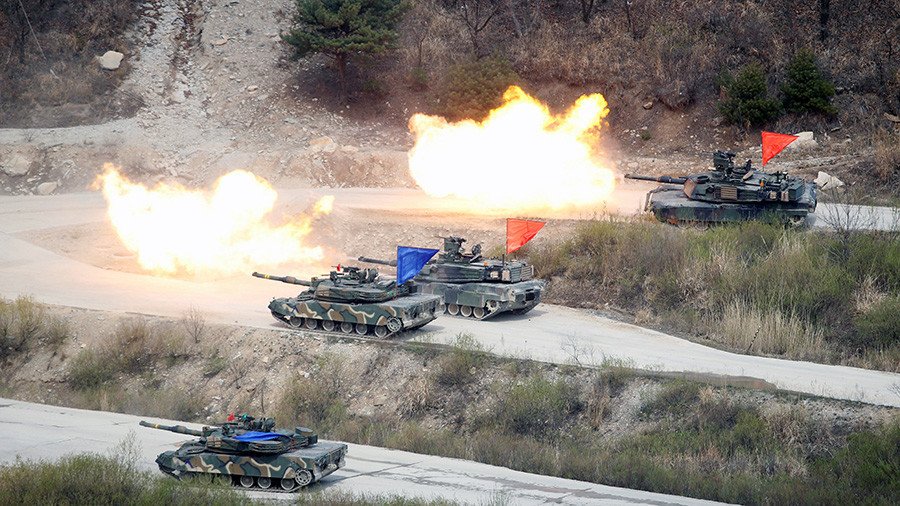 What is reported to be a launch of an intercontinental ballistic missile (ICBM) by Pyongyang, its first since September, might have been triggered by Washington's incendiary actions and rhetoric it refuses to tone down, Konstantin Kosachev said.
"It's a fact that during the past two months North Korea has been demonstrating restraint and did not provoke the international community by any means. Pyongyang, most likely, expected the same restraint in response on part of the West, both in judgments and actions," Senator Kosachev, chair of Russia's Foreign Affairs Committee said, adding that the West doesn't seem interested in such a détente.
Pyongyang's decision to remind Washington of the deadly force at its disposal after the brief respite, shows that North Korea's patience has ended, Kosachev said.
The latest missile launch might be aimed solely at testing Washington's reaction, the deputy head of the upper house Committee for Defense and Security, Frants Klintsevich, argued, noting that Pyongyang has yet to comment on the reports.
"I don't know what is the concrete underlying cause of the test. I don't rule out that in this case it was a kind of a 'trial balloon' launch to see the reaction of the opposite side," Klintsevich said, adding that he hopes Washington "will have enough wisdom to refrain from any retaliatory actions" in response to the show of force by Pyongyang.
Russia, on its part, is always ready to resist any attempts to put more strain on the global security "no matter from where they come," he stressed.
READ MORE: US announces new sanctions targeting North Korean & Chinese companies
By flexing their military muscles and trading verbal blows, the West and North Korea are setting themselves up for an imminent failure, Kosachev noted, pointing to the China and Russia-sponsored "double-freeze" plan to resolve the Korean crisis as the only viable alternative to a "catastrophe, where there will be no winners or losers."
The plan envisions the US and its allies suspending large-scale war games they regularly hold near North Korea's shores, further exacerbating the already tense situation on the Korean Peninsula, and Pyongyang suspending its nuclear and ballistic missile program in return.
The proposal was turned down by Washington, with US envoy to the UN Nikki Haley branding it "insulting" in September. The US has been insisting that it's and Seoul's heavy military activity in the region cannot be compared with that of Pyongyang's.
"To suggest that our activity with our ally of the Republic of Korea is in any way equivalent to the DPRK's actions is simply false," State Department spokeswoman Heather Nauert said in August.
The launch comes just a week after US President Donald Trump put Pyongyang back on the list of state sponsors of terrorism, vowing to roll out new sanctions against the hermit country.
The move was criticized by Kosachev as "another step in pressuring Pyongyang" and its partners with a far-reaching goal of strangling North Korea to the point below the survival limit.
READ MORE: 'Unacceptable': China slams Trump's threat to end commerce with N. Korea's trade partners
Earlier this month, North Korea ruled out a possibility of its negotiating with the US citing Washington's large-scale military drills on its doorstep and an openly hostile policy, while promising to continue a nuclear build-up with the capability of striking the US territory "as long as US and hostile forces keep up nuclear threat and blackmail."
The South Korean, US and Japanese military reported on Tuesday that North Korea had fired what appeared to be an intercontinental ballistic missile which landed within the exclusive economic zone of Japan. US Defense Secretary James Mattis said the missile went higher than any previous missile fired by North Korea. According to the South Korean military, it flew some 960 kilometers, reaching an altitude of 4,500 kilometers at its highest point. The reported missile test drew strong condemnation from North Korea's neighbors, including the US, Japan and South Korea, and others in the international community.
In response to the launch, South Korea staged a "precision strike" exercise, while Trump vaguely called the launch "a situation that we will handle."
You can share this story on social media: