'Talks needed, not the opposite,' China says after US brands North Korea terrorism sponsor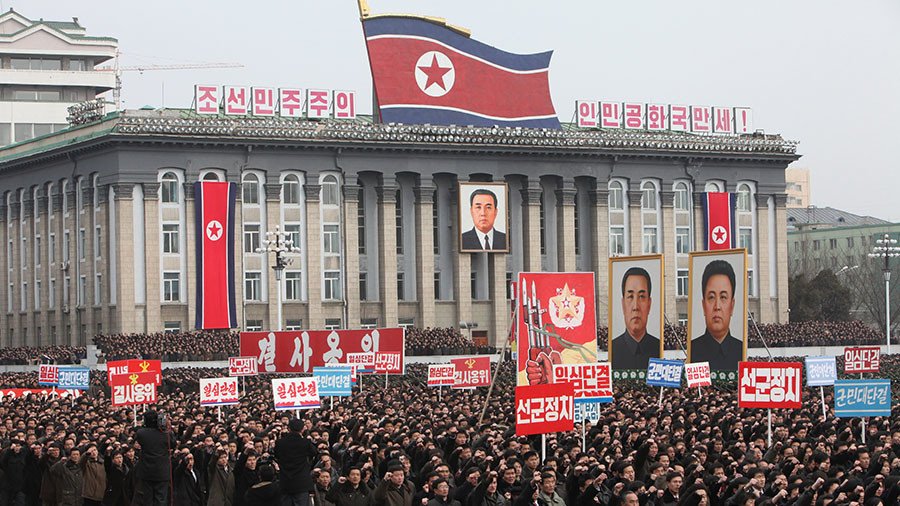 The international community should put extra effort into resolving the Korean crisis diplomatically instead of doing the opposite, the Chinese Foreign Ministry has said, one day after the US reinstated North Korea as a state sponsor of terrorism.
"We still hope all relevant parties can contribute to easing tensions, that the relevant parties can resume talks and [adopt] the correct track to resolving the Korean peninsula issue through dialogue and consultation," said Lu Kang, Chinese Foreign Ministry spokesman, as cited by AFP. Lu described the situation in the region as "sensitive," and added that it would be "helpful to bring all parties back to the negotiation table instead of doing the opposite."
"More should be done in that regard," the Chinese spokesman said. However, Lu stopped short of specifically mentioning the US or criticizing Washington for its fresh step against Pyongyang.
On Monday, Donald Trump announced that the US was putting Pyongyang back on its list of state sponsors of terrorism and promised a new wave of sanctions against the North. "Should have happened years ago," Trump said, saying that Pyongyang has "repeatedly" sponsored acts of terrorism, including "assassinations on foreign soil."
Japanese Prime Minister Shinzo Abe supported the re-instatement of North Korea on the US terrorism blacklist, saying: "We welcome and support the act as it is expected to raise the pressure on North Korea." But the country's defense minister warned of countermeasures by Pyongyang, saying that "it is important to be increasingly vigilant."
North Korea was removed from the US blacklist in 2008 after it agreed to cooperate with the International Atomic Energy Agency on its nuclear program.
READ MORE: N. Korea rules out negotiations with US, cites 'hostile policy' & joint exercises with Seoul
China and Russia have been proposing a "double-freeze" plan to resolve the Korean crisis, which would see Pyongyang halting its nuclear program and ballistic missile tests in exchange for Washington giving up on joint drills with South Korea. But the idea has been turned down by Washington, with Donald Trump asserting that the US was ready to act militarily against the North.
"The inclusion of Washington on the list of state sponsors of terrorism is another step in pressuring Pyongyang and – in even greater degree – its partners," said Senator Konstantin Kosachev, chair of Russia's Foreign Affairs Committee. "One should expect greater attention to everybody who cooperates with North Korea - China, first of all."
READ MORE: 'US designation of N. Korea as terrorism sponsor is backdoor for military action'
He added that it's "obvious" that the US wants to achieve such level of sanctions against North Korea, which would be "lower than the survival limit" – however, Pyongyang is stronger than it's believed in the West, he said, as cited by Interfax.
The US began branding nations 'state sponsors of terrorism' back in 1979, with Iran, Sudan and Syria also on the list.
You can share this story on social media: