N. Korea rules out negotiations with US, cites 'hostile policy' & joint exercises with Seoul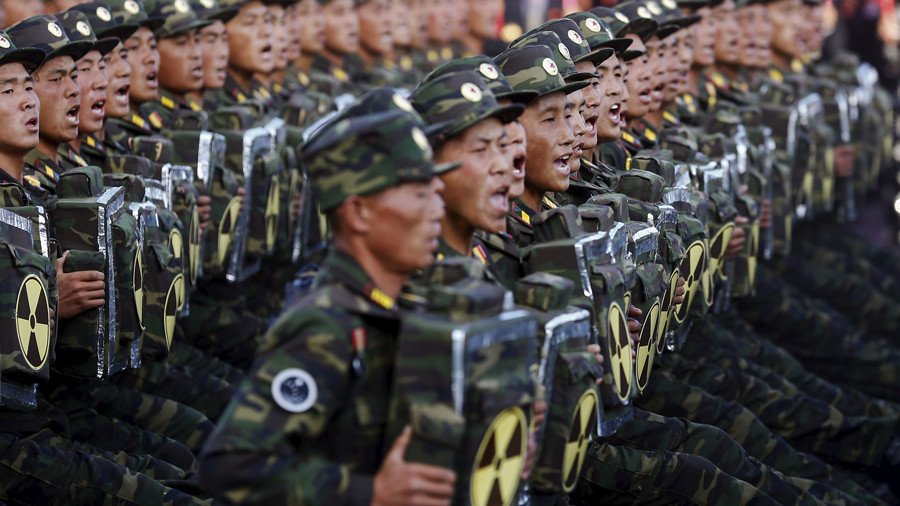 North Korea has ruled out negotiations with the US over its nuclear program, Pyongyang's ambassador to the UN has confirmed, citing Washington's "hostile policy" against his country and continuing US-South Korea military exercises.
"As long as there is a continuous hostile policy against my country by the US and as long as there are continued war games on our doorstep, then there will not be negotiations," Han Tae Song told Reuters on Friday. "There are continued military exercises using nuclear assets as well as aircraft carriers, and strategic bombers and then...raising such kinds of military exercises against my country."
His remarks came after he was asked about recent bilateral talks between the US and South Korea in Seoul. During those talks, the two sides agreed to keep working towards a peaceful end to the North Korean crisis.
Han went on to state that North Korea "will continue to build-up its self-defense capability, the pivot of which is nuclear forces and capability for a triumphant...strike as long as US and hostile forces keep up nuclear threat and blackmail." He added that "our country plans ultimate completion of the nuclear force."
Han, who serves as ambassador to the UN's Conference on Disarmament, also stressed that North Korea would not consider abandoning its nuclear program. "This is the deterrent, the nuclear deterrent to cope with the nuclear threat from America," he said, while stating that he had no information on when Pyongyang might test another ballistic missile.
READ MORE: 'Trying hard to be friend!' Offended Trump says would never call Kim Jong-un 'short & fat'
When asked about China's reaffirmation that the best solution to the crisis is for Pyongyang and Washington to implement a "freeze for freeze program" which would see the North suspend its nuclear and ballistic missile tests in exchange for a halt in joint US-South Korea drills, a plan also supported by Russia, Han said, "The situation is far from those things."
He said the US administration had "never accepted" halting joint military exercises. However, he appeared to entertain the idea of possible cooperation, should Washington agree to end its war games with Seoul. "If they accept such thing, then we will think what we do in the future," he said.
Beijing's reaffirmation of the "freeze for freeze" proposal, also referred to as the "double freeze" and "dual suspension" program, came after US President Donald Trump said that he and Chinese President Xi Jinping had agreed "agreed that we would not accept a so-called "freeze for freeze" agreement like those that have consistently failed in the past."
Responding to the topic of sanctions issued against North Korea by the Trump administration, Han said their aim is to "overthrow the system of my country by isolating and stifling it and to intentionally bring about humanitarian disaster instead of preventing weapons development as claimed by the US and its followers." He called the existing sanctions "large-scale human rights violations," while saying Pyongyang is "ready" for any additional measures taken by Washington.
"The media is saying the Americans and Trump are considering such things... but that is their business and then we don't mind what they want to do against my country since the aim is quite clear... so we are ready for such kinds of measures taken by America against my country."
Han's comments come just two days after an opinion piece in North Korea's Rodong Sinmun, the Workers' Party newspaper, called Trump a "hideous criminal sentenced to death by the Korean people. He will be forced to pay dearly for his blasphemy any moment."
You can share this story on social media: