US military stokes N Korea flames with 'secret nuclear silos' claim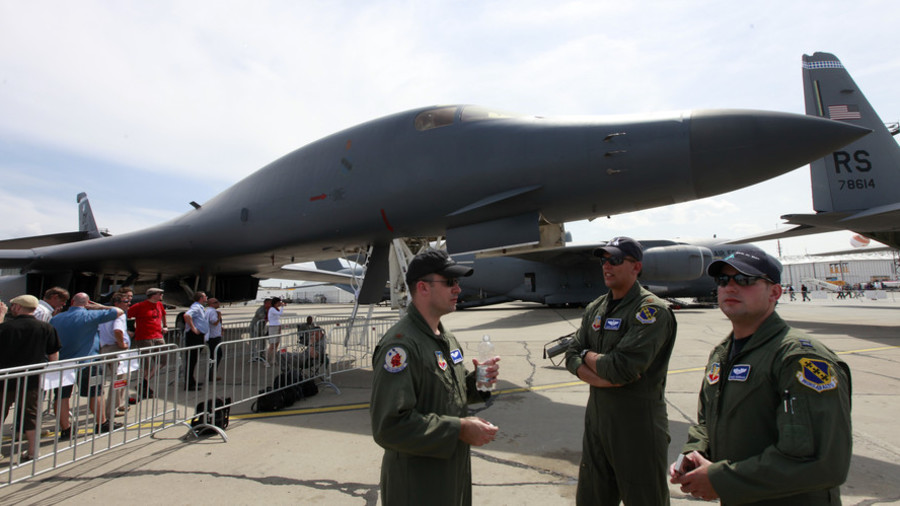 The US military has backed claims its B-1 bombers can drop nuclear weapons and that it possesses "secret silos" of nuclear hardware amid fears it will raise tensions with North Korea.
US Strategic Command, which is responsible for the Department of Defense's global operations, shared a KPNX article on Twitter Wednesday, prompting a furious backlash and accusations it's spreading fake news
The offending piece is a report by Mark Curtis, who went on a tour of the nuclear ballistic-class submarine, the U.S.S. Kentucky. The ship is part of the "nuclear triad" which includes land-based missiles "fired from secret silos," with B-1 bombers "that can drop them from the air," the report reads.
"The teeth of the U.S. nuclear triad is the submarine fleet, accounting for 70 percent of the firepower," Commander James Hurt, of Ohio-class ballistic missile submarine USS Kentucky (SSBN 737), Strategic Command tweeted along with a link to the article.
The tweet soon drew sharp criticism, with many accusing the military of sharing a "false and misleading" article that could further fuel tensions with North Korea. The US regularly flies B-1 bombers near North Korea as a show of force. It recently flew B-1 bombers closer to the Demilitarized Zone than any US warplanes in the 21st century.
READ MORE: US flew B-1B bombers just off coast of North Korea (PHOTOS)
Twitter users pointed out that the US doesn't have secret silos as their locations can be found on Google. A number of experts also pointed out that the B-1 bomber isn't able to drop nuclear bombs. They originally had the capacity to carry nuclear weapons, but that mission ended in 1994 and they were converted to conventional weapon carriers under the Strategic Arms Reduction Treaty.
Every year, Russian officials travel to US airbases to ensure the B-1B Lancer is complying with START, which states the one-time nuclear bomber continues to be disarmed, Military.com reports.
Strategic Command responded to the criticism by tweeting, "The rest of the piece provided good insight into life aboard an SSBN. We have reached out to the reporter to properly characterize the nuclear triad, and appreciate @Oriana0214's continued focus on the B-1B as a conventional-only weapons platform."