'Hideous criminal' Trump given 'death sentence' by North Korean state media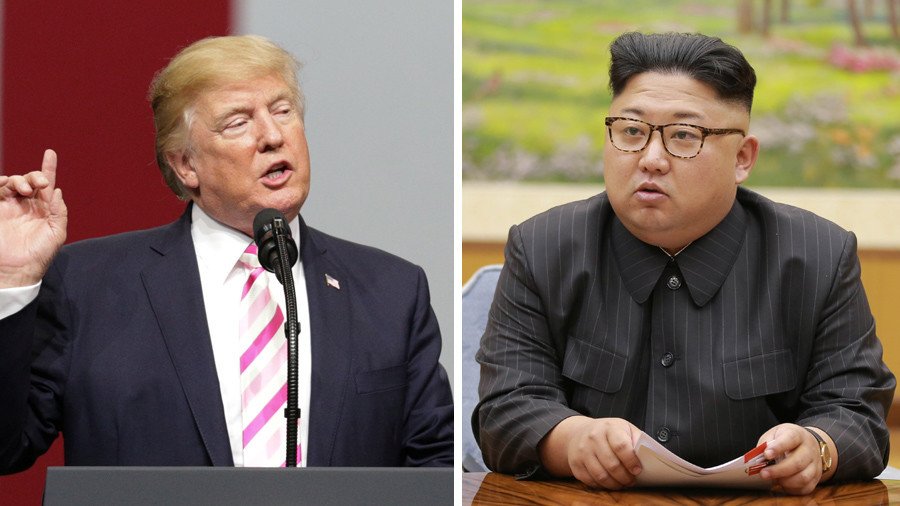 The North Korean people have sentenced Donald Trump to death, the hermit country's state media claims, saying that the "criminal" US president pointed an accusing finger at "the Sun" represented by the North Korean leader Kim Jong-un.
"The worst crime, for which he [Trump] can never be pardoned, is that he dared malignantly [to] hurt the dignity of the supreme leadership of the DPRK [North Korea]," the opinion piece from North Korea's Rodong Sinmun, the Workers' Party newspaper, said on Wednesday, as cited by KCNA news agency.
According to KCNA, Trump, "an old slave of money… dared point an accusing finger" at North Korean leader Kim Jong-un whom Rodong Sinmun refers as the "Sun.""He [Trump] should know that he is just a hideous criminal sentenced to death by the Korean people. He will be forced to pay dearly for his blasphemy any moment," the editorial added.
READ MORE: North Korea accuses Trump of 'begging' for nuclear war as rare US 3-carrier drills get underway
Trump's recent Asian tour wasn't welcomed by Pyongyang, which views his visit to the region as a diplomatic effort to garner enough support to attack North Korea. Rodong said that Trump's speech to South Korea's national assembly in November painted a "black picture of the DPRK…spouting all sorts of rubbish against it, only to stun the public."
"The Korean people will regard the face of Trump as a symbol of wolf-like US imperialism and as a target of merciless retaliation and send him to the hell he likes so much to tout," the paper said, adding: "The rabid dog's barking can never frighten the Korean people." In his address to South Korea's national assembly, Trump said that he hoped to "speak for all civilized nations" in telling North Korea "do not underestimate us and do not try us." He also described"the horror of life in North Korea," including what he alleged was torture, starvation, rape, and murder of North Korean people "on a constant basis".
In one of his latest tweets the US President mocked the North Korean leader, deviously calling him "short and fat," after Pyongyang's spokesman dubbed Trump a "dotard.""Why would Kim Jong-un insult me by calling me 'old,' when I would NEVER call him 'short and fat?" Trump tweeted earlier in November. "Oh well, I try so hard to be his friend – and maybe someday that will happen!"
The heated "war of words" between Trump and Kim could turn into military action any time now. The US leader has repeatedly called Kim a "rocket man" while "dotard" has been used by the North Korean leadership to reference Trump on more than one occasion. Trump labeled the North Korean leader a "Rocket Man" in a tweet. Pyongyang in its turn has repeatedly threatened to reduce the US to "ashes and darkness," and called for a nationwide struggle against "war-thirsty" Trump.
You can share this story on social media: