North Korea accuses Trump of 'begging' for nuclear war as rare US 3-carrier drills get underway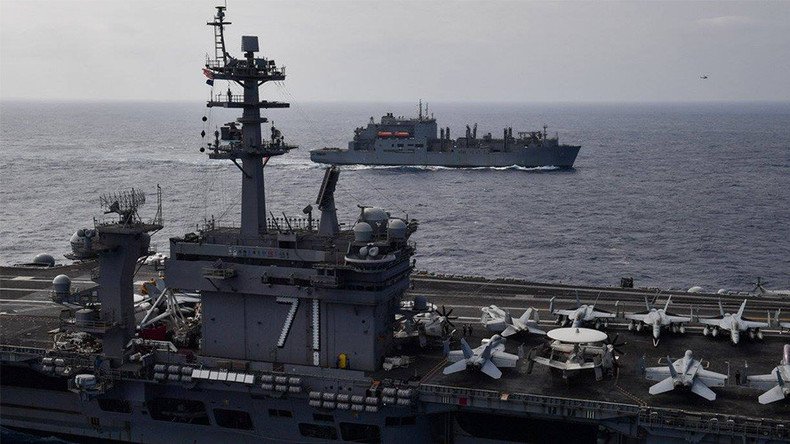 Pyongyang has accused "dotard" Donald Trump of "begging" for a nuclear war during his trip across Asia. The charge comes as Washington launched rare naval drills in the Pacific with Seoul and Tokyo, which simultaneously involves three US aircraft carrier strike groups.
Trump's 12-day Asia tour has, so far, focused primarily on containing the perceived North Korean threat, in the wake of the sixth nuclear test that the North carried out in September. As he continues his tour of the region, the US Navy together with Japanese and South Korean ships began massive naval drills in the Pacific.
On Saturday, North Korea lashed out against Trump, describing his tour as "a warmonger's visit for confrontation to rid the DPRK of its self-defensive nuclear deterrence."
"Trump, during his visit, laid bare his true nature as destroyer of the world peace and stability and begged for a nuclear war on the Korean peninsula," a spokesperson of the DPRK Foreign Ministry said Saturday, according to state news agency, KCNA.
During this tour, Trump repeatedly made clear that his patience to reach a peaceful settlement to the Korean crisis is running thin, and that a military option remains on the table. Speaking in South Korea, Trump said nuclear weapons do not make N. Korea safer but instead, places the "regime in grave danger." Every step Pyongyang takes "down this dark path increases the peril you face."
"North Korea is a country ruled as a cult. At the center of this military cult is a deranged belief in the leader's destiny to rule as parent protector over a conquered Korean Peninsula and an enslaved Korean people," the US president said in a speech to the South Korean parliament Wednesday. America does not seek confrontation, Trump said, but emphasized that it will also "never run from it." We "will not allow American cities to be threatened with destruction. We will not be intimidated."

"The reckless remarks by a dotard like Trump can never frighten us or put a stop to our advance," Pyongyang responded. North Korea will defend its "sovereignty and rights to existence and development by keeping a real balance of force with the US," its foreign ministry said.
In the latest show of American muscle in the region, three US carrier strike groups began holding tri-carrier, multinational drills off the Korean coast Saturday. The USS Ronald Reagan, USS Nimitz, and USS Theodore Roosevelt were joined by Japan's Ise, Inazuma and Makinami ships as well as near a dozen South Korean vessels.
The four-day exercises will focus on carrying out air defense drills, sea surveillance, and replenishments at sea, the US navy said earlier. The drills will also include rehearsing defensive air combat training and close-in coordinated maneuvers. According to the Korean military, the joint drills involve 11 US and two South Korean destroyers equipped with the Aegis Combat System, designed to provide missile defenses against short to intermediate-range ballistic missiles.
The maneuvers are aimed at bolstering the allied trio's policy of "extended deterrence" against the North's nuclear and missile provocations, South Korea's Joint Chiefs of Staff (JCS) said, as cited by the Yonhap news agency. The allies will also show off their readiness to mount a strong retaliation with overwhelming firepower in the event of an emergency, the JCS said further. Japan's Maritime Self-Defense Force said the exercises are part of efforts "to stabilize regional security,"according to the Japan Times.
'Vastly outnumbered' US forces would struggle to win war with North Korea – former general
Amid rapidly rising tensions, characterized by almost weekly exchanges of threats of mutual destruction by both Washington and Pyongyang, Beijing and Moscow have repeatedly called on both countries to tone down their rhetoric and return to the negotiations table.
On Friday, North Korea's permanent representative to the UN told the General Assembly in New York that Pyongyang will not enter into negotiations over its missile and nuclear programs until the US completely stopped its hostile policies and threats. Cha Son Nam warned that both states remain "on the brink of war."
"The DPRK will not lay its nukes and ballistic missiles on the negotiating table in any case, unless the hostile policy and nuclear threat of the US against the DPRK are thoroughly eradicated," the envoy said. "Despite the serious concerns of the international community, the US continues to stage, annually, the aggressive joint military exercises, with the aim of planning a nuclear attack against the DPRK."
You can share this story on social media: