'Vastly outnumbered' US forces would struggle to win war with North Korea – former general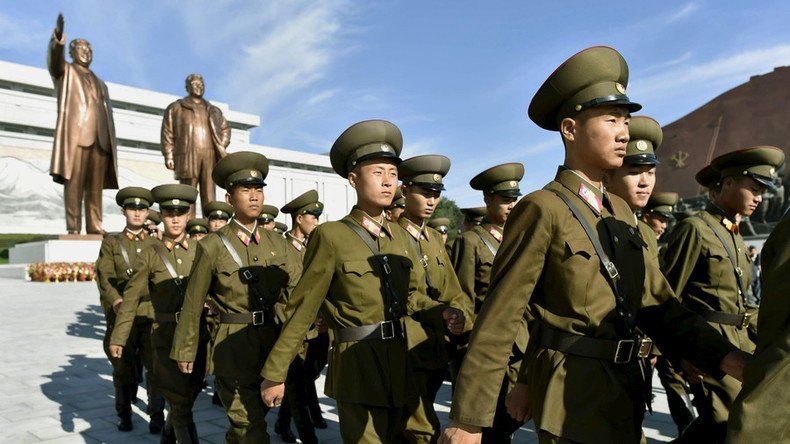 The United States would struggle to win if a war broke out with North Korea, as tensions over the country's nuclear ambitions continue to mount on the peninsula. That's according to a retired US general with years of experience in the region.
Now retired, Lt. Gen. Jan-Marc Jouas gave his views on a possible conflict with North Korea in a letter to Representatives Ted Lieu (D-CA), Ruben Gallego (D-Arizona), and Senator Tammy Duckworth (D-Illinois) earlier this week.
Jouas, formerly deputy commander of US Forces Korea, said the near 30,000-strong US forces stationed in the neighboring South would struggle to counter the North Korean Army, which the country claims almost 5 million people have volunteered for.
"The 28,500 US Armed Forces personnel in South Korea are vastly outnumbered by North Korean forces,as well as ROK (South Korean) forces that will conduct the overwhelming majority of the fighting," he wrote.
Jouas also stressed that unlike previous conflicts, the US would not be able build up its forces prior to engagement with the North Koreans, stating that it "will take days to months to arrive in theater [of war]."
In the meantime, the 25 million inhabitants of the South Korean capital, Seoul would be in grave danger from the enemy to the north and that US and allied forces would be "subject to attack by conventional or chemical weapons" which would further delay their entry into the war.
The retired general, who was "deeply involved" with developing plans to counter any potential attacks on South Korea from the North, warned that despite the US' clear technological advantage, the sheer number of North Korean troops, coupled with the country's "artillery, rockets and missiles," would result in an "enormous casualty and evacuee crisis."
Furthermore, the North Korean submarine force, "although technically inferior," is among the largest in the world and "capable of sinking allied vessels, sowing mines and inserting Special Forces units." There's also the small matter of the country deploying unknown quantities of nuclear weapons against its enemies.
Jouas believes that there's no such thing as a surgical strike designed to knock out North Korea's nuclear capabilities and that any US attack, "no matter how limited," would result in a full-scale war.
"An attack by the US on North Korea's strategic nuclear capabilities, which they deem essential to the regime's survival, would most likely be viewed as an existential threat and generate a corresponding response," he wrote.
The letter comes just days after thousands of South Koreans flocked to the streets of Seoul to demand peace with North Korea and protest the visit by US President Donald Trump, who previously promised to unleash "fire and fury" against the "rocket man," Kim Jong-un.
You can share this story on social media: