N. Korea threatens Guam attack in latest propaganda film (VIDEO)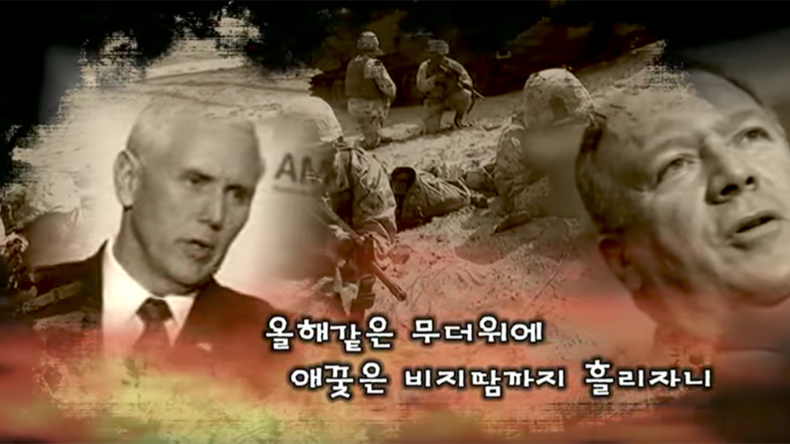 North Korea's latest propaganda video threatens to fire missiles at the US territory of Guam. It also features members of the Trump administration engulfed in flames.
The video shows Guam, which is home to a US Naval and Air Force base, being hit with intermediate-range ballistic missiles, along with scenes of President Donald Trump at a cemetery.
Vice President Mike Pence, Defense Secretary James Mattis, CIA head Mike Pompeo, Chairman of the Joint Chiefs of Staff Gen. Joseph F. Dunford Jr., and Secretary of State Rex Tillerson also appear engulfed in flames.
The video, entitled 'What will the cost be for Americans, who are losing sleep at night?' was published by the government channel Uriminzokkiri on Sunday, and warns Trump should be "keeping its eyes and ears open from now on."
"The fate of the sinful US ends here," the video's caption reads, as Trump appears staring at graves in a cemetery.
The video claims there has been "commotion at the White House, the Pentagon, on Guam and on the political scene," since North Korea threatened to attack Guam, according to the Washington Post's translation.
READ MORE: N. Korea ponders striking US base in Guam after Trump threatens Pyongyang with 'fire & fury'
North Korea made comments about potentially targeting Guam after Trump threatened to unleash "fire and fury" on Pyongyang should it threaten US security. The UN Security Council also imposed sanctions on North Korea this month in response to ballistic missile tests it carried out.
The video was released before the US and South Korean armies embarked on their annual Ulchi Freedom Guardian exercises – a 10-day show of force including land, air and sea drills with thousands of troops.
According to the US and South Korea, the drills are meant as a deterrent to North Korean aggression.
According to the video, the US "boasts that not a single bullet has landed in its territory during 150 invasions … the U.S. which abused and harassed people of other countries … is threatened by just one announcement by the North's commander in chief."
"If only a single shot falls into the surrounding territorial waters by breaking through the air defense system of Guam, the illusion of US which is called as the sole superpower will be laid bare to the whole world," the captions read.
READ MORE: North Korea 'destroys US targets' in Hollywood-style 'propaganda' video
You can share this story on social media: