Anonymous asks activists to help fight pedophiles in 'Operation DeathEaters'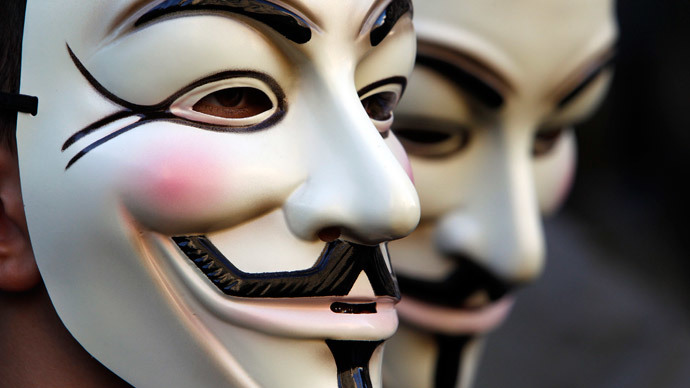 Hacktivist group Anonymous is inviting people to join their ongoing mission against pedophiles dubbed #OpDeathEaters. The group's plan is to compile incriminating evidence against international pedophile rings and bring perpetrators to justice.
READ MORE: Journalist Barrett Brown sentenced to 63 months in prison for Anonymous link
"The objective of #OpDeathEaters is an internationally linked, independent, victim-led inquiry," Anonymous said in a statement. "US federal and state employees are running paedosadist industry. Protected child trafficking rings with cops, judges, lawyers, clergy and government employees are all covering for each other."
Underneath the veil of authority there is an intertwining world between state figures at all levels and the paedosadist industry.

— Anonymous (@YourAnonCentral) January 23, 2015
The group has announced plans to create a database that would map established connections between different cases, targeting not only US and UK activities, but also tracking global links.

Now, the latest video released by the group explains how activists can get involved and help with the research.
The group is calling on volunteers to help with the ongoing work, which has been divided into three steps. The first is about collecting "all the factual information," second is to "share that information as widely as possible," and the third step is "to set up an independent, internationally linked, inquiry into all the areas which do not appear to have been investigated properly."
READ MORE: Britain's Prince Andrew accused of using 'under-age sex slave'
#OperationDeathEaters is happening against the backdrop of high-profile pedophile scandals in the US and in the UK.

A new report by Gawker revealed that flight logbooks place former president Bill Clinton more than a dozen times on the private jet of convicted sex offender Jeffrey Epstein. At times, Clinton reportedly flew alongside a woman who prosecutors believe procured underage girls to service Epstein and others.
If you want to help and organize with others for #OpDeathEaters join us here: FB https://t.co/dgpKCMv9Xz … Tumblr http://t.co/Toqy6eGFGk

— OpDeathEaters (@OpDeathEaters) January 24, 2015
The news comes amid a scandal that erupted earlier in January over a civil lawsuit filed by Virginia Roberts against Epstein, an American financier, in the US Federal District Court of Southern District of Florida. In the suit, Roberts alleges that Epstein forced her to have sex with prominent people, including Prince Andrew and Alan Dershowitz, when she was underage.
READ MORE: Bill Clinton's name found 21 times in rich sex offender's phone book (VIDEO)
Meanwhile in the UK, Buckingham Palace has continued to defend Prince Andrew, and has refused to publicly explain the extent of the relationship between Andrew and Epstein.

Operation 'DeathEaters' comes after the group's action dubbed #OpCharlieHebdo, when Anonymous declared war on terrorist websites. The hacktivists promised to shut down all extremist accounts on social media in a mission to avenge those killed in the Charlie Hebdo attacks in France.
READ MORE: #OpCharlieHebdo: Anonymous declares war on terrorist websites
In the past, the group has successfully attacked many websites, including government, military, religious, and commercial pages. Anonymous often calls for Distributed Denial of Service (DDoS) attacks, in which particular servers are swarmed and taken off the web with a massive amount of network requests. However, the group is also known for urging a collective action against suspected rapists or pedophiles, such as in the cases of Amanda Todd, Rehtaeh Parsons and Daisy Coleman.
You can share this story on social media: