#Justice4Daisy: Anonymous threatens to go after alleged rapists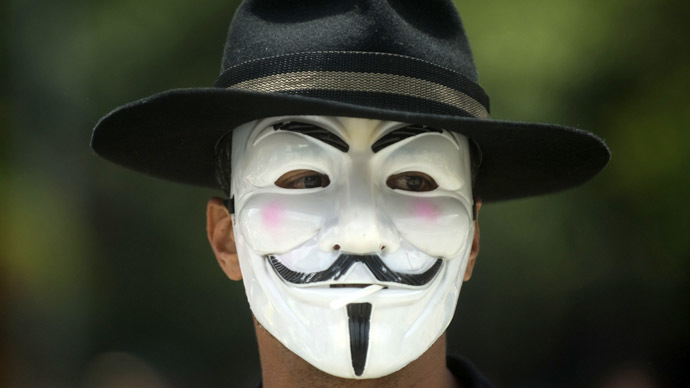 Anger is mounting after the cover-up by local officials of an alleged rape of two teenage girls in Missouri has been exposed. Meanwhile, internet vigilantes aligned with Anonymous are readying to work the case themselves.
A story published in the Kansas City Star over the weekend by reporter Dugan Arnett is grabbing widespread attention as readers continue to circulate the 4,000-word article about an incident that began with the alleged sexual assault of two teen girls in early 2012.
The Star has been working closely with the case for the last seven months, Arnett said, and that research culminated in the recent expose titled "Nightmare in Maryville: Teens' sexual encounter ignites a firestorm against family."
It'd be a feat unto itself to reiterate Arnett's words while still doing his original story justice, but the gist of the Star report is that felony charges against a 17-year-old popular senior football player from Maryville, Missouri were dropped even after the star athlete himself admitted to having sex with a highly-intoxicated girl three years his junior. A 13-year-old girl was also allegedly raped during the encounter by someone, and another 17-year-old boy recorded the incident on his iPhone and was eventually hit with a felony charge himself over allegedly sexual exploiting a minor. Even with hard evidence and immaculate testimony, however, the case fell apart, no one was convicted and the family of one of the alleged victims was essentially driven out of town.
Parents of the 14-year-old girl, Daisy Coleman, are OK with having their daughter's identity out in the open. And as her story is being shared all over the Web, the internet's own army of computer-chair investigators is pursuing a probe of their own.

Charges were dropped against alleged rapist, grandson of local political figure: http://t.co/cz0QarMffO#Justice4Daisy#Anonymous#Missouri

— Anonymous (@YourAnonNews) October 14, 2013
Matthew Barnett and Jordan Zech — then both 17 — were accused of raping and recording, respectively, the two teenage girls in January 2012.
"Barnett, who was arrested and charged with sexual assault, a felony, and endangering the welfare of a child, a misdemeanor, admitted to having sex with Daisy and to being aware that she had been drinking. He insisted the sex was consensual," wrote Arnett.
But the younger girl — whose identity was withheld by the Star — said that wasn't the case, and recalls Coleman crying while being carried around by a group of boys whom she drank heavily with that evening before the older girl eventually awoke half-conscious on her mother's lawn in 22-degree weather. On her part, Coleman said she remembers nothing after being handed a second drink by a group of older high school boys that evening who had been entertaining the two girls in the Barnett household basement.
The whole thing seemed open-and-shut, at least at first, and Sheriff Darren White told Arnett that his office put together a case that would "absolutely" result in prosecutions.
"Within four hours, we had obtained a search warrant for the house and executed that," White told The Star. "We had all of the suspects in custody and had audio/video confessions."
But 21 months after the incident, Barnett has moved on and now studies at the University of Central Missouri, unscathed by any conviction with regard to a rape case that could have sent him to federal prison for a long stretch. Arnett acknowledged in his piece that it is also worth noting that a relative of Barnett spent 32 years in local law enforcement before serving four years in the Missouri House of Representatives. That lawmaker, Rex Barnett, also has documented political ties to Robert Rice, the Nodaway County prosecutor who ultimately dropped all the charges.
Only hours after Arnett went live with his report on the whole ordeal, Internet activists aligned with the Anonymous movement had already proposed taking over the investigation if Maryville authorities continued to ignore the matter.
A statement began circulating early Monday attributed to Anonymous, the international collective of activists and hackers who have in recent years tasked themselves with exposing egregious activity gone unhandled by authorities.
If law enforcement doesn't open up the Coleman case, it appears as if Anonymous activists may again take matters into their own hands. And given their success in raising another controversial rape case earlier this year, the Missouri authorities' handling of the Coleman case could be put under the microscope too.
In an eerily identical incident involving the sexual assault of a teenage girl in Steubenville, Ohio, members of Anonymous waged a massive campaign that propelled the story to mainstream news networks and even spawned protests outside of Steubenville city buildings. When Rehtaeh Parsons, another alleged teenage rape victim, committed suicide, Anonymous again raised awareness of the issue and opened up an investigation that arguably outpaced anything authorities had assembled.
Some have suggested that Anonymous' work with the Steubenville case was the catalyst in having two high school athletes tried for the assault of a teenage girl, both of whom have since been found guilty.
Once again, Anonymous is threatening to take charge of this case on their own if local officials continue to look the other way.
"We demand an immediate investigation into the handling by local authorities of Daisy's case," the statement reads in part. "Why was a suspect, who confessed to a crime, released with no charges? How was video and medical evidence not enough to put one of these football players inside a court room? What is the connection of these prosecutors, if any, to Rep. Rex Barnett? Most of all, We are wondering, how do the residents of Maryville sleep at night?"
"We have heard Daisy's story far too often. We heard it from Steubenville, Halifax and Uttar Pradesh. In some cases, it was too late. Both Amanda Todd and Rehtaeh Parsons, girls not much older than Daisy, took their own lives after the adults, the police and the school system, failed to protect them. If Maryville won't defend these young girls, if the police are too cowardly or corrupt to do their jobs, if justice system has abandoned them, then we will have to stand for them. Mayor Jim Fall, your hands are dirty. Maryville, expect us," it continues.

"We Are Anonymous. We Are Legion. We do not forgive. We do not forget. Join us."
Internet users who associate themselves with Anonymous have since started to raise awareness of Coleman's case by circulating articles about the Barnett family and adopting the hashtags "#Justice4Daisy" and "#OpMaryville" to try and make their efforts trend over Twitter and other social media sites.
Only hours after the first anonymously-penned statement was published online, video created as part of the campaign were uploaded to YouTube and some adventurous internet users claimed to have collected information about the alleged perpetrators, including Matthew Barnett's place of business. The Yelp page for that restaurant has since been adorned with a number of not-so-flattering reviews making reference to the rape case that one of the business' alleged employees has somehow managed to put behind him. 
Another person posting information about the operations identified the Twitter account of Robert Rice, the prosecutor who allegedly allowed the charges against Barnett to disappear. Nine minutes later, that account was offline.

Hey @YourAnonNews...look who I found. @RobertRiceatty. I think people need to let this guy have it! #Justice4Daisy#Maryville#OpMaryville

— JP © (@JP_on_Twiitter) October 14, 2013
Hahaha! #RobertRice deleted his twitter account! Dumb dumb. #Justice4Daisy#OpMaryville@YourAnonNews

— JP © (@JP_on_Twiitter) October 14, 2013
Anons take notice, though: a self-proclaimed member of the movement is currently awaiting a trial related to a hacking case tied to the Steubenville operation, and if convicted he could be sent to prison for more time than proven rapists would face.
You can share this story on social media: