Flight logs place Bill Clinton on sex offender's jet multiple times – report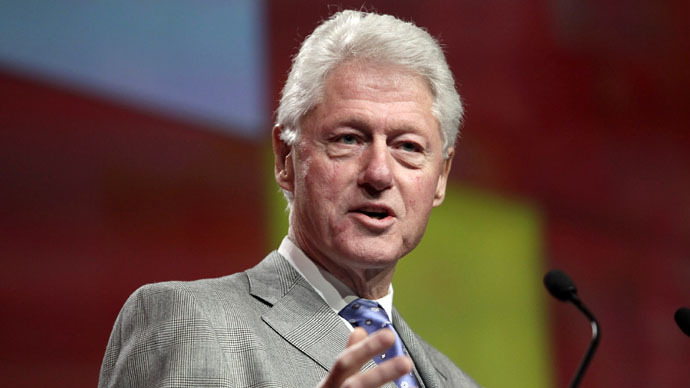 Flight logbooks show that former President Bill Clinton took more than a dozen flights on the private jet of convicted sex offender Jeffrey Epstein, according to a new report by Gawker.
The logbooks also show Clinton flew alongside a woman who prosecutors believe procured underage girls to service Epstein and others. In other instances, Clinton reportedly flew with a soft-core porn actress who appears in Epstein's address book under an entry for "massages."
The logbook, obtained and first reported on by Gawker, has surfaced amid a scandal that erupted earlier this month over a civil lawsuit filed by Virginia Roberts against Epstein, an American financier, in the US Federal District Court of Southern District of Florida. In the suit, Roberts alleges that Epstein forced her to have sex with prominent people, including Prince Andrew and Alan Dershowitz, when she was underage.
Should a former U.S. president (or anyone for that matter) be this close to a sex grooming ring of the One Percent? http://t.co/U6usMC3L0j

— Arif Rafiq (@ArifCRafiq) January 23, 2015
Prince Andrew is not named as a defendant in the case and no criminal charges or formal allegations have been made against him, but he is named in the case as someone lawyers are hoping will respond to Roberts' claims under oath.
Roberts said she was forced to have sex with the member of the British Royal Family in London, New York, and on a private Caribbean island from 1999 to 2002. She also claimed that Clinton took multiple trips between 2002 and 2005 to the billionaire's private island, where underage girls were reportedly kept hidden away.
READ MORE:US lawyer sues in Prince Andrew sex case, Buckingham Palace remains defiant
Prince Andrew, appearing at the World Economic Forum in Davos, Switzerland, on Thursday, publicly denied for the first time allegations he had sex with the underage teenager. Buckingham Palace officials had already denied Andrew's involvement with the woman.
"I just wish to reiterate and to reaffirm the statements which have already been made on my behalf by Buckingham Palace," Prince Andrew said, according to AP.
The flight logs show that Clinton shared Epstein's plane with socialite Ghislaine Maxwell – the alleged procurer of underage girls – and Sarah Kellen, Epstein's former assistant, on at least 11 flights in 2002 and 2003 before any allegations against Epstein became public.
"@GOPBlackChick: Did someone say Bill Clinton, Epstein+prostitutes? http://t.co/wR0kbDmsvY" #clintonsareshady#Hillary2016

— Patriot Truth (@minutemenblood) January 7, 2015
Clinton, his aide Doug Band, and Clinton's Secret Service detail are listed on a January 2002 flight from Japan to Hong Kong with Epstein, Maxwell, Kellen, and two women described only as "Janice" and "Jessica." One month later, records show, Clinton hopped from Miami to Westchester on a flight that included Epstein, Maxwell, Kellen, and a woman described only as "one female."
Gawker called Clinton's office for comment but they did not respond to an inquiry.
The lawsuit also revealed that former president Bill Clinton's name was listed in Epstein's phone book 21 times. Clinton severed his connections with Epstein once allegations over his illegal behavior surfaced and he was arrested back in 2005, and there is nothing to suggest in the lawsuit that the former president is linked to Epstein's crimes or that that he did anything wrong.
READ MORE:Bill Clinton's name found 21 times in rich sex offender's phone book (VIDEO)
In an interview earlier this month with RT, Dennis Hof – the owner of the Moonlite Bunny Ranch brothel in Nevada, who knows Clinton – was asked if there was any way the former president was unaware of what Epstein was doing.
"I don't believe it's possible," Hof said. "It's amazing this happened and came to light. I don't think Bill Clinton would ever want to be involved with any underage girl, but the fact that it is happening in front of his eyes – and the Secret Service guys didn't do anything about it – is shocking."
The new complaint seeks to expand an ongoing lawsuit related to the prosecutor's handling of Epstein's case, and lawyers for Virginia Roberts floated the possibility of subpoenaing Clinton because he "might well be a source of relevant information" about Epstein's activities.
The rape allegations first came to light in 2005, when Palm Beach police acted on a complaint from the parents of a 14-year-old girl who told them that a wealthy older man might have had inappropriate sexual contact with her. The girl – and other teenage girls as well – said a friend had arranged for them to visit the home of the man, identified as Epstein, and give him massages, usually in their underwear. In exchange, the girls received cash. Most the girls said Epstein masturbated during the massages and a few said he had penetrated them with his fingers or penis. The girls were paid $200 or more.
You can share this story on social media: