Journalist Barrett Brown sentenced to 63 months in prison for Anonymous link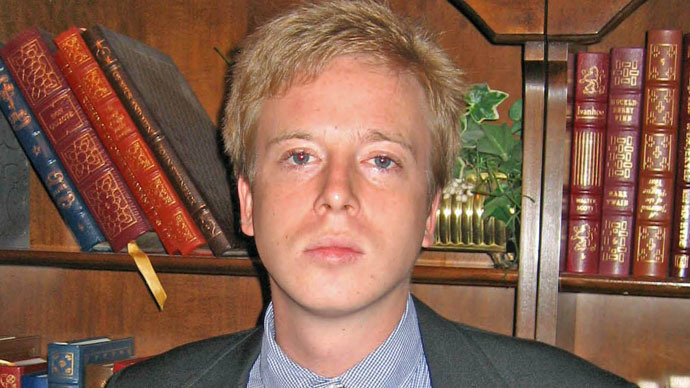 A Dallas, Texas court has sentenced journalist Barrett Brown to 63 months behind bars for links to the hacktivist collective Anonymous.
In April the independent journalist entered a plea deal agreeing to charges of transmitting threats, acting as an accessory to hacking, and obstructing with the execution of a search warrant. In addition to the prison term, the 33-year-old has been ordered to pay nearly $900,000.
Brown had been facing a possible sentence of 8.5 years. His legal team and online supporters, however, argued that the more than two years the hacktivist had already spent in prison were enough.
READ MORE:Anonymous 'spokesperson' to spend year in jail without trial
The controversial case drew attention as a possible crackdown on free press when federal prosecutors charged Brown with fraud for merely sharing a link to a compilation of stolen credit card information from intelligence contractor Stratfor.
"An activist who made an impact to exact greater transparency" #BarretBrown is being persecuted for exposing the truth. #FreeBB#FreeAnons

— •» βℓµ «• (@roof_mama) January 22, 2015
The charge was later dropped as part of plea deal he made in April.
The trove of data contained within the link related to subscriber data pilfered from Strategic Forecasting, or Stratfor, a private intelligence company, when it was hacked by Anonymous in December 2011. Thousands of emails obtained in that compromise were later given to the whistleblower website WikIleaks and were subsequently published online.
However, in his sentencing statement Thursday morning Brown alleged that the Statfor hack served as the primary motivation in the government's case against him.
"The fact that the government has still asked you to punish me for that link is proof, if any more were needed, that those of us who advocate against secrecy are to be pursued without regard for the rule of law, or even common decency," Brown told the judge.
#BarrettBrown imprisoned for 28 months - his "crime"? - exposing the truth. #FreeBB#FreePress#FreeAnonspic.twitter.com/rdkunnwLoo

— William Fergus (@williamfergus) January 22, 2015
"You cannot traffic something that is already in the public domain," Brown's attorneys argued regarding the stolen data. But the court disagreed.
According to federal sentencing guidelines, Brown should have expected 51 to 63 months in prison. US District Judge Sam Lindsay gave him the maximum term advised.
Feds compared #BarrettBrown to someone who shares online child porn when they argued that he "trafficked" stolen data.

— Andrew Blake (@apblake) January 22, 2015
By sharing stolen data, #BarrettBrown practically was a drug dealer who gave out the key to a home where crimes were committed, feds argued.

— Andrew Blake (@apblake) January 22, 2015
The $890,000 restitution money will go to Stratfor, Combined Systems and the Law Firm of Puckett and Faraj. All three companies were targeted by Anonymous.
Hacker and activist Jeremy Hammond pleaded guilty in May 2013 to violating the Computer Fraud and Abuse Act as a member of the Internet collective known as Anonymous for his role in the Stratfor breach. Brown's mother, Karen Lancaster McCutchin, was sentenced in November 2013 to six months' probation and a $1,000 fine after she pleaded guilty to helping her son keep laptops from federal agents.
Terrorism from #US and #IS: - Sentence against #BarrettBrown - Murder of #CharlieHebdo#FreeBB

— Brixner (@BrixnersHirn) January 22, 2015
Julian Assange, the founder of WikiLeaks, condemned the prosecution of Brown.
"The Barrett Brown case is such an obvious injustice that a public campaign by his lawyers to place the Beckel statement back into its proper context would be an obvious step for his defence team," Assange wrote on his site after the December sentencing hearing, noting that the situation personally involves him and WikiLeaks.
You can share this story on social media: