Mother of Anonymous-linked journalist Barrett Brown avoids jail time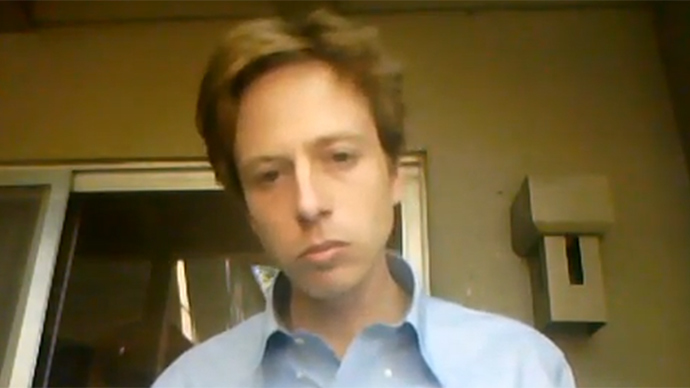 A federal judge declined Friday to give the mother of Anonymous-associated journalist Barrett Brown jail time after she pleaded guilty to helping her son keep laptops from federal agents.
Instead, Karen Lancaster McCutchin was sentenced to six months' probation and a $1,000 fine.

In a Dallas federal court, she apologized for helping her son hide laptops from agents during a raid at their home, the AP reported.
"My better judgment was clouded by my maternal instinct," McCutchin said in court.
US Magistrate Judge Paul Stickney said McCutchin's action "does not warrant any jail sentence at all."
"I feel for you, as a parent," Stickney told McCutchin.
"I know you did the best you could," he added.
Brown, 32, has been in federal custody for nearly 14 months and faces three federal indictments -- that could land him in prison for upwards of a century -- related to his role as the de facto spokesman for the hacktivist collective Anonymous and a series of messages and YouTube videos posted online in 2012.
McCutchin's attorney, Bob Webster, said she wanted to help her son and did what she believed was right in the moment.
"The last thing she wanted was to bring harm to Barrett," Webster said. "She would do that until her dying breath. If circumstances arose, I'm very sure she would do that again."
Though not a hacker, Brown was repeatedly labeled in the media as a "spokesperson" for Anonymous, the shadowy Internet collective that has compromised and defaced dozens, if not hundreds of websites for nearly a decade, including those of the Church of Scientology, Sony and the Motion Picture Association of America.
He was arrested in September 2012 for posting YouTube videos in which he claimed FBI Agent Smith was threatening his mother, and said he was launching an investigation of his own into the officer. In another video, Brown said, "So that's why Robert Smith's life is over. And when I say his life is over, I don't say I'm going to kill him. But I am going to ruin his life and look into his fucking kids."
Brown was hit with three separate charges starting in October 2012. The first came for making a threat against a federal law enforcement officer with intent to retaliate against the performance of official duties.
In December, another indictment was unsealed in which Brown was accused of copying a hyperlink from one Internet chat-room and pasting it to another, in turn providing occupants of that room with the ability to download and assess a trove of documents pilfered by Anonymous during the Dec. 2011 hacking of private intelligence firm Stratfor. Along with some 5 million emails, that link also contained an archive containing credit card information for subscribers of Stratfor's pay service.
For sharing that link, authorities said, "Brown caused the data to be made available to other persons online without the knowledge and authorization of Stratfor Global Intelligence and the card holders," and thus charged with affecting interstate commerce by knowingly trafficking without authorization the credit card information.
Finally, in January 2013, he was charged with obstructing justice for "knowingly and corruptly conceal[ing] and attempt to conceal records, documents and digital data contained on two laptop computers" during a raid of his home in March 2012.
Since his arrest, Brown has been vocal, writing for various publications and becoming symbol of the Obama administration's attempts to silence adversarial journalism.
In September, a federal court approved a media gag-order on Brown and his attorneys, barring them from speaking to the media about the case.
"Brown has shown his intent to continue to manipulate the public through press and social media comments," US Attorney Candina Heath claimed to the court on August 8. Any continuance of such behavior would cause "a substantial likelihood that 'extrajudicial commentary' made by or condoned by the defense will 'undermine a fair trial.'"
As a result, the court ruled, "it is necessary for the court to take limited steps to restrain Counsel and Defendant from making prejudicial statements to the press and media."