1,000 dead turtles: Vietnam prevents record haul of endangered reptiles to China (VIDEO)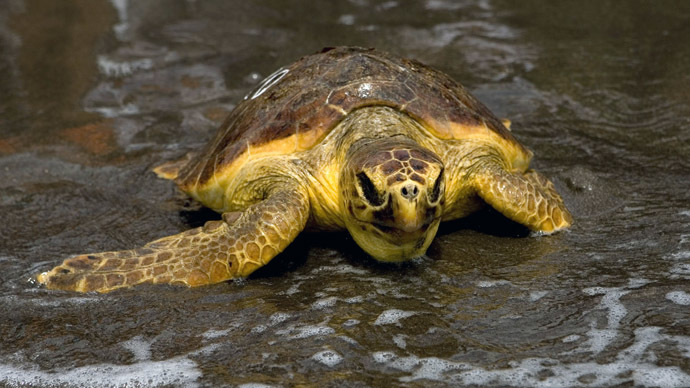 Over 1,000 endangered sea turtles have been intercepted by Vietnamese environmental police, a local official has confirmed. All of the turtles uncovered in the bust were dead and part of an illegal shipment to China for handicrafts.
READ MORE: Snatching turtles: Man tries to smuggle over 1,000 reptiles in luggage
The bust, reported by local media this week, happened last Wednesday in Nha Trang – a resort town located on the south-central coast.
"The turtles were all dead," an official of the Ministry of Public Security's environmental police department, Le Hong Thai, said. "They were meant to be processed into handicrafts for export to China," he added.
"The case is under investigation, so we cannot reveal the number of detainees or any other details," he said.
Vietnamese law protects five native marine turtles, making it a criminal offense to hunt, trade, or store them.
Local environmental groups spoke in support of the raids, calling for appropriate legal punishments for those involved in smuggling.
Courts "need to send the message that Vietnam is serious about prosecuting and punishing" crimes related to endangered species, the director of conservation group Education for Nature-Vietnam, Nguyen Phuong Dung, told AFP.
It is common for Vietnamese authorities to come across illegal shipments of rhino horn, ivory, and various exotic species such as tigers.
However, local conservation groups state that many illegal trades still go undetected.
READ MORE: Smuggler tries to cross US-Canada border with 51 turtles in his pants