Smuggler tries to cross US-Canada border with 51 turtles in his pants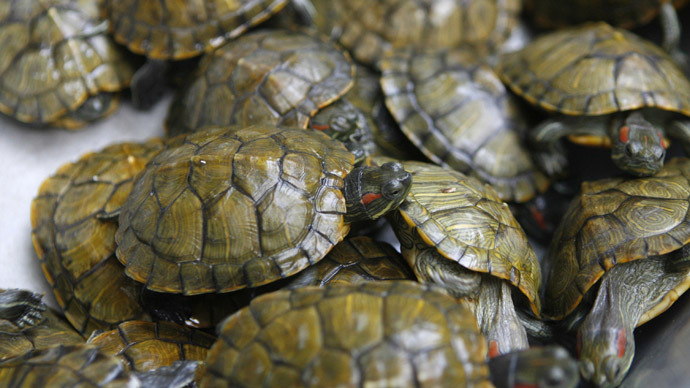 There are many things one might expect people to smuggle across the American border and into other countries inside of their pants, but dozens of aquatic reptiles? That's exactly what one man was found hiding near Detroit.
Canadian citizen Kai Xu was trying to return to Windsor when he was caught with 51 turtles inside his sweat pants last month, according to recently unsealed court documents, the Detroit Free Press reports. The reason for stuffing his pants with this many animals isn't clear at this point, but officials investigating the incident believe that he was trying to sell the turtles to markets in Asia, where the reptiles are a popular treat.
"There's now a burgeoning Asian market," said Gavin Shire of the U.S. Fish and Wildlife Service, who helped authorities investigate the incident. He also told the newspaper there is "a lot of both illegal and unregulated turtle consumption."
At the same time, the criminal complaint filed in court does not state whether or not Xu tried to clarify why he had more than 50 turtles in his pants.
What authorities do know is that they spotted Xu picking up a package in Detroit that was from Alabama and marked "live fish keep cool." The complaint says that after Xu opened the box, he was seen carrying a pair of scissors, tape, and bags to a spot in between two UPS semi-trailers, only to walk back to his car with no bags – instead, there were bulges under his pant legs that could be seen.
As Xu made his way to the border and tried to enter Canada, he was stopped in a search that uncovered eastern box turtles, red-eared sliders and diamondback terrapins in his pants.
Law enforcement officials have levied three charges against Xu: smuggling goods from the United States, trading in specimens illegally, and exporting fish or wildlife illegally.
Notably, this isn't the first time someone has been arrested trying to smuggle turtles illegally – though last time, the turtles were actually found to be going in the other direction: into the United States.
Under the title of "Operation Flying Turtle," two Japanese citizens were arrested for smuggling 55 turtles and tortoises into the United States. The turtles were reportedly brought to the US and sold to pet stores by Atsushi Yamagami of Osaka, who then used the money to buy various reptiles in North American that could be sold again in Japan.
Yamagami is believed to have undertaken more than 40 trips between the US and Japan before he was arrested. He was sentenced to 21 months in prison and ordered to cough up $18,000 in fines. Ultimately, he apologized for his behavior and vowed not to repeat it.
"I am extremely ashamed and remorseful about my actions," he wrote in a letter to a US judge.