Snatching turtles: Man tries to smuggle over 1,000 reptiles in luggage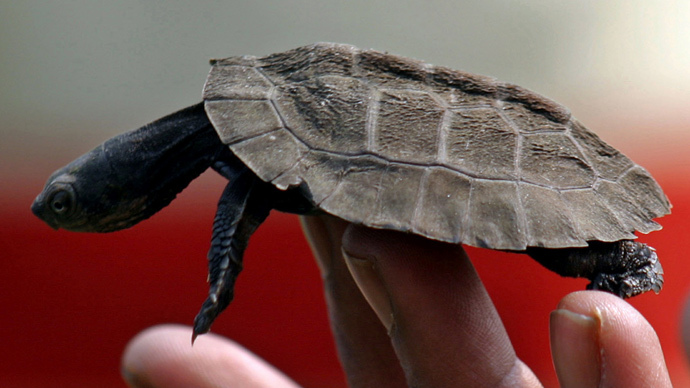 A Canadian man was caught trying to smuggle more than 1,000 turtles into China by carrying them in his personal luggage. His plan was foiled, however, when he was arrested at the Detroit airport. His stash included rare endangered species.
READ MORE: Smuggler tries to cross US-Canada border with 51 turtles in his pants
The man was arrested as he attempted to board a plane to Shanghai last week, CBC reported. Local authorities discovered the turtles inside rubber snow boots and cereal boxes in his luggage.
Most of the reptiles were less than one month old and included rare species such as diamondback terrapins, red-necked pond turtles, spotted turtles, wood turtles, Blanding's turtles, red-eared sliders and African spur-thighed tortoises.
Some of them were valued at $1,800 each.
The Detroit Zoo has agreed to shelter the turtles. "It isn't surprising that some are not doing well given the way they were smuggled," CBC quoted Scott Carter with the Detroit Zoo as saying. "Most are not of conservation concern, but some are endangered species."
The incident happened following the arrest of another Canadian resident in August, according to The Detroit News. The man detained earlier was reportedly behind an international smuggling ring which has presence in at least three countries and is behind selling thousands of turtles.
He was detained when trying to leave Canada with 51 turtles taped to his body.
The smuggler faces up to 10 years in prison if found guilty of trading in endangered species and exporting wildlife in the US. He faces charges of smuggling in both the US and Canada. Prosecutors revealed some turtles had also been sent by mail to China.