3 charged conspiring to smuggle chemical lab equipment to Syria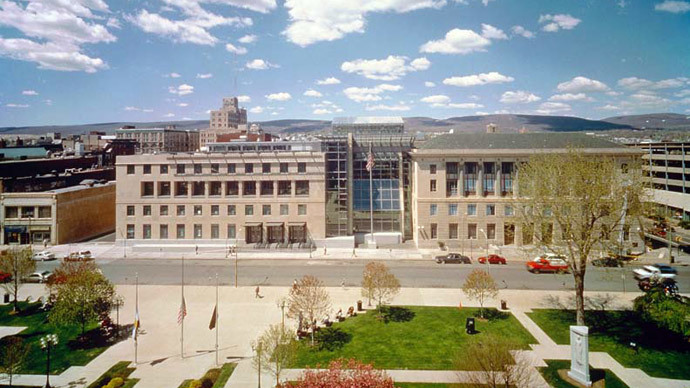 Three men including an American have been charged with plotting to illegally export lab equipment and chemical warfare devices to Syria, according to an unsealed indictment.
US prosecutors have charged a 72-year-old Pennsylvania man Harold Rinko, the owner of Global Parts Supply, which exported illegal goods, and brothers Ahmad Deri, a UK national and Moawea Diri, Syrian national for smuggling contraband via third states.
According to the Justice Department, Diri was arrested in London in March 2013 and is facing extradition to the United States, while his brother Deri remains at large. Prosecution has offered Rinko a plea agreement that is pending court approval.
A federal judge in Scranton, Pennsylvania, unsealed the case 17 months after Assistant US Attorney Todd Hinkley, signed a plea agreement for one of three men charged in 2012.
Three men stand accused of illegal export of goods, money laundering, conspiracy, wire fraud, and making false statements. Their criminal actions, the investigators believe range from creating false invoices, undervalued and mislabeled the items, to listing false purchases and buyers before smuggling the goods via United Arab Emirates, Jordan and the United Kingdom for nine years, between 2003 and late 2012.
Investigation believes that men sold portable instruments used to detect chemical agents, industrial engines used in oil and gas fields, laboratory equipment, a device used to locate buried pipelines and masks used against chemical agents.
The goods, which are restricted for export by US law, were never sent, Reuters reports, but the men allegedly circumvented federal law that requires a license to export goods, other than humanitarian supplies and medicines, to Syria under the sanctions imposed on Damascus in 2004.
"No good comes of illegal exports to Syria during this time of gross misgovernment and civil strife," said John Kelleghan, special agent in charge of Homeland Security Investigations in Philadelphia, The Times-Tribune quotes. "HSI will do all in its power . . . to ensure that sensitive technology doesn't fall into the wrong hands in Syria."'
The 31-page indictment does not describe how the authorities were able to track down the scheme with Hinkley saying he was unable to comment on it.
Authorities also claim they do not know who the goods were intended to reach, the government forces or the rebels. "We know they were exported to Syria," Hinkley said. "The end user information we weren't able, at least to this point, to develop in the investigation."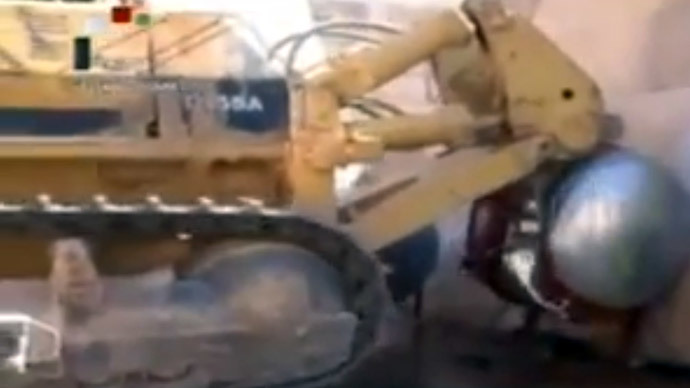 Syria's chemical disarmament on track
Meanwhile in Syria, the UN chemical weapons watchdog said Damascus has delivered over 86.5 percent of its chemical arsenal as June 30 deadline to destroy chemical stockpiles approaches.
"The overall portion of chemicals removed from Syria to 86.5 percent of the total," The Organisation for the Prohibition of Chemical Weapons (OPCW) said in a statement on Wednesday adding that another batch of chemicals was removed from the port of Latakia in the 17th shipment since October.
"We hope that the remaining two or three consignments are delivered quickly to permit destruction operations to get under way in time to meet the mid-year deadline for destroying Syria's chemical weapons."
UN calls for chlorine attack probe
At the same time on Wednesday the UN Security Council called for an investigation into claims of a chlorine gas attack in Syria earlier this month.
After the closed door meeting delegates "expressed concern about alleged reports about the use of chlorine gas in some towns, which left people dead and injured, and called for an investigation of this incident," said Joy Ogwu the ambassador of Nigeria, which currently holds the rotating presidency in the council.
"We're still waiting to confirm the authenticity of the reports. Until we have the full facts we cannot take any decision on this matter," Ogwu said, adding no decision has yet been taken on who would be tasked to investigate the matter.
Syrian ambassador Bashar Jaafari denied that government forces are using chlorine gas against its own people. "The aim of this kind of allegations emanating from Washington or elsewhere is to overshadow the successful preparations for the presidential elections in Syria," he said.
Damascus announced this week that the country will hold a presidential election on June 3.
French president was among the first to officials to publicly accuse Bashar Assad on Monday of using chlorine in the village of Kafr Zita that has killed two and injured more than 100 people earlier this month. In a rarely cited remark he however added he had no proof to back his claims, but only a "few elements of information."
The next day Washington stated that it was investigating the allegations. "We have indications of the use of a toxic industrial chemical, probably chlorine, in Syria this month," said White House spokesman Jay Carney, stressing that the village of Kafr Zita is "opposition-dominated."
Under Russian-brokered deal for the Syrian government to get rid of its chemical stockpiles, chlorine – a chemical widely used for commercial and domestic purposes – was not placed on the list. However its use as a chemical weapon it is prohibited under the Chemical Weapons Convention.