'Critical juncture': Battles, attacks on convoys delay Syrian chemical weapons destruction
Syrian convoys transporting chemical weapons under the international agreement were attacked twice late last month, according to a UN report, causing a delay in chemical shipments out to sea.
In a monthly report to the UN Security Council, the Organization for the Prohibition of Chemical Weapons (OPCW) said that the Syrian authorities told their team overseeing the destruction of its arsenal that the attempted attacks took place on January 27.

"In addition, Syrian authorities indicated that ongoing military activities rendered two sites inaccessible during most of the reporting period," the five-page UN report said.

This caused the delay of "in-country destruction of the final quantities of isopropanol [one of two key ingredients for sarin gas production], preventing some activities to consolidate chemical material into a reduced number of locations, and preventing the physical verification of chemical material prior to movement on 27 January 2014."

"When we talk about transferring those weapons, we talk about hundreds of kilometers that should be passed in safe conditions," Charles Shoebridge, former British intelligence officer told RT. "They've attacked weapons carriers and made transporting the chemicals even more difficult and dangerous."

The report also said that the elimination of the chemical weapons program in Syria stands at a "critical juncture." It calls on Syria to "intensify and accelerate" its efforts to eliminate its stockpile, after falling behind on schedule. Syria denies in the very strongest terms that it is deliberately slowing things down.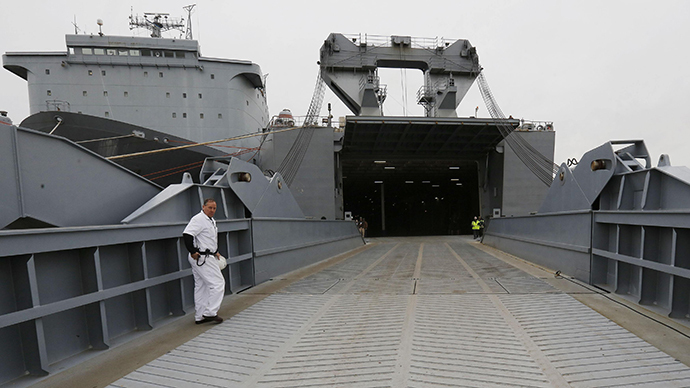 "A look at the history of Syria since the formation of the United Nations, of which Syria is an establishing member, will recognize that Syria has always been committed to its vows,"
Dr. Hassan Hassan, Syrian expert, told RT.
"It has never given a promise without fulfilling it."
The fourth shipment of mustard gas, left Latakia, Syria on Wednesday. Earlier in February the OPCW reported that Syria had shipped out only 11 percent of its stockpile, falling short of the February 5 deadline to have chemical stockpiles removed from the country.
Syria last week submitted a new 100-day plan to remove the remaining chemicals, which would have set a target of late May or early June for completion. The UN is considering the new timetable. Under the OPCW schedule, all Syria's declared chemical weapons must be destroyed by June 30.

"Measurable progress has been made over the last months in the destruction of critical equipment and special features at a number of chemical weapons production facilities, as well as unfilled chemical munitions,"
the report said.
"As a result, the production, mixing and filling capabilities of the Syrian Arab Republic have been rendered inoperable."
Michael Luhan, from the organization for the Organization for the Prohibition of Chemical Weapons (OPCW) in The Hague, which is helping to coordinate and monitor the destruction of Syria's chemical weapons arsenal, told RT that there was "nothing soft" about the June 30 deadlineand that all parties must work harder to make sure it is met.
"The deadline remains June 30 of this year and while we're seeing encouraging new movement of chemicals out of the country where they can be destroyed safely and securely there's still a lot of work to do be done," Luhan said. "And in fact our people are working right now as we speak with Syrian authorities on this new revised plan that they have submitted to the OPCW to try and shorten the timelines so it remains possible to achieve that June 30 deadline."
Syria has declared around 700 tons of the most-dangerous chemicals, 500 tons of less-dangerous precursor chemicals and 122 tons of isopropanol – an active ingredient in sarin gas production.
You can share this story on social media: